Due to the recent inflation, Malaysians have been forced to cut down on daily expenses, sometimes including the luxury of a proper meal. This is especially true in urban centres such as the Klang Valley, where the average meal could cost beyond a single RM10 note. And while it may seem almost impossible for one to eat three meals a day with just RM10, one Malaysian netizen has somehow managed to find a way to do exactly that.
M'sian TikToker shows how he was able to eat under RM10 in KL
It may be hard to believe in this current economic climate, but TikTok user Adrian from @overeatmy somehow pulled it off after challenging himself to eat three meals on just RM10 in Kuala Lumpur. Documenting his day's journey, he managed to eke in some popular local favourites on an excruciatingly tight budget.
"Malaysia's economy is pretty bad now where a meal usually cost RM15 on average, but in this video, I'll be attempting to survive a day with just RM10," the caption wrote.
In the video, Adrian showed every food he had for the day and the price required for each meal. For the first meal of the day, he had a nasi lemak that was sold on the roadside near his house in Damansara Damai and it only cost RM1.
"It's kinda tough to find RM1 nasi lemak packs these days because sometimes you see them as RM2 or RM3 at least," he said.
Although the packet only consisted of a few mouthfuls of rice, sambal and a piece of egg, Adrian said that he had no complaints as it was only RM1. However, he did feel sad that he was unable to enjoy a good cup of coffee.
Up next, he was shown walking into a convenience store to buy instant noodles for lunch. Because he was hoping to save up money for a hearty dinner, Adrian could not pick out any of the expensive ones, only a Maggi Hot Cup that cost RM2.
"This is barely sufficient for my lunch. Nutrition-wise, this is definitely not recommended. Do not try this."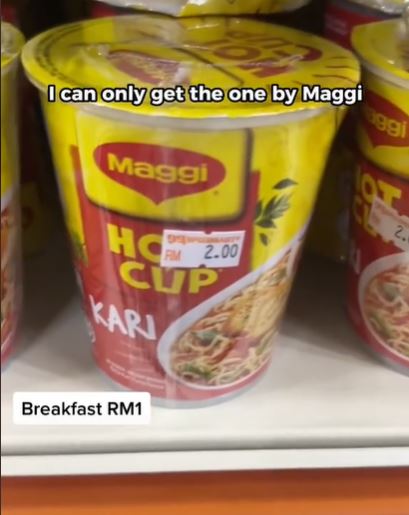 And finally, all his sacrifices paid off as he could use the rest of the money to buy a decent dinner for himself. For the last meal of the day, Adrian went to a mixed rice store and chose a vegetable dish, a scoop of sweet and sour meat, along with curry gravy on his rice. The dinner cost him RM6.60, which means that he still had 40 cents in change.
"Total of RM9.60 spent in a day and I call this challenge a success. I actually thought it was impossible but I guess not," he said proudly.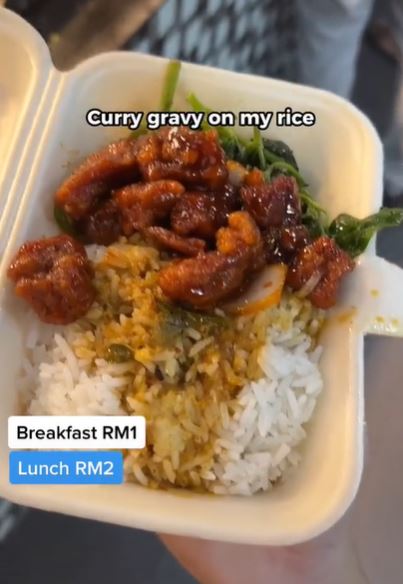 Netizens relate to the harsh reality of rising food prices
The video has attracted a total number of 824k views and 76.4k likes. Although the challenge was designed for fun, many netizens revealed that the inflation has caused some of them to endure these kinds of meals on a daily basis.


What do you think? Can you survive one day in your area with just RM10?
Tap here to give us a 'Like' on Facebook and stay up-to-date on the latest news!
Also read: M'sians who can afford to splurge on concert tickets shouldn't complain about inflation, says local professor