Drivers who travel long distances on their own can often find themselves at the mercy of criminals who are out on the prowl, most commonly under the guise of highway mechanics offering to lend assistance. And while many of us have heard of these anecdotal stories, one Facebook netizen has revealed that these highway scammers are apparently utilising a new tactic to prey on lone motorists.
Scammers now pretend to be repo men & threaten to tow your car away
In a Facebook post that was shared by user Pengutip Besi Burok, he explains how he had been driving on his own along the LPT Karak – Gombak highway when he had decided to stop aside at a petrol station near the Bentong toll plaza heading towards Kuala Lumpur to fill up his car. However to his surprise, a car had suddenly pulled up in front of his before he found himself being accosted by four men emerging from the other vehicle. 
Two men from the group proceeded to come up to him, before telling the netizen bank records indicate that he had unpaid arrears on his car, informing him that it would have to be towed away and repossessed as a result.
"I felt insulted, as my car is a Proton that is over 20-years-old. I could tell that this was obviously a scheme to scam an innocent bald guy." he explained.
When confronted, they only had a spreadsheet with numberplates on it
However, the netizen decided to play along with the ruse and demanded that the men show proof of a repossession letter issued from the bank, which neither were able to do. However, they assured the netizen that his car number plate had been flagged in their system.
"I told them I wanted to take a look at the system, so they led me to a red Proton Waja (refer to the pictures) parked at the very end of the petrol pumps.

In the car were two other men, one who was behind the wheel and another who had a laptop in hand. The laptop had an Excel sheet open, which showed a list of number plates that happened to also include mine." he explained.
However, as opposed to a detailed list that included the make and model of the repossessed cars as well as the amounts owed, the sheet only contained a list of number plates, nothing more.
"It looked like it had just been typed out." the netizen added.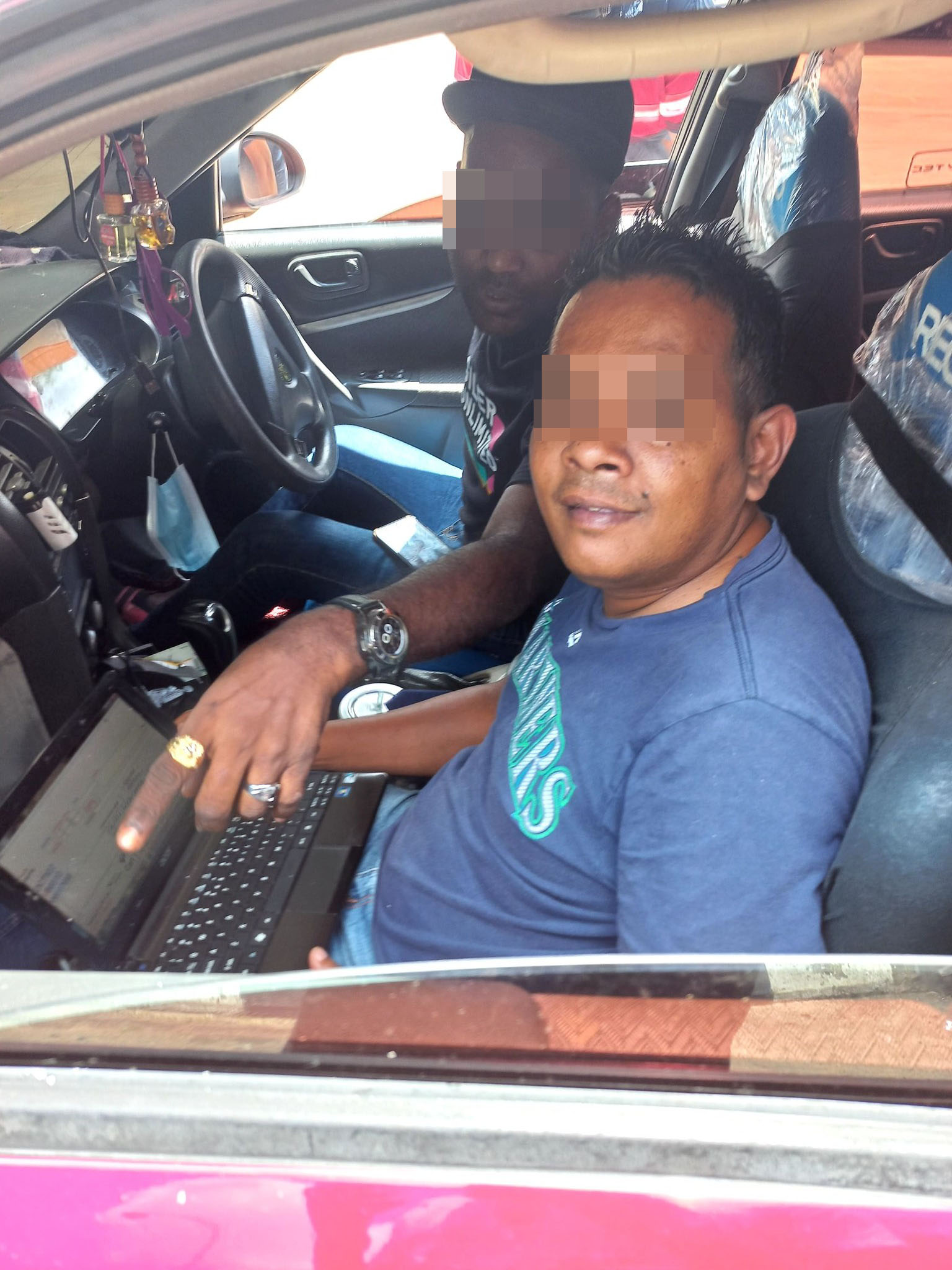 Knowing full-well what the men were up to, the netizen confronted and told them that if they wanted to repossess his car, the very least that they could do was to provide a letter of repossession issued from a bank.
"If you're going to pounce on an unsuspecting driver and ask them if they were going to pay up, and then tell them to relax, of course they're not going to take things easy."
What to do if you meet scammers like this?
The netizen even managed to take a few photos of the men in question, but was told to delete them. Telling them that the photos were for his own safety given the fact that they were the ones who had confronted him first, the netizen then drove off. And for added precaution, he even informed his other friends that he was en-route to Kuala Lumpur alone should anything untoward happen.
Advising others to be wary of such scams, he even included a few helpful pointers for those who find themselves in his shoes:
Do not panic
Do not hand over the keys to your car or any money to them upon being provoked
Ask for a letter of repossession from the bank (make sure that the bank in question is the bank that has issued your car lease)
If you are really fearful for your life, call the police immediately
Additionally, he had also provided a link to an online resource to explain what the repossession process is like for Malaysian banks for more clarification.
So do take note if you are ever approached by anybody while driving alone!
For more stories like this, follow us on Facebook by tapping here! 
Also read: Netizen almost lost her life's savings to scammers pretending to be police & magistrate court in elaborate new tactic