Where scams are concerned, many of us would think that we would never be gullible enough to fall victim to them. After all, the immediate assumption is that scammers would often target vulnerable members of society, such as single mothers or the elderly. However, with scam tactics now bordering beyond poorly written emails, you may be shocked as to how sophisticated these new operations can wind up becoming these days.
Scammers pretends to be calling from magistrate's court in Langkawi
Among them include the scam tactics used by an insidious group that had contacted a local netizen here recently, who took to Facebook to share her harrowing encounter with them. According to the netizen, who has requested to remain annonymous, she initially received a call from a magistrate court's teleoperator, reminding her that she had been summoned to court on 12th March. It was claimed through the phone that she had outstanding arrears amounting to RM5,000 from the past 6 months from an Affin Bank loan of RM30,000 taken out in her name.
Caught off guard over the entire situation, she asked for a summons number from the teleoperator, which she was given. Thinking that she could have missed out on it as her parents had neglected to inform her, she then inquired as to where the court was located. As it turns out, it was all the way in Langkawi!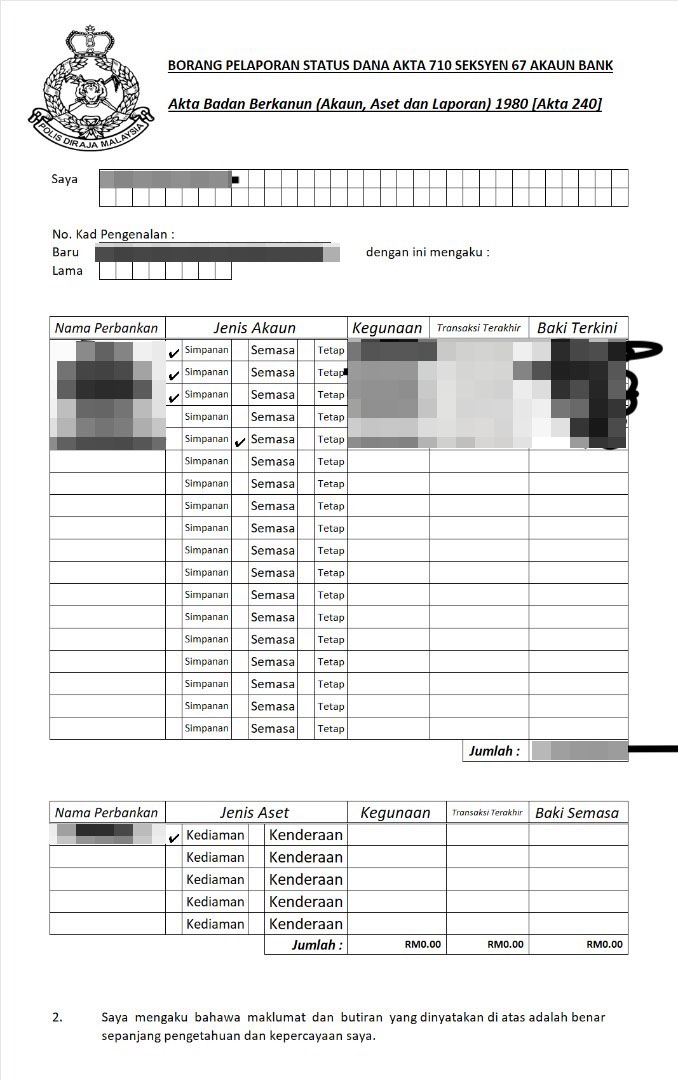 Upon telling the teleoperator that she was based in KL and not Langkawi, the teleoperator sounded equally surprised and immediately told the netizen that she could have been the victim of an identity theft before walking her through the process of filing a report.
Victim then gets connected to a 'police sergeant'
Connecting the netizen to what was claimed to be a police station, the netizen was then attended to by a woman claiming to be a Sergeant, who took down her report over the phone as she could not be there in person. All sounded convincingly true, with the Sergeant even taking a call from the Commercial Crimes Investigations Department (CCID) to run her IC number through with them to determine if it had been used in any other crimes. As it turns out, the CCID confirmed that her IC had been used by a syndicate in relation to the forgery of 120 documents, thefts of 240 ICs, as well as 400 ATM cards.
What's more, they even claimed that they already have one of the syndicate members, a man known as Louis, in custody while they attempted to find 4 other members. Louis had apparently even told authorities that the netizen had given him her details of her own free will, and that she was promised a cut of the profits, to which she denied.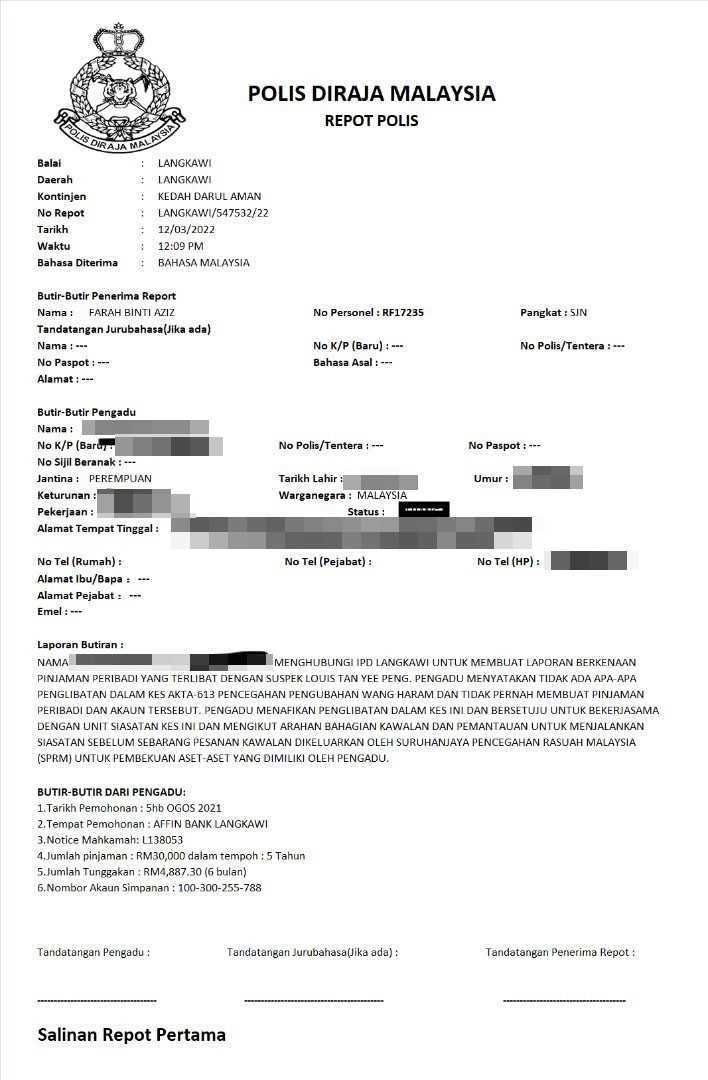 The authorities however, reassured her that she was not the only one implicated due to the circumstances and that the case was one that even involved bank officers and policemen who turned a blind eye. Regardless of which, they will still have to prove her innocence. But in any case, she will be put under police protection throughout the investigation process for her own safety.
The Sergeant then proceeded to ask the netizen who she gave copies of her IC to previously, if she had lost her IC or given it to anybody else before, about her whereabouts on 5th August 2021 to prove she wasn't in Langkawi, but most peculiarly, she was even asked to tell what bank accounts she had and the amount she had in each account. She was even told to give the names and addresses of her family members, so that they could be put under police protection too, which the netizen did.
She was sworn to secrecy, before being told to reveal her bank details and the balance in each account
What's more, she was told that she wasn't allowed to reveal the details of the case to anybody, or risk being prosecuted. The sergeant then WhatsApped falsified documents that showed the netizen her statement, details of her bank accounts and balance in each account, and a letter that kept her to secrecy.
After that fact, the netizen was informed that her bank accounts will be frozen as investigations commenced, and told her that the authorities will need proof that the amounts in her bank accounts did not contain anything that would amount to a 'commission'. Which was why the netizen had to then transfer any amount of money from her accounts that had more than RM1,000 into a 'Safety Account'. Amounts less than RM1,000 were apparently not flagged as suspicious.
Red flags led her to second-guess their intentions
Sensing something amiss when she was told to transfer her life's savings into a separate account, the netizen then started making investigations into the identity of the Sergeant with the Langkawi police headquarters, who confirmed that the Sergeant did not exist. What's more, the netizen's boss, who is a lawyer, confirmed that courts will never call to remind individuals of their hearing and advised her to lodge a police report.
Upon filing a report with the police at the police station, she was also informed by the police officers that they would never contact anybody by phone and instead, would arrive in person to bring them in if they have any investigations that require assistance.
What should you do if you receive a similar call from scammers?
In speaking with Wau Post, the netizen reminds others that the authorities will never contact you through handphone numbers if they have any matters they wish to speak to you about, and that courts will never reach you via phone for a court session either. Furthermore, the police will only ever arrive at your doorstep if you are involved in any investigations, and will never reach out to you by phone.
She also points out that these scammers take great care in crafting a convincing user journey, and points out that the use of teleoperators is an immediate red-flag. Should you be accosted by scammers, she advises others to keep two phrases in mind:
My sister/husband/friend who is a lawyer is with me right now. I'll check with them now. Don't let them say no to you, just hold the line.
Thanks for letting me know. I'll go to the balai now.
Both are usually deterrents and will lead them to hang up. This is in addition to the fact that no authorities have the right to force you into secrecy. However, above all, she has also reminded those who have almost become victims of scams that while they may be shaken by the experience, they only emerged stronger from it as a result.
"Lastly, even if you don't lose your money, when they've got you so close, you will be traumatized and inevitably lose some sense of self-worth. You may not feel like you again because you can't believe it happened to you. Shake it off. Take your power back. You are stronger, not weaker after such an experience." she wrote.
For more stories like this, follow us on Facebook by tapping here!
Also read: M'sian model exposes scammers posing as modeling agency to lure women into sending nudes on social media