It was reported this afternoon that 27-year-old sales clerk, Ms Sam Ke Ting, has been charged for reckless driving that resulted in the deaths of 8 teenagers riding modified bicycles, otherwise known as basikal lajak, in Johor in 2017. She will now be facing a 6-year jail term as well as a RM6,000 fine over the incident, and may have her jail sentence extended by a period of an additional 6 months should she fail to pay her fine on time. Additionally, her license will be suspended for a period of three years.
The case has once again attracted landmark attention from Malaysians across the county, just as it did 7 years ago when it had happened in 2017.
Sales clerk Sam Ke Ting crashed into a group of 30 teenagers riding basikal lajak, killing 8
For those who are not familiar with the circumstances of the accident, the then 22-year-old Sam was found to be driving her car along Jalan Lingkaran Dalam in Johor Bahru at 3.20am. Her vehicle then crashed into a group of teenagers who were found to be riding modified bicycles, otherwise known as basikal lajak, killing 8 of them.
Previously on 28th October 2018, Sam had been acquitted and discharged by the Johor Bahru Magistrates Court by Magistrate Siti Hajar Ali. During the trial, Magistrate Siti noted the reasonable testimony of the accused, who said that she did not have any prior knowledge of any bicycle riding activities occurring in the area. Additionally, the court was told that Sam was been driving on the far-left lane of the road at the time. This is consistent with a study conducted by the Malaysian Institute of Road Safety (MIROS), which found the accused to be driving at speeds between 44.5km/h or 75.8km/h.
This acquittal was later met with an appeal filed by the Attorney General's Chambers (AGC) at Attorney General (AG) Tan Sri Idrus Harun's instruction last year.
Malaysians have expressed their outcry over the verdict
Malaysians across the country have since cried foul over the verdict on social media, with many rallying their support behind Sam. Many have also pointed to the fact that the parents of the deceased teenagers should equally be held accountable for negligence by allowing their children to roam on highways past midnight.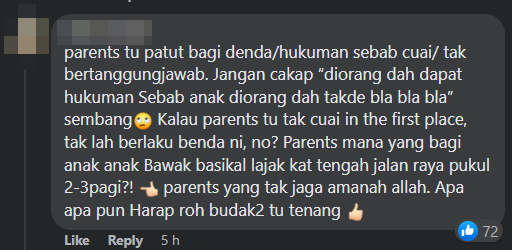 DAP & MCA lawmakers vow to offer legal assistance
Bukit Gelugor MP and DAP man Ramkarpal Singh has since released a statement on the matter, urging Sam to file an application for leave to appeal against the decision with the Court of Appeal. Additionally, he said that the DAP National Legal Bureau is prepared to step in and offer legal assistance to both Sam and her legal team in the filing and hearing of her application for leave to appeal to the Court of Appeal.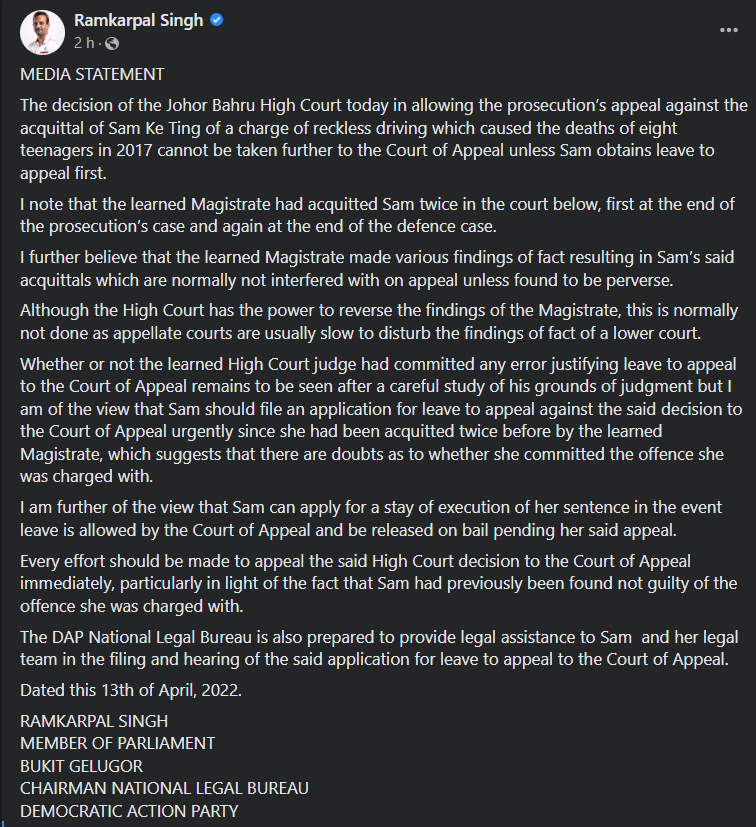 This was echoed by Johor DAP deputy Chief Teo Nie Ching, who in a statement released on her Facebook page, said that she will be contacting Sam's lawyer via WhatsApp to provide legal assistance.
"1. We are shocked by the judgment of the Johor Bahru High Court today.
2. Ke Ting was acquitted twice. Once in 2019 and the other last year.
3. We therefore consider this case to be well-founded for appeal to the Court of Appeal and an immediate application for leave to appeal should be made.
4. At the same time, the DAP Legal Bureau is also ready to provide legal aid to Ke Ting and is willing to work with its existing team of lawyers.
5. We believe that this is a case of public interest, and the judgment of this case will have a profound impact on the rights and interests of road users in the future. Therefore, I have contacted Ke Ting's lawyer via WhatsApp message and told them that we are willing to provide any assistance they need.
Teo Nie Ching
Kulai MP
Johor DAP Acting Chairman"
Similarly, MCA legal bureau head Chan Quin Er, who is a former deputy public prosecutor herself, has said that her department will be contacting Sam's family to offer pro-bono legal services.
"MCA will provide legal support to help Sam Ke Ting's appeal!
In response to today's Johor Bahru High Court's appeal against the death of 8 teenagers riding modified bicycles, the defendant Sam Ke Ting was found guilty of negligent driving causing the death of others. The director of the MCA Legal Affairs Bureau has said that MCA will provide Sam Ke Ting with Legal aid, including assisting with her appeal, and ensuring that she receives a fair and equitable decision.
This ruling is undoubtedly a heavy blow to Shen Keting, MCA promised to provide her with legal aid."
Tap here to give us a 'Like' on Facebook and stay up-to-date on the latest news!
Also read: M'sian woman previously acquitted for deaths of 8 'basikal lajak' teens charged with 6 years prison, RM6,000 fine