In a recent update to the case involving a sales clerk who had accidentally crashed into and killed 8 teens riding modified bicycles five years ago, it has been reported by Berita Harian that 27-year-old Sam Ke Ting has been officially found guilty for reckless driving resulting, and was charged by the Johor Bahru High Court with 6 years of jail time as well as RM6,000 in fines. She is expected to serve an additional 6 months of prison, should she fail to pay off the fine amount.
Her driving license will also be suspended for a period of 3 years after her release from prison.
27yo sales clerk charged with 6 years prison, RM6,000 fine in fatal basikal lajak case
Previously, the magistrates' court in Johor Bahru had acquitted and discharged the sales clerk on 28th October 2019, after the conclusion of the prosecution's case without calling for her defence. The verdict was passed by Magistrate Siti Hajar Ali, who noted the reasonable testimony of the accused, who said that she did not have any prior knowledge of any bicycle riding activities occurring in the area.
Moreover, the court was also told that Sam was driving on the very far-left lane on the road at the time of the accident. This matches with a study conducted by the Malaysian Institute of Road Safety (MIROS), which found her to be driving at speeds between 44.5km/h or 75.8km/h.
However, she was then called to her defence after an appeal was made by the prosecution last year on 18th February 2021, according to Free Malaysia Today. Judge Abu Bakar Katar, who presided the case, said that the prosecution had succeeded in proving a prima facie case against Sam. Additionally, he said that the trial court was found to have erred in reconsidering the issues raised by the end of the prosecution's case regarding the identity of the driver, admissibility of the exhibits, and no identification of the victims.
Incident had taken place in 2017
The incident, which took place on 28th February 2017 at Jalan Lingkaran Dalam in Johor Bahru at 3.20am, saw the then-22-year-old Sam crashing into the group of teenagers who had been riding basikal lajak modified bicycles at the time, killing 8.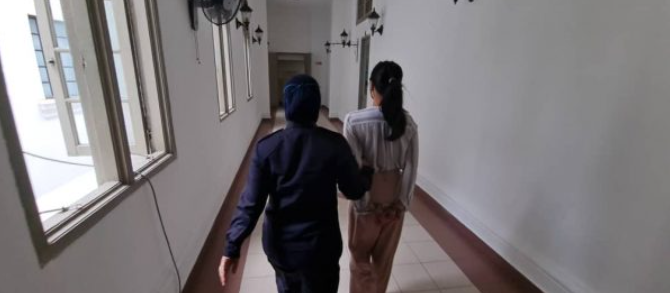 She will now be charged under Section 41 (1) of the Road Transport Act 1987 (Act 333), which carries a maximum jail term of no more than 10 years, as well as a maximum fine not exceeding RM20,000 upon conviction.
The deceased were identified as:
Azrie Danish Zulkefli aged 14
Shahrul Izzwan Azzuraimie aged 14
Firdauz Danish Mohd Azhar aged 16
Fauzan Halmijan aged 13
Azhar Amir aged 16
Harith Iskandar Abdullah aged 14
Shahrul Nizam Marudin aged 14
Haizad Kasrin aged 16
Tap here to give us a 'Like' on Facebook and stay up-to-date on the latest news!
Also read: M'sian accidentally plunges car into apartment swimming pool after rainstorm caused poor road visibility