Earlier today, it was reported that a man had been seen walking out from the wreckage of a burning Perodua Axia compact car in Perlis with his body completely engulfed in flames. The video, which has since gone viral across social media, had led to much speculation as to what had caused the fire to break out.
Man who staggered out of burning car covered in flames revealed to be 28-year-old man who tried to commit suicide
Well according to an updated report from local newspaper NST, it has been determined that the victim of the fire had in fact been trying to commit suicide by igniting himself in his car at the time, which led to the fire. Kangar police chief Superintendent Wari Kiew said that the man had attempted to take his own life after learning that his ex-girlfriend had started a new relationship with another man, adding that this isn't his first attempt at suicide.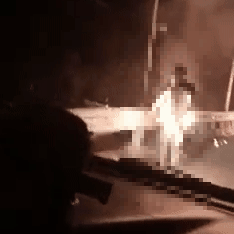 Previously, he had tried to kill himself twice last month but was saved by his family members in both instances. It was also learned that the 28-year-old man was a psychiatric patient who had been receiving outpatient psychiatric treatment at Hospital Tuanku Fauziah.
"He was heartbroken upon learning that his former lover has met a new guy and attempted suicide twice prior to yesterday's incident, but was saved by his family," Wari explained in a statement today.
Father had rushed to the police station after his son consumed petrol and left home in his car
The victim's father said that he had consumed petrol at about 8.45pm before leaving their family home in the car, which prompted them to immediately rush to the Kangar police station for help out of concern that he may be making another attempt at taking his own life.
Unfortunately, this proved to be true after the victim's father learned that emergency services were called to the scene of the burning wreckage of the Perodua, found parked on a bridge in Kampung Syed Omar.
"A passerby pulled over his vehicle when he saw a man, who was on fire, walking away from the burning car."

"The witness quickly exited his car to calm the man down before helping to put out the fire and alerted the authorities," he added.
According to Kangar Fire and Rescue Department operations commander Shahrunnizam Kamar Bashah, as many as 10 firefighters and an ambulance were dispatched to the scene. The victim suffered severe burns to over 98% of his body as a result of the incident, and has reportedly succumbed to his injuries.
For more news like this, follow us on Facebook by tapping here. 
Also read: Driver of Perodua Axia seen staggering out from burning wreck covered in flames after his car catches fire