Come election season, every five years or so, politicians from all quarters in Malaysia are once again back on the campaign trail to shore up support from their constituents ahead of the polls. With that said, allegations of corruption and cronyism plaguing Malaysian politics have left many Malaysians increasingly suspect over the motives and intentions of the nation's elected officials and their parties.
Young Malaysians seen accepting handouts from BN
And in the case of current ruling coalition Barisan Nasional (BN), a recent video that has made the rounds over social media has once again ignited much discourse among local netizens online. The clip, which was initially uploaded last Thursday (November 3rd, 2022) by Twitter user @apanakdikato apparently shows a long line of young men, many of whom were clad in shirts bearing the party's signature shade of blue. 
As they stepped up to what appears to be an officer from Barisan Nasional, the teenagers could be seen receiving cash handouts amounting to RM50 per person. A number of them kissed the BN officer's hand in a show of gratitude, while one held up his payout in excitement.
Netizens have mixed reactions over the incident
It isn't immediately sure where or when the video was taken. With that said, the ambiguity of the payout's purpose has led to divided opinions. Some have called out Barisan Nasional for alleged bribery, while condemning the teenagers for willfully participating in an act of corruption.
"This is how UMNO teaches Malay kids." 
"UMNO really are idiots. This is how UMNO really treats Malays. 
It wounds me to see how young Malays are being fooled by UMNO. At this age, they should be taken care and educated for the future of their own race and country. 
But UMNO prostitutes their own race for the sake of power and money. 
Idiots!"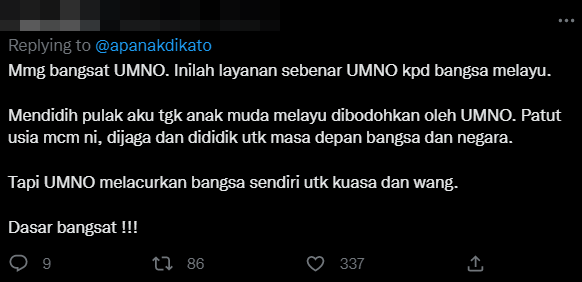 However, others say that while they may have accepted the handout, there's no telling that they wouldn't vote for other political parties when it comes time to cast their votes at the polling station.
"Just take if they offer you money. As long as you promise not to vote for BN. If you vote for them, then you know what the answer is."

"Nothing wrong. It's not like its their (BN's) money. This all belongs to citizens. They should have asked for more." 

"Those who accept the handouts aren't stupid. They're smarter than you think. They greet them, shout out UMNO's name, take the RM50. Then vote PH the next day."
"Right? The money offered by these ministers belongs to the citizens anyway. So if the citizens accept it again, it doesn't necessarily mean that they would vote for the same ministers."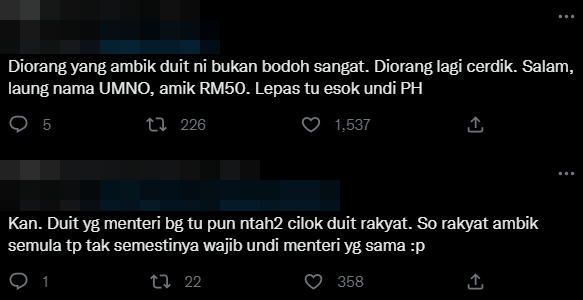 One also suggested that they could have been paid for helping to put up campaign flags around local constituencies.
"Maybe these young men are paid volunteers. Tasked to set up flags, setting up canopies, carrying stuff. Just because they're being paid doesn't necessarily mean they are told to vote for BN."

Tap here to give us a 'Like' on Facebook and stay up-to-date on the latest news and stories!
Also read: Zahid Hamidi acquitted on all 40 charges of bribery connected to foreign visa system contract