Love can lead a person to do some truly incredible feats. In fact, some may even go so far as to say that love is the most powerful and compelling of all human emotions. And in the case of a couple in China, this has certainly proven to be true when they were both confronted by a truly dire set of circumstances, where a split-second decision had made all the difference between life and death.
Man keeps his wife safe from burning flat by holding her out on a ledge while suffering from burns
According to Chinese paper Sin Chew Daily, local residents in a neighbourhood located in Nanjing, China bore witness to a truly heart-wrenching scene that almost appeared to have been lifted straight out of a movie, when a woman was seen being held away from the flames on a ledge by her husband as their home went up in a blaze.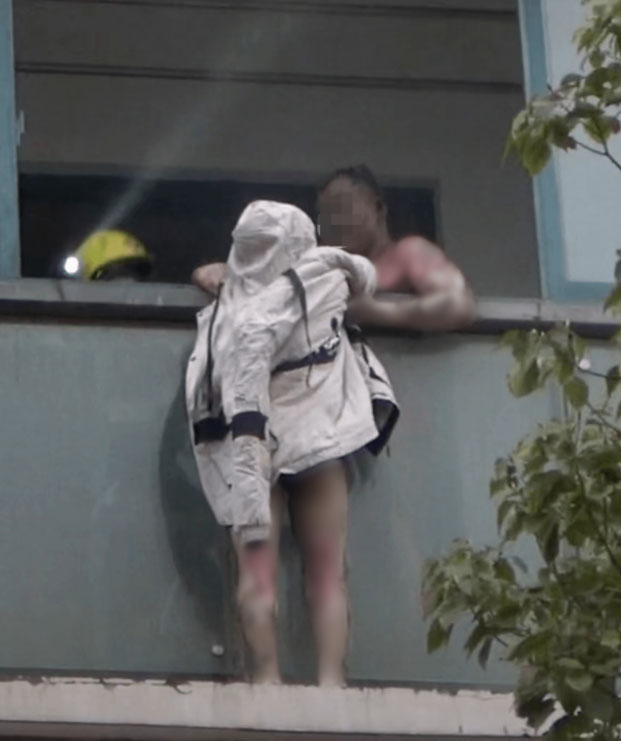 Despite the pain and potential risk of being burnt to death himself, the man kept a firm grip on his wife to keep her from tipping backwards and falling over, in hopes that he could keep her away from the flames long for long enough until she was rescued by emergency services. Local media outlets report that the couple found themselves trapped in their flat when they realised that the door leading out of their unit was jammed shut.
Left with little choice as it appeared that their flat unit was set too high from ground-level to safely leap from, the man decided to ask his wife to climb out from their balcony and stand on the ledge outside as he held on to her in a bid to keep her from being burnt by the fire. But as a consequence, the man sacrificed his own safety and with his back turned to the blaze behind him, suffered severe burns himself.
As they were being rescued by firefighters, the distraught woman even screamed for them to save her husband first as she was brought down to safety. Firefighters said that her husband's skin appeared completely blackened as a result of the fire.
The couple have known each other for decades and have three children together
According to a relative of the couple who spoke to the press, the couple have known one another for decades and have had three children together. Their eldest is now in junior high, while their two younger children are still in elementary school.
Thanks to her husband's courageous decision to protect her from the flames, doctors who were attending to the couple said that the woman sustained noticeably lighter injuries, whereas the man suffered from severe burns due to his exposure to an open fire. It is said that as long as both husband and wife do not go into shock, skin graft surgeries may be performed to help them heal from their wounds.
The video, which has since gone viral across Chinese social media, has led to an outpouring of well-wishes from netizens, as well as praise for the man's bravery and sacrifice.
For more stories like this, follow us on Facebook by tapping here!
Also read: M'sian woman crosses collapsed bridge by climbing on electrical cables to reunite with her mother during floods