As the popular saying goes, 'if you're not sure, then don't share'! But unfortunately in the case of scandalous chain messages over Whatsapp, that is often easier said than done. With the tap of a button, misinformation can spread like wildfire, leading to staggering amounts of damage without one even realising it. And in the case of one local seafood supplier, a rampant case of misinformation led to some very tangible monetary losses.
Rumor that squid rings were made from pig intestines/anuses spreads like wildfire
At this point, we won't be surprised if all of you are now well-acquainted with the recent furor surrounding squid rings. More specifically, frozen squid rings being sold by seafood supplier Shen Hua Resources, who have been at the centre of a chain message allegation claiming that their squid rings were made out of pig intestines, or pig anuses.
The message, which circulated over multiple local Whatsapp groups, even went so far as to claim that the Halal certification obtained by the company was in fact fake, and was used to mislead potential Muslim buyers. However, netizen sleuths have since discredited those claims, with a Halal consumer advocate group going so far as to contact the Shandong Halal Certification Service, which granted the Halal certification for the squid product, to determine its nature.
An email reverted from the director general of the organisation confirmed that the product did indeed comply with Halal standards.
Company is now pursuing litigation after suffering losses
However, the damage from the false messages has already been dealt. In quoting Shen Hua Resources' CEO Rodney Soon during a press conference held over the matter, the New Straits Times reported that the fake information has harmed the reputation and sales of the company's products in several states, including Perlis, Kedah, Penang, Selangor and Putrajaya.
"The Islamic Development Department Malaysia (JAKIM) and the Domestic Trade and Consumer Affairs Ministry have started to investigate the allegations in the five states by collecting a few boxes of samples (squid rings) from Kedah and Selangor to be tested.

"The related authorities took eight boxes of samples from Kedah at 10.30am on March 5 and six boxes of samples from Selangor at 11am on March 7 for testing. Until today, the results are still not out.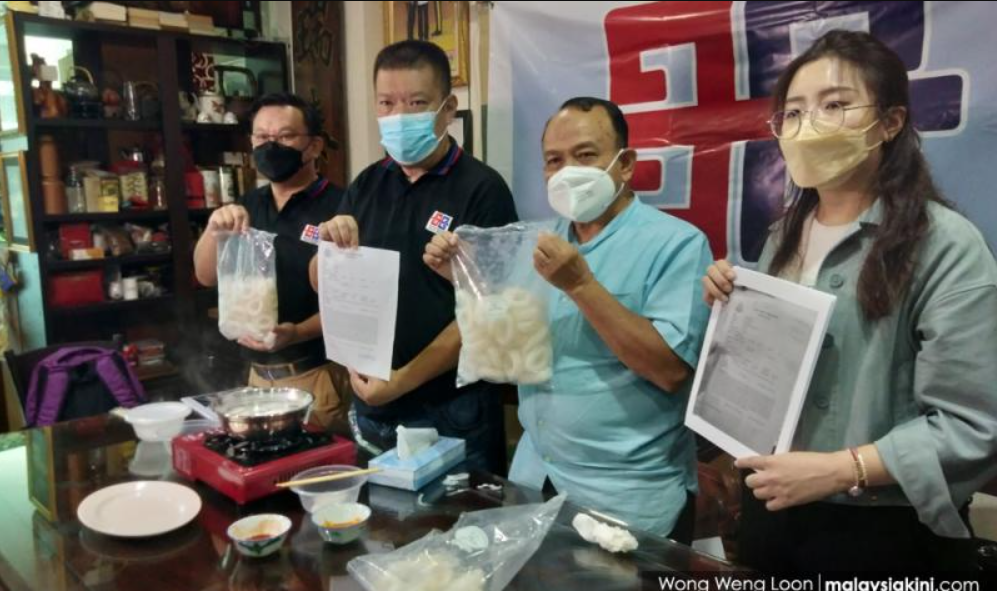 "After discussing with our lawyer, we will take action against the two netizens who spread the fake news," he said.
Pig intestines & squid rings are inherently different
Additionally, Shandong Halal Certification Service (SHC) in Malaysia chief representative Datuk Dr Abd Aziz, who works to assist companies in Malaysia using the SHC Halal logo which is recognised by JAKIM, has pointed out the fact that pig intestines and squid rings are inherently different.
"Pork intestines' cells are absolutely different compared to squid cells because the cells from squids are cuticles from its outer rough skin whereas the cells from pork intestines are from the inner skin layer that we call smooth muscle cells." he said, adding that squid rings will maintain their shape while pig's intestines would collapse upon being cooked.

"If we send a sample to the laboratory and look through the microscope after several processes, we will see two different shapes as comparison,"
He has also expressed his disappointment over the circulation of such spurious rumours by using the images of a Shen Hua Resources product. The company is urging the authorities to pursue the case under the Communication and Multimedia Act 1998.
For more stories like this, follow us on Facebook by tapping here! 
Also read: M'sian netizens receiving chain message that falsely claims frozen squid rings are actually made from pig's anus