Buying high-priced commodities that will be used in the long term such as a mattress requires testing to see if it suits the owner. Most people will just try out the quality of the mattress by sitting on it or maybe lying down for a while. For this man, he tested it out by snoozing on it right inside the furniture shop.
Chinese man knocked out while shopping for a mattress
A man in China recently made headlines when footage showing him sleeping on a mattress went viral on Weibo. He was shopping for a new bed inside a furniture store in Zhejiang when he came upon one that seemed to suit him. Therefore, he decided to test its comfort level by lying down on it.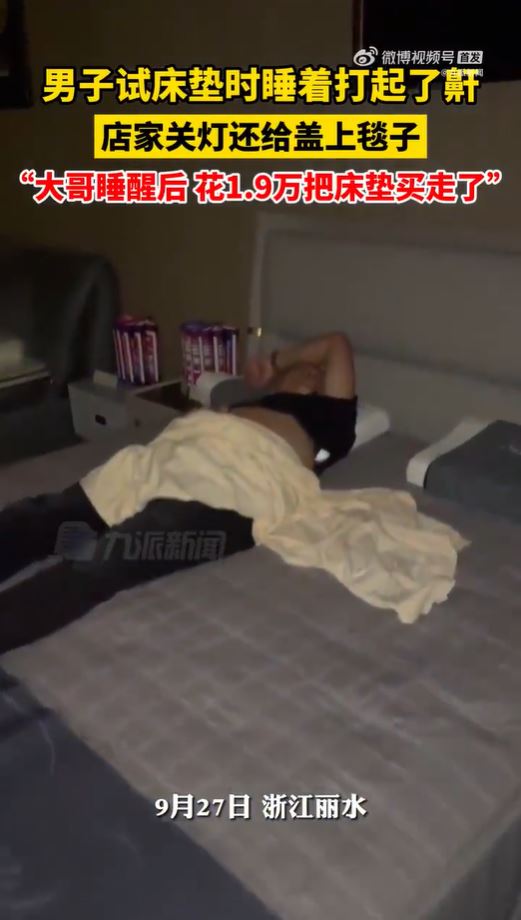 And it may have proven to be efficient because he instantly dozed off right after he laid down. The man was sleeping so soundly that a staff member did not even bother to wake him up. Instead, the worker just let the customer catch up on his sleep, and even covered him with a blanket.
"He was snoring away in his sleep, so one of the staff members just turned off the lights for that area and gave him a blanket," the store owner said.
Bought the mattress right after waking up
The staff member's efforts proved to be fruitful because the sleeping customer soon bought the mattress right after he woke up for a whopping 19,000 yuan (RM12,407.14)! I guess you really can't put a price on comfort.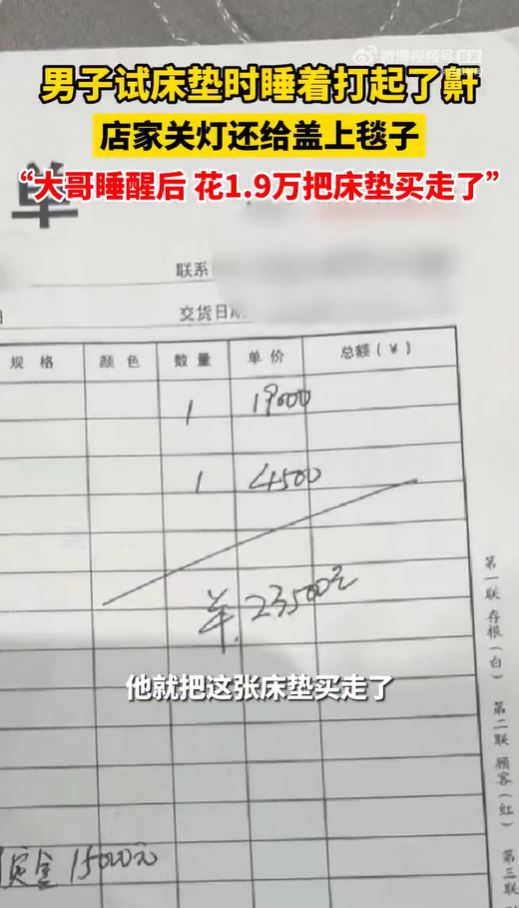 At the time of writing, the post currently has over 4.9 million views and 44k likes. Many netizens found the man to be diverting due to how deeply asleep he was, and some even asked for the brand as they found the clip to be good advertising.
"I would like to know the brand of that mattress so I can also sleep instantly like that."

"Since it's already viral, why not just tell us the brand? If it's really that good, then I would like to buy one.

"Maybe the mattress is that good since only a premium mattress can provide such deep sleep."
However, many claimed that a mattress with that price tag is deemed too expensive, and the customer was foolish to spend that much money on merely a bed.
"That's so expensive! I already considered my 600 yuan (RM 391.80) mattress a premium choice."

Will this be your future tactic for choosing a new mattress?
Tap here to give us a 'Like' on Facebook and stay up-to-date on the latest news!
Also read: 104yo woman in China excitedly reunites with her 77yo daughter at train station, tugs at netizen's heartstrings