67-year-old A. Bakar Che Ahmad, a.k.a Pokwe had an idea to build a house that floats after feeling frustrated about the heavy floods happening annually in Terengganu where he currently resides. He spent more than three months realising his 'floating house' vision. Determined to protect his loved ones and their properties, he named this big project as 'Rumahku, Rakitku'.
Floating house with 69 plastic barrels and 54 wooden boards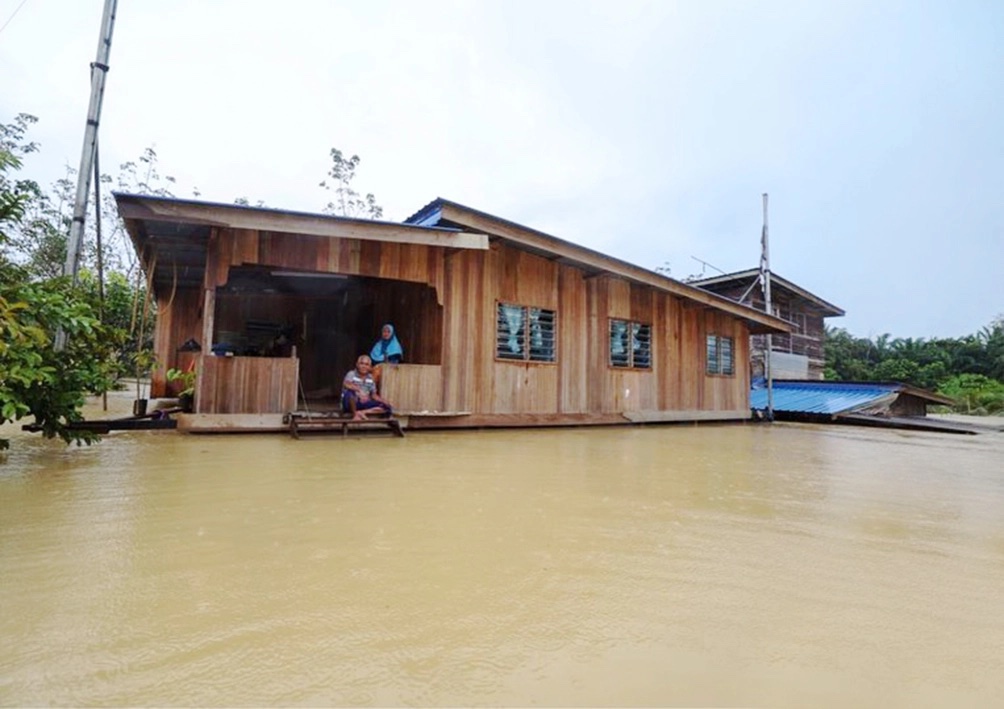 He had used 69 plastic barrels and 54 plywood boards under his house to turn his vision into a reality. Together, these simple materials can hold a weight of 15 metric tons. His labour came to fruition when the heavy floods hit his neighbourhood in Kampung Terbak Batu, Chukai last week. The senior citizen feels proud, happy and satisfied to see his efforts for this big project paid off.
The house owner's achievement was proudly shared on TikTok by one of his children. In the video, you can clearly see that his 70 square feet wide and 5.8 metres tall wooden home was floating safely above floodwaters. The floating house was tied to two 6m pillars that were built on the sides. It has five bedrooms, where he, his wife and two children stay together.
'Rumahku, Rakitku' project costs up to RM47,000
As a former toolsmith, Pokwe had the inspiration to build this flood-resistant house after successfully building his floating chicken coop in 2019. The floating coop was able to keep his chickens safe during the floods.
He had to take into account many external factors, for instance, strong currents caused by the floodwaters. Even so, he was not entirely sure if his much larger house would float until the floods during the monsoon season. Along with his seven children, Pokwe was able to complete this project in September, costing up to RM47,000.
As shown in the TikTok video, the senior citizen was also said to be made fun of by some neighbours when he was busy installing the plastic barrels. However, it was a relief that his efforts were able to help him achieve what he envisioned.
"I feel very happy because of the positive comments on the video. I feel very grateful and I like to share it with the public so that they can get ideas on how to save their homes," said Pokwe to Bernama, adding that he is also willing to 'teach' social media users how to flood-proof their house.
Tap here to give us a 'Like' on Facebook and stay up-to-date on the latest news!
Also read: Quick-thinking M'sian motorcyclist digs out a trough along flooded highway to drain away excess rainwater