Not too long ago, a Malaysian mak cik has attracted widespread attention across the country after she was seen conversing with a group of Japanese delegates at the National Mosque. Asides from incredibly fluent English and Bahasa Malaysia, she was even able to slip into remarkably proficient spoken Japanese, much to the delight of the foreign delegates who were there on a visit.
Mak cik who speaks fluent Japanese was a former tour guide
Many have since speculated that there was more to the mak cik's story than meets the eye, with some wondering if she had previously worked in a Japanese company, which could potentially explain her ease in speaking Japanese. Well as it turns out, Japanese isn't the only language that she is proficient in! Through an interview with local paper Harian Metro, the cleaner mak cik has since been identified as 59-year-old Ms Nirmaningsih Mawi.
A mother to five children, Mawi had previously worked as a former tour guide, and had been involved within the tourism industry for 30 years. Charting her career from 1990 under a tour agency, she would later go on to operate independently.
Given her chosen profession, she promptly decided to enhance her linguistic skills through a number of different language courses, starting with English in 1990. She would subsequently follow up with a Japanese language course from 1991 to 1992, Arabic in 2010, and lastly German in 2011. This is on top of her ability to speak Bahasa Malaysia and Minangkabau.
This would mean that Mawi could speak a total of six languages, a skill which she demonstrated while being interviewed by TikTok user and Harian Metro journalist Redzuan Muharam.
Upon the completion of her language courses, she said that she had to undergo an assessment before receiving a language license from the Ministry of Tourism, Arts and Culture (MOTAC). She had even received a scholarship by the Public Services Department (JPA) to pursue an intensive course for Japanese.
Unfortunately, COVID led to her work in tourism drying up
Upon completion of her course, Mawi would go on to work for a Japanese tourism agency based in Tokyo, which allowed her to further refine her Japanese speaking skills in a practical setting.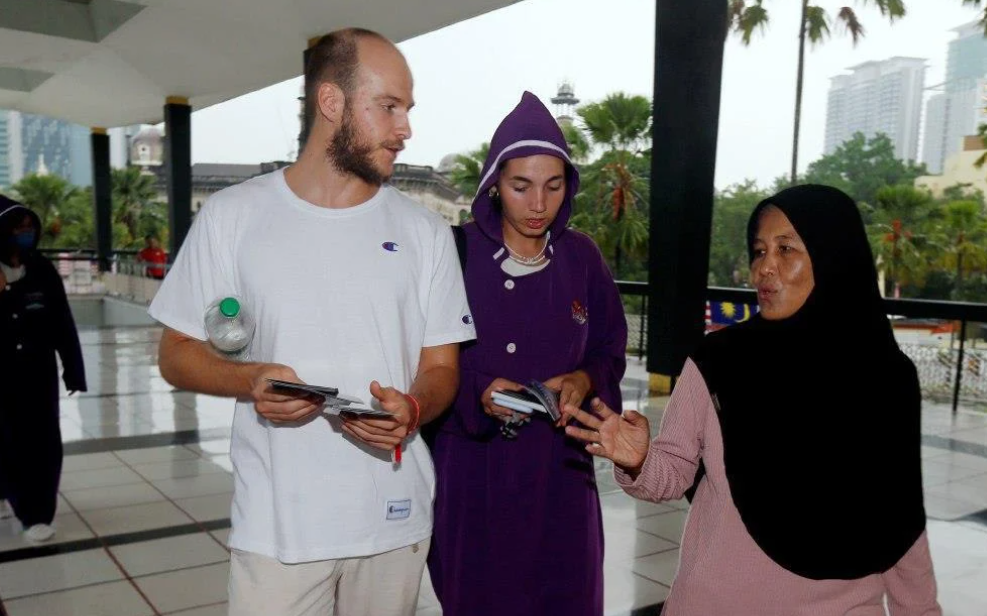 However, her work in tourism would come to an abrupt halt as international borders were closed off during the height of the COVID-19 pandemic. With the industry seeing a sharp downturn as a result, she was left without a job for four months before she decided to switch tracks and take up work as a cleaner with a local company.
"I worked there for six months before joining a sanitisation company, and then coming here (the National Mosque) to work with my husband, who is also a cleaner." she explains.
The experience is refreshing for her, and she notes how at one point in the past, she would use to bring tourists to visit the National Mosque before coming to work here herself.
She is happy with her current job and remains content
Despite the drastic change in scene, Mawi says she is content with her job as it granted her the opportunity to try out new experiences. All the while, she could still meet tourists from all across the world, spend her lunches with her husband, in addition to being able to pray and study the Al-Quran during her time off.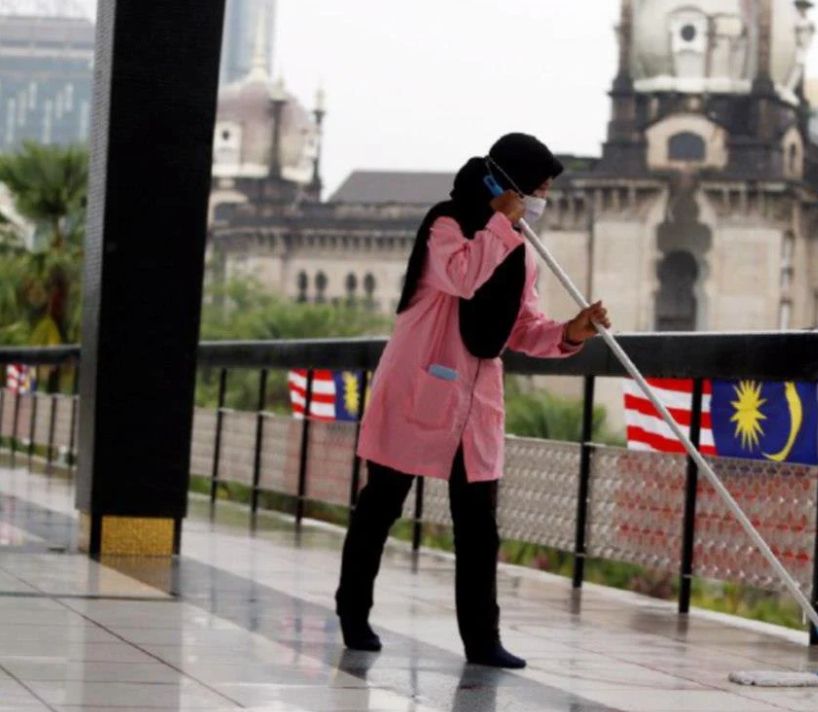 Her children have urged her to look for new work, but she says she is happy as her current role grants her more time with her spouse. However with international travel resuming once more, Mawi says that she has taken up an opportunity to work as a tour guide again this coming weekend. She clarifies that she still works as a tour guide on the weekends, when time permits.
Mawi, who was born in Sumatera, Indonesia, moved to Malaysia at the age of three with her mother. Ever since then, she has called this country home. In speaking on her newfound fame, she said that she was surprised by the warm reception that the video clip has received, and urges young Malaysians not to be picky with their jobs and be open to learning new languages that interest them.
Tap here to give us a 'Like' on Facebook and stay up-to-date on the latest news!
Also read: M'sian cleaner mak cik dazzles netizens with her fluent Japanese while teaching foreign delegates to speak Malay