Walk into a restaurant or local coffee shop and chances are, you will stumble upon one of the most impressive, albeit commonplace skills that are shared among Malaysians alike; the ability to speak more than one language. Owing to our shared heritage and culture, many of us are familiar with being able to converse, or at least order off a menu, using a mixture of English, Malay, Mandarin, or Tamil, phrases.
Local mak cik impresses with her Japanese speaking skills 
And while polyglots are a dime and a dozen here, many netizens were left pleasantly surprised by one local mak cik and her incredible fluency when it came to a language that wasn't native to Malaysia: Japanese. In a video shared by Facebook user Hanafi Damanhuri, the middle-aged woman could be seen teaching a group of men how to speak Malay correctly by offering them advice on grammar.
According to local paper Sin Chew Daily, the mak cik had overheard a conversation that had been going on between the men, before deciding to offer some help. The men were said to have been delegates that had been brought to visit the National Mosque by Hanafi at the time.
Taught delegates the nuances of the Malay language
With her mop still in hand, the mak cik, who was assumed to have been working as a cleaner, can be heard confidently switching between Japanese, Malay, and English as and when it was needed without missing a beat at all. She then proceeded to explain how sentence structures worked in Malay, and how they were different when compared with Japanese.
She then told the men that learning Malay wasn't difficult, before respectfully thanking them for visiting the attraction and bowing in a traditional gesture of appreciation.
Netizens have since lauded the mak cik with heaping praise, especially for her near native proficiency and knowledge of the Japanese language.
"She really is incredible speaking in Japanese. My daughter knew exactly what she was explaining." 
"Don't judge people by their job. Remove the feeling of being judgmental from ourselves. Even if they work as cleaners, it may be because circumstances have forced them to resort to picking that line of work. They are educated and have a wealth of experience. I salute this mak cik."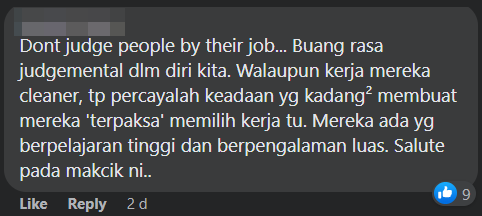 "Maybe she used to work for a Japanese company. Great job, mak cik!"

Tap here to give us a 'Like' on Facebook and stay up-to-date on the latest news!
Also read: Dinner & a ride to the bus station; Tourist couple shares how Tawau man helped them when their ATM cards were declined