Just yesterday, Malaysian social media was caught up in arms after it was revealed through a recording from an online virtual class that a UiTM lecturer had berated a student for not owning a laptop, while also making disparaging remarks about those who fall in the B40 category. However, another student facing similar circumstances shared how her own lecturer had decided to help her afford a computer of her own in a truly touching gesture.
UKM lecturer crowdfunds financial aid for her student
According to local Malay daily Sinar Harian, 24-year-old Ishaira Syuhada Isran, otherwise known as @airore0 on Twitter, took to sharing how her lecturer, Professor Madya Dr Wan Amizah Wan Mahmud, had helped organise a crowdfund so that she could purchase a new laptop to replace her old one after it had broken down beyond repair. Previously, Ishaira had intended to defer her semester due to the fact that she didn't own a functioning laptop that allowed her to participate in online classes.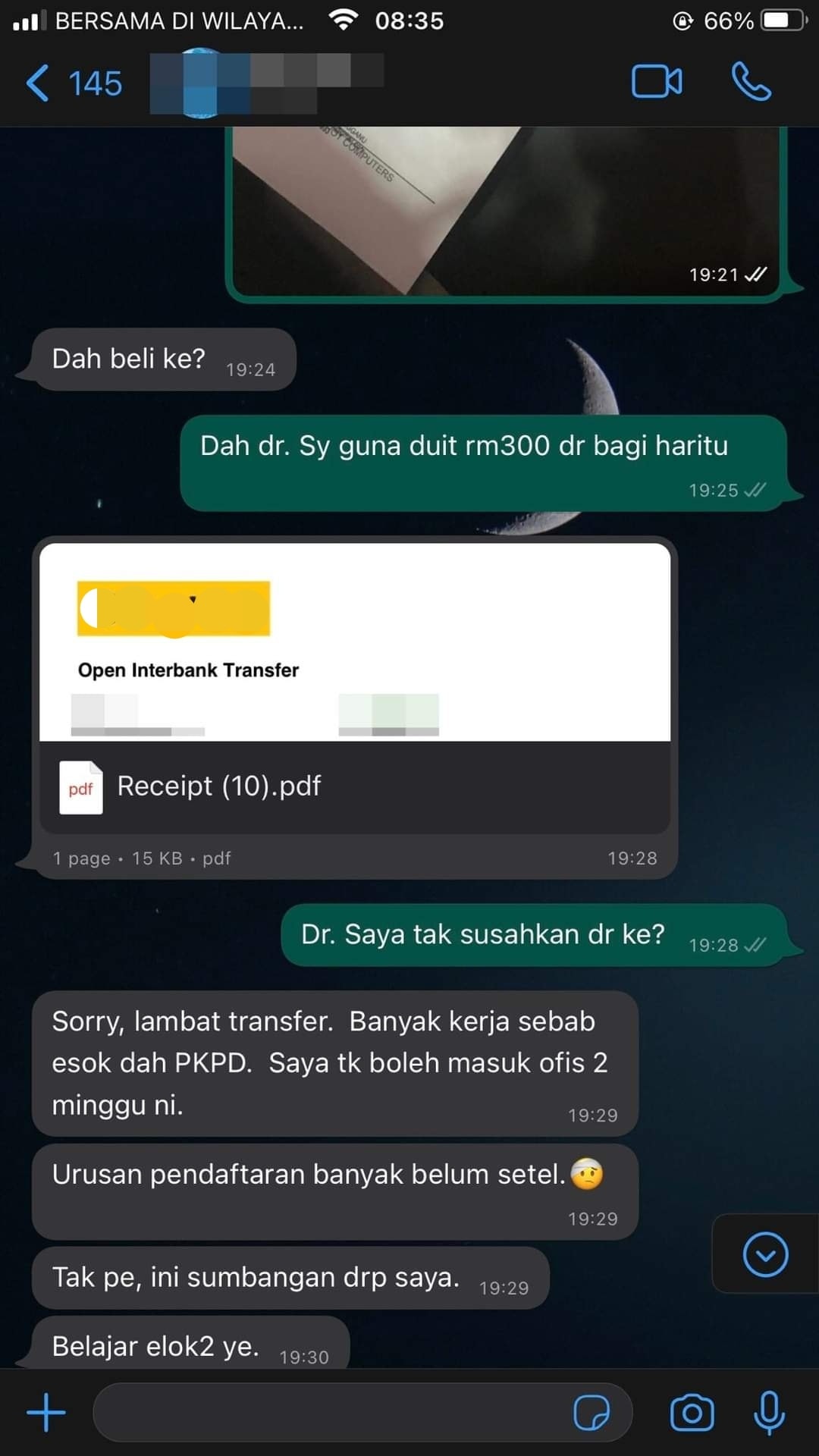 In speaking with the newspaper, Prof Madya said that she then made the decision to collect a small amount of money from among those working in her faculty, in order to provide some form of financial assistance to Ishaira, who was already in her fifth semester at the time and was working on her final thesis.
"I started raising funds with a group of lecturers and eventually we managed to come up with RM1,000 together. I gave RM300 to Ishaira, as well as some other students in order to help cover their fare back to campus as well as other daily expenses," she said.
Money was then used towards replacing her broken laptop that was beyond repair
However, due to the Movement Control Order (MCO) that was enforced at the time, Ishaira, who was a student at Universiti Kebangsaan Malaysia (UKM), was not able to use the money to return to campus. In which case, she decided to combine the RM300 from Prof Madya and RM400 of her own savings and put it towards buying a used laptop that would allow her to complete her studies from her hometown of Kemaman in Terengganu.
The story, which has since gone viral across social media, has led to many other students from various universities across Malaysia recounting similar gestures of kindness from their own lecturers.
My lecturer masa fam i terkena banjir tahun lepas. Dia tanya khabar pun dh buat i rasa sebak dh🥹🥹🥹🥹 and selalunya dia dulu yg tegur i tanya pape. Alhamdulillah tq utk lecturers saya yg baik2 sepanjang degree 🥹🫶 pic.twitter.com/cGXAzqFqFR

— mirawr⁷ is simjaeyun's 💎 🇲🇾 (@_niamz) March 30, 2022
Income family 100% daripada business tapi masa PKPD tak boleh buka kedai, tak boleh meniaga pasar malam. Adelah buat business cod makanan tapi cukup cukup je lah. And then here comes Biomed lecturers bantu 🥰🥰🥰 pic.twitter.com/cSlTBj61mB

— chaa (@annisahendra_) March 30, 2022
Bersyukur kan dpt lect baik2.. This one happened to me time nak submit assignment then line slow gila smpai dh trlepas due.. lect siap suruh tidur dlu 😩 Terharu gilaa 🥺🤍 pic.twitter.com/YuMbWiOdVs

— Lea ୧⍤⃝🏴‍☠️ (@wooyosdarling) March 30, 2022
In regards to the incident that had taken place at UiTM Shah Alam, Prof Madya, who is also Head of the Media Communications Program at UKM's Faculty of Social Sciences and Humanities, said that it was important that the public hear both sides of the story before coming to any conclusions. However, she advises fellow educators that they should always wish their students well.
Thanks to Prof Madya's crowdfunding initiative, it is reported that Ishaira has since graduated from the program with excellent results, and was even granted the Dean's Award for her academic achievements. The eldest of three siblings, she is now currently working in Selangor after having completed her studies.
For more stories like this, follow us on Facebook by tapping here! 
Also read: "This is why I can't sit with B40 people," UiTM lecturer faces backlash for criticising poor student who didn't own a laptop