In fraught times such as the ones we all live in, a little kindness can go a very very long way. Given the state of layoffs and an economy that is just only getting back on its feet, many are no doubt struggling to make ends meet. And for one Malaysian couple who saw the plight of a wandering migrant worker, they decided to offer him a helping hand when he needed it the most.
Woman gifts starving migrant worker groceries
TikTok user @nan4.97 took to sharing her experience of stumbling across what she had assumed was a migrant worker when she was doing her groceries at a local supermarket recently. Filmed from within her car, she observed how the man appeared to be down on his luck and destitute, seemingly caught in an apparent state of despair. Sitting alone in the car park, he held on to his stomach seemingly in hunger, while clutching on to an empty bottle of water.
Feeling empathy for the man's state despite not knowing his exact circumstances, she told her husband to bring out the groceries that she had initially bought for the guards working in her apartment and gift it to the migrant worker instead.
He was so touched, he cried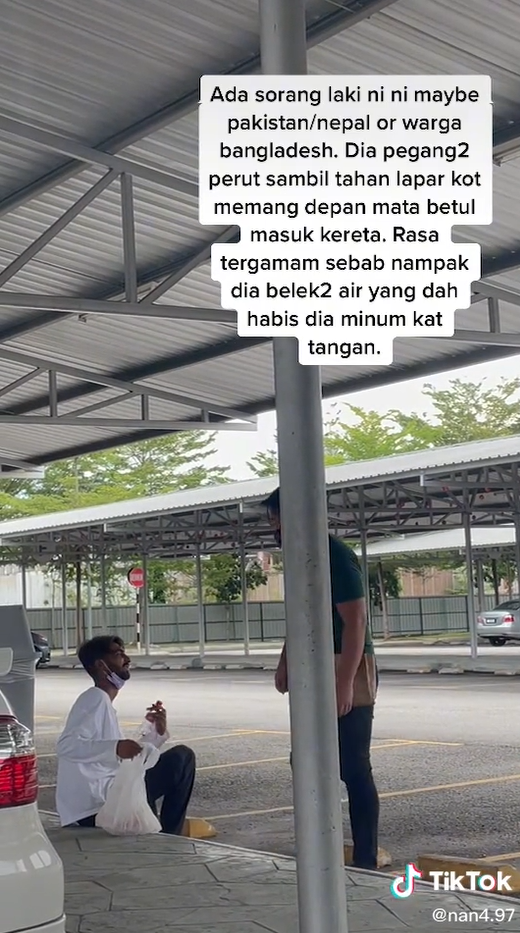 "My husband told me that he (the migrant worker) cried when he received the groceries from him," she wrote.
"What really drove me to the brink of tears was when my husband told me that he even prayed for our wellbeing. I couldn't help but leave the car to buy him a little more food, just so he could have something to last till dinner."
Apparently in conversation with the man, she found out that he was unemployed and wasn't able to find any work.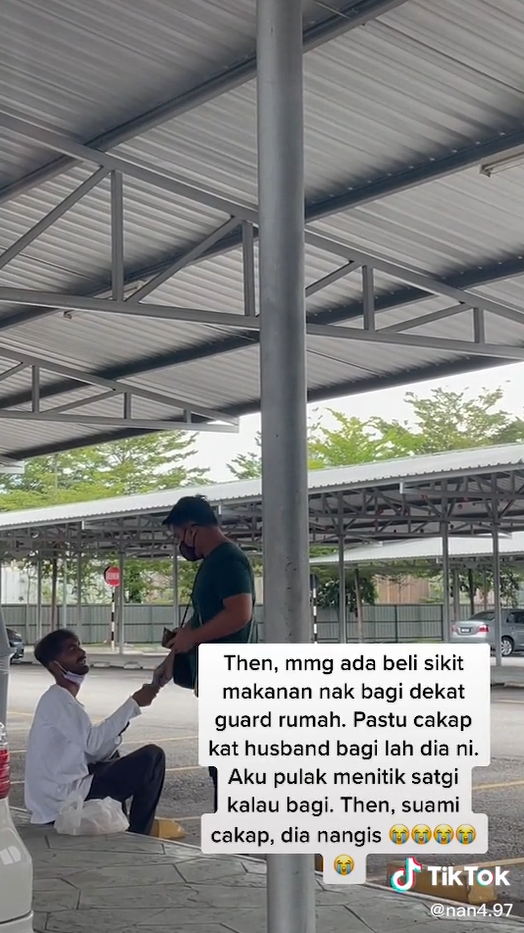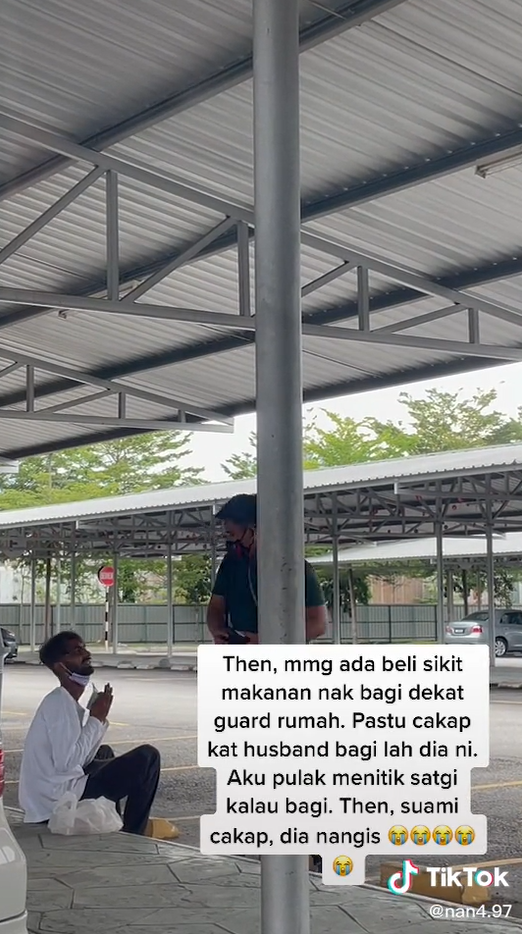 The short 29-second clip has since gone viral across Malaysian social media, garnering as many as 15,400 reactions among netizens. TikTok user @nan4.97 hopes that those watching may similarly be inspired to help give back to those who are less fortunate in society.
What's all the more touching is that with her video going viral, multiple potential employers have since reached out to the migrant worker in a bid to offer him a job to help him off his feet! Which goes to show that one act of kindness can truly change a person's life for the better.
For more stories like this, follow us on Facebook!
Also read: M'sian Grab driver uses own money to feed stray animals, makes sure they don't go hungry