As a Malaysian, the ability to converse in languages other than our mother tongue comes with growing up in a multiracial country. With Bahasa Malaysia being the national language, and English the language used for international matters, it is expected that Malaysians have a decent command of both.
BN candidate criticized after appearing to have difficulties with English and Malay in a live interview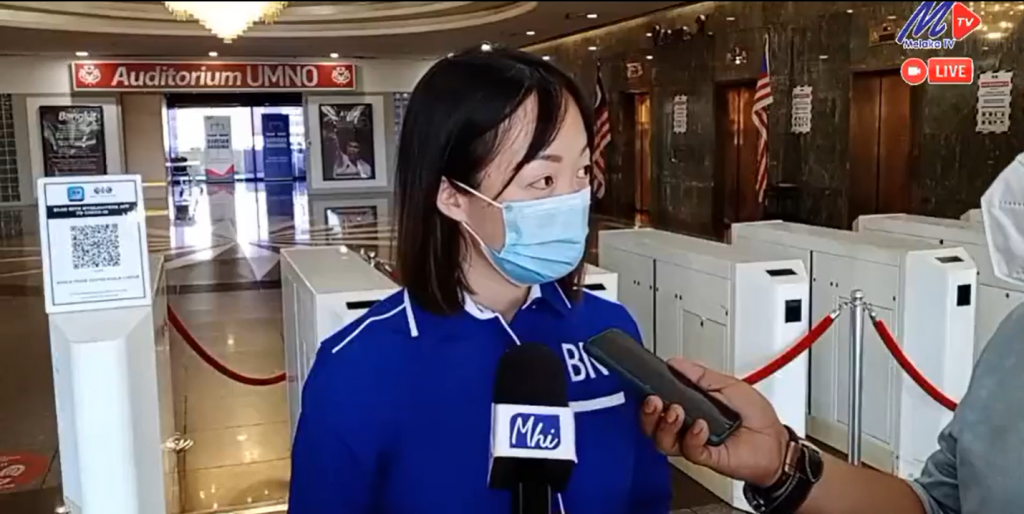 Source: Melaka Hari Ini (Facebook)
With the Melaka state election on its way, all eyes are on the candidates who could potentially govern the state. However, a recent video that has been circulating on Facebook has netizens questioning the eligibility of Barisan National (BN) DUN Kesidang, Leong Hui Ying, to represent the community as she appears to have trouble conversing in Bahasa Malaysia and English in a live interview with a few reporters for Melaka Hari Ini.
The interview, which lasted for approximately two minutes begins with a reporter asking Leong if she was ready. Leong then replied with a "Need to ask much questions? (sic)".
At 29, Leong is the youngest candidate in the upcoming state elections. When asked about how she felt about being the youngest candidate, Leong replied in a mixture of Bahasa Malaysia and English, stating that while she does not have experience in serving the people, she hopes to be able to do her best.
The reporter then asks Leong what she thinks of BN's theme for the Melaka state elections; "Stability for Prosperity", to which Leong responds with visible confusion. "I don't know how to answer this question (sic)", she half-whispered to someone on her right.
A second reporter present at the interview follows to ask another question, with regards to how she as the youngest candidate will compete with other "seniors". Leong says that she will try her best.
Netizens question Leong's ability to represent the people
After the interview, netizens took to the comment section of the video to express their dissatisfaction towards Leong for not being able to converse in Bahasa Malaysia fluently. Many questioned her ability to represent her community at the Dewan Undangan Negeri (DUN). One comment read "How to speak in the DUN when (Leong) can't understand Bahasa Melayu? Need to ask a translator to (help her) understand the question".


Source: Melaka Hari Ini (Facebook)
In a video that has since been taken down, Leong addresses the recent unfolding of events in BM, claiming that she can speak the language. Although it has been taken down as of the time of writing, recordings and screenshots of the video have made its way around social media. Leong's Facebook page also contains other videos of her speaking in Bahasa Malaysia.
Source: Hakak Teja (Facebook)
In the video, Leong can be seen speaking in Bahasa Malaysia, saying that she can actually speak the language, calling for the public not to misunderstand her.
For more stories like this, follow us on Facebook!
Also read: LATEST: Fully-vaxxed Malaysians can travel to SG via air without quarantine by Nov 29th!