Popular photo-sharing social media platform Instagram, which is wholly-owned by Facebook parent company Meta, has reportedly suspended the accounts of thousands of users across the globe without any prior warning. The issue has since been widely reported over the social media space, with the hashtag #instagramdown currently trending as the Number 1 topic on Twitter in Malaysia.

Instagram is reportedly down after suspending accounts globally
As of 30 minutes ago, the official Twitter account for Instagram has confirmed that they have received reports regarding the abrupt suspensions that were meted out to user accounts, and stresses that they are currently looking into the issue.
We're aware that some of you are having issues accessing your Instagram account. We're looking into it and apologize for the inconvenience. #instagramdown

— Instagram Comms (@InstagramComms) October 31, 2022
Social media users corroborate that they received no prior warnings before they were denied access to their accounts.
my instragram account getting suspended for no reason #instagramdown pic.twitter.com/JKDUSMvOfF

— selin (@wonhowon) October 31, 2022
When your Instagram Account is playing up but you come to Twitter and see that everyone else is having the same problem (suspended account)#instagramdown pic.twitter.com/PExHgUmd0N

— Patel Meet (@mn_google) October 31, 2022
Instagram better get their shit together, im not about to lose 6-7 years of my memories in stories cause of this #Instagram #instagramdown

— Jun (@jooninhoe) October 31, 2022
A quick check on DownDetector indicates that as many as 7,394 reports have been submitted by users globally over the outage as of 10.00pm local time.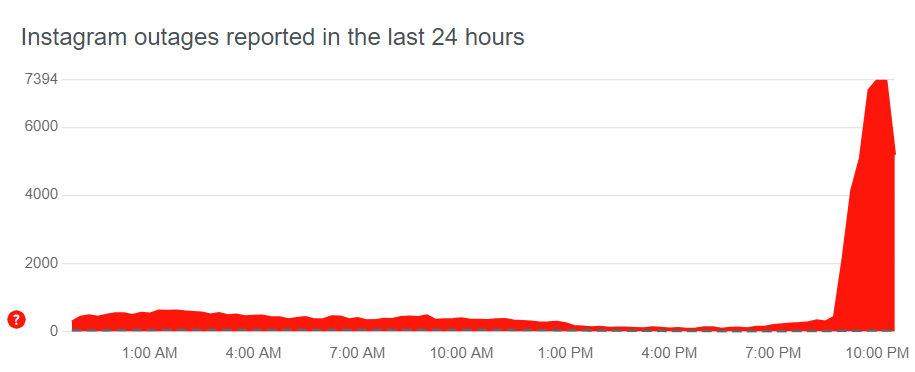 Account suspensions on Instagram are typically only meted out to users if they are found to be in violation of the social media platform's community guidelines.
This isn't the first time this month where social media platforms owned and operated by Meta have been faced with service disruptions, as just earlier this month, WhatsApp users had also faced an outage that interrupted the sending and receiving of messages, in addition to phone calls.
Tap here to give us a 'Like' on Facebook and stay up-to-date on the latest news!
Also read: WhatsApp is reportedly down in M'sia, as well as a few other countries across the globe