Internet fraud isn't new to us. In fact, we've heard all kinds of stories and lately there's been a spike on online scams. A Malaysian student recently shared on Twitter how she lost RM500 in the process of buying a new laptop online. Many replied to her tweet, sharing similar encounters. Some even shared a list of potentially fake computer sellers online, so better take note.
Twitter User Shares Upsetting Laptop Scam Encounter, Urges Everyone To Be Careful:
Twitter user @shashaazri has recently shared a distressing story on how she got into an online laptop scam and lost RM500. She posted the screenshots of her conversation with the seller, along with the seller's Instagram account.
In her tweet she wrote: "Please report the IG of this laptop scam. I lost my RM500 and I'm a student who's literally desperate for a laptop. Not to mention we're in a pandemic and I got into this. This saddens me, please help me to report this Instagram and y'all don't ever buy from here."
To be frank, the seller's Instagram account looks legit, with over 50,000 followers. We bet most of us will let our guards down looking at the amount of followers the shop has. She added that the seller ghosted her after her payment went through, with no updates on tracking number or whatsoever. Worse, the seller could still update the IG account with new posts while ignoring other customers' messages.
Apparently, she's not the only victim. Many replied to her tweet, sharing similar encounters with either the same shop or from a different online shop. Someone even mentioned that the shop changes the username frequently, and uses different bank account, so it's difficult to track down the scammer.
Here's A List Of Potentially Fake Online Computer Sellers:
A Twitter user, @AArfiqah has replied to the victim's tweet with a list of IG scammers, urging the public to be aware and take note. She posted this because her sister who was desperate for a laptop, too got scammed out of RM800.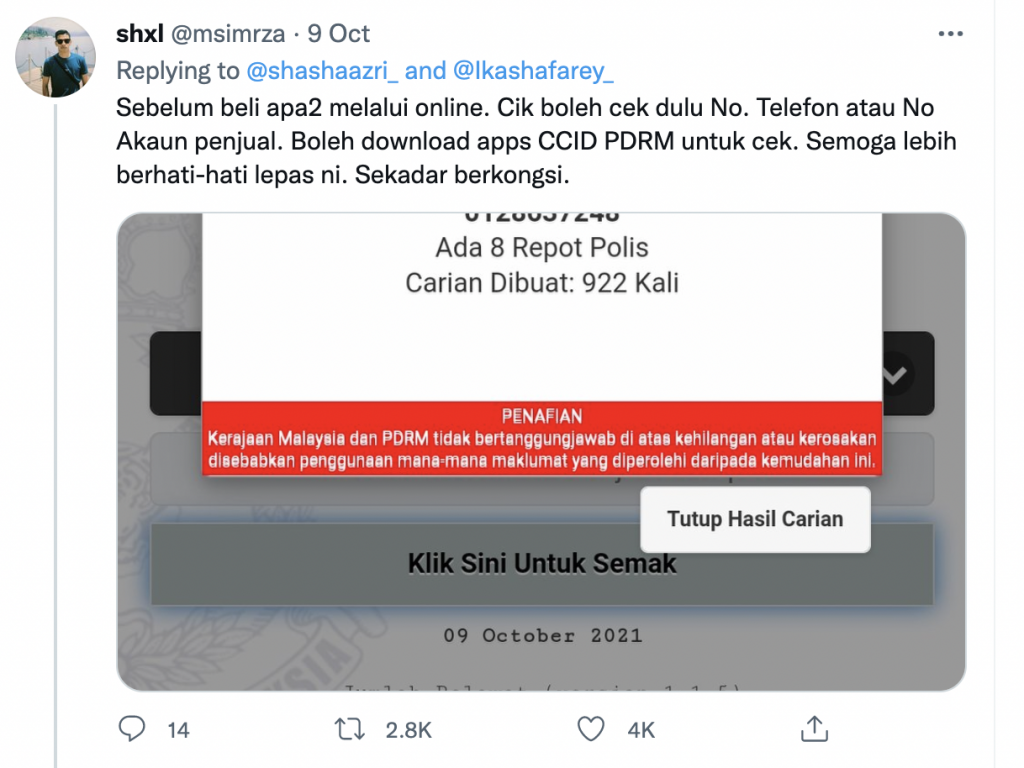 Another user, @msimrza, also mentioned that before anyone buys something online, check the phone number or bank account of seller via the app CCID PDRM to see if there's any reports made to this account. While it couldn't completely block away a fraud, it's better to be safe than sorry.
Don't fall prey to any online products that claim to be authentic yet the price is far from the original. You know it's fishy when a deal is too sweet, so stay alert at all times and be a smart shopper.
Check Out: Fire breaks out at part of Kek Lok Si Temple Penang with no injuries, deaths reported