Flashing is an exhibitionistic crime where a person displays their genitals briefly in front of another person without any prior consent. Offenders will be charged under Section 509 of the Penal Code, and be punished with a maximum jail term of five years or fined.
Although authorities have advised people not to give any reactions to flashers, it can be a horrifying experience for victims, especially women that could leave psychological scars. However in the case of one Indonesian woman, she decided to take matters into her own hands as a man stripped down his pants to expose himself in public at a café.
Woman gives a man a kick from behind after he flashed in public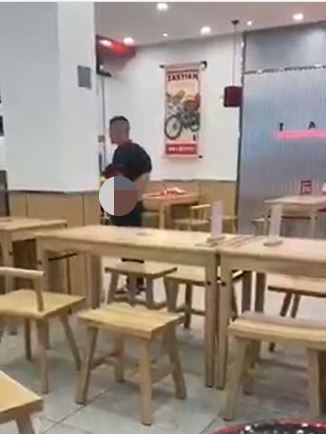 A viral video circulated the Internet which captured a woman teaching a man a lesson when he flashed a group of ladies.
In the video, the man in the black shirt was lifting up his shirt to take off his pants. According to Indonesian news outlet Suara, the man was suffering from mental issues and was known to be deranged. At the time, he was about to expose himself to a group of female diners.
When he was about to flash his genitals, a woman rushed over to him and kung-fu kicked his posterior. The man then dropped down to the ground, shocked by the sudden intervention. After getting up, he quickly pulled up his pants and scrambled out of the café.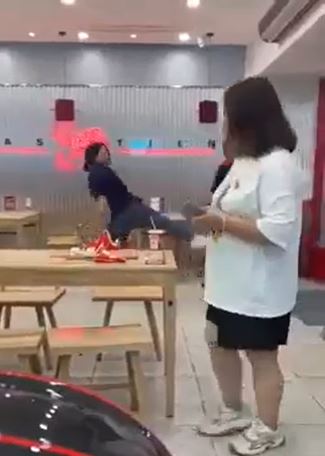 However, the woman did not stop and gave him one last kick to prevent him from flashing for good.
Impressed by that flying kick
The video has since gone viral, with netizens praising the woman for her quick intervention in protecting the modesty of other female patrons present. It was then reposted on the Facebook page of Kelab Info Malaysia, where it has garnered 31k views and 106 comments.
"That painful kick in the butt."

"Feel that woman's horse kick."

One commented that maybe the guy was feeling hot in public.
Others believed that if the incident happened in Malaysia, the woman will be the one at fault.
However, it is worth keeping in mind that violence shouldn't always be the immediate key to resolving such incidents.
Tap here to give us a 'Like' on Facebook and stay up-to-date on the latest news!
Also read: Taiwanese family horrified after discovering that a hacker was spying on them using their baby camera