If one looks into Malaysia's track record in sports, it is pretty easy to see how our national athletes have worked hard to cement our name on a global stage. Whether if its in Datuk Nicol David's record-breaking 108 consecutive months as the world's No.1 ranking squash player, or the many tournaments that Datuk Lee Chong Wei has won in the international badminton arena, their achievements are truly worthy of commending.
National athlete see allowance cut from RM2,000 to RM800
However in spite of that, some of our national athletes have expressed their dismay after the National Sports Council has decided to reduce their allowance from a monthly amount of RM2,000 to RM800. Among those affected include Asia's second-ranked track & field athlete Rayzam Shah Wan Sofian. Rayzam, who is a national hurdler, says that it is practically impossible for him or anybody else to survive on an allowance of RM800 while working as a national athlete.
In speaking with Utusan Malaysia, he explains that athletes were previously rewarded with a standard allowance of RM2,000 regardless of whether they brought home a bronze, silver, or gold medal. However in a recent change by the National Sports Council, only athletes who have won gold were entitled to a RM2,000 allowance. Silver and bronze medalists will only be paid RM800.
Rayzam was a gold medalist in the 100 meter high hurdles event during the 2007 and 2017 SEA games, and had also bagged a silver medal during the Philippines SEA Games in 2019. Having served the country for over 15 years, he hopes that the National Sports Council will look into the matter of allowances granted to athletes.
"I hope that the NSC will look into these allowance cuts, as many athletes continue to maintain their performance, even if they do not bring home gold medals."

"If we were paid RM1,500, that would have still been manageable. But if our allowances are reduced to only RM800, I am also left wondering if I should just take up another job that pays better. I might as well work with McDonalds." he said.
Performance shouldn't merely be judged based on medals, says Rayzam
The financial burden is only compounded by the fact that Rayzam, who is a Sabah-native, is currently living and training full-time in his home state, which means that he has to pay for a residence of his own, on top of other expenses. This is in contrast to athletes who are currently training at the National Sports Council's headquarters located in Bukit Jalil, where they are offered free accommodations and meals.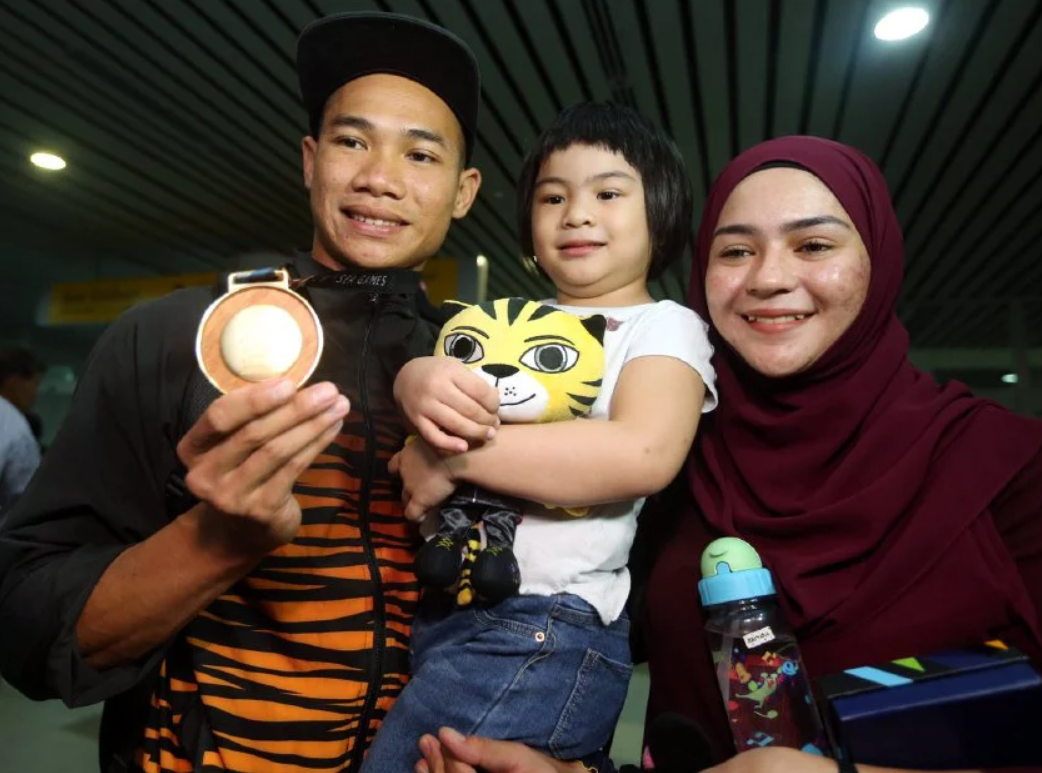 "I have a family of my own. What can I do with only RM800, when I have to pay for my house, electricity, and my kids?"

"In my opinion, the NSC has to be more transparent and practice more discretion when judging the performance of athletes. Our performance shouldn't merely be judged based upon the medals we bring home, or our rankings in Asia." he adds.
This comes after the National Sports Council reportedly terminated the contracts of over 144 national athletes from the national training program after receiving budget cuts from the government as a result of the ongoing COVID-19 efforts and flood recovery efforts.
For more news like this, follow us on Facebook!
Also read: Inspiring 26yo M'sian wows motorsports fans with his skills in a Perodua Kancil, shares his dreams of becoming a racecar driver