While many living along the Klang Valley may be accustomed with the conveniences that the country telecommunications infrastructure may provide, such as speedy and dependable network coverage, not all Malaysians are necessarily blessed with the same facilities. In fact, many rural parts in the country are still a far-cry from enjoying the kind of amenities that so many of us often take for granted, and are often faced with considerable challenges in gaining access to the Internet.
19-year-old Sarawakian student hiked 2 hours up a hill for better Internet reception to conduct uni interview
Among those confronted with the reality of such circumstances include 19-year-old Frank Steward Panting Sa, who hails from the small, provincial town of Pakan in Sarawak. An aspiring teacher in the midst of making his university applications, he has recently gone viral across the local social media space after his brother, Mario Sa, took to his Facebook to share how Frank had willingly hiked for over two hours up along Bukit Kelingkang in order to obtain better Internet reception to complete his online interview with Universiti Pendidikan Sultan Idris (UPSI).
In the series of clips uploaded by Mario, Frank could be seen in sitting on a mat in a makeshift hut that had been constructed earlier by his father, Sa Ujom. With his smartphone propped up on the back of a plastic chair and his paperwork laid out before him, the young man endured being bitten by leeches that emerged from the jungle floor as he diligently completed his interviews.
"He brought along the mat to sit on but his pants got wet during the interview due to heavy rain earlier," Mario adds.
While they may have WiFi access at home, it is only works best for basic Internet services
According to Borneo Post, both brothers are currently living in the Rumah Suing longhouse located at Teberu, Ulu Kemalih. And while their longhouse is connected to WiFi Sarawak's Linking Urban, Rural and Nation (Saluran) network, the network's limited bandwidth only grants access to basic Internet services, such as WhatsApp messages and Facebook.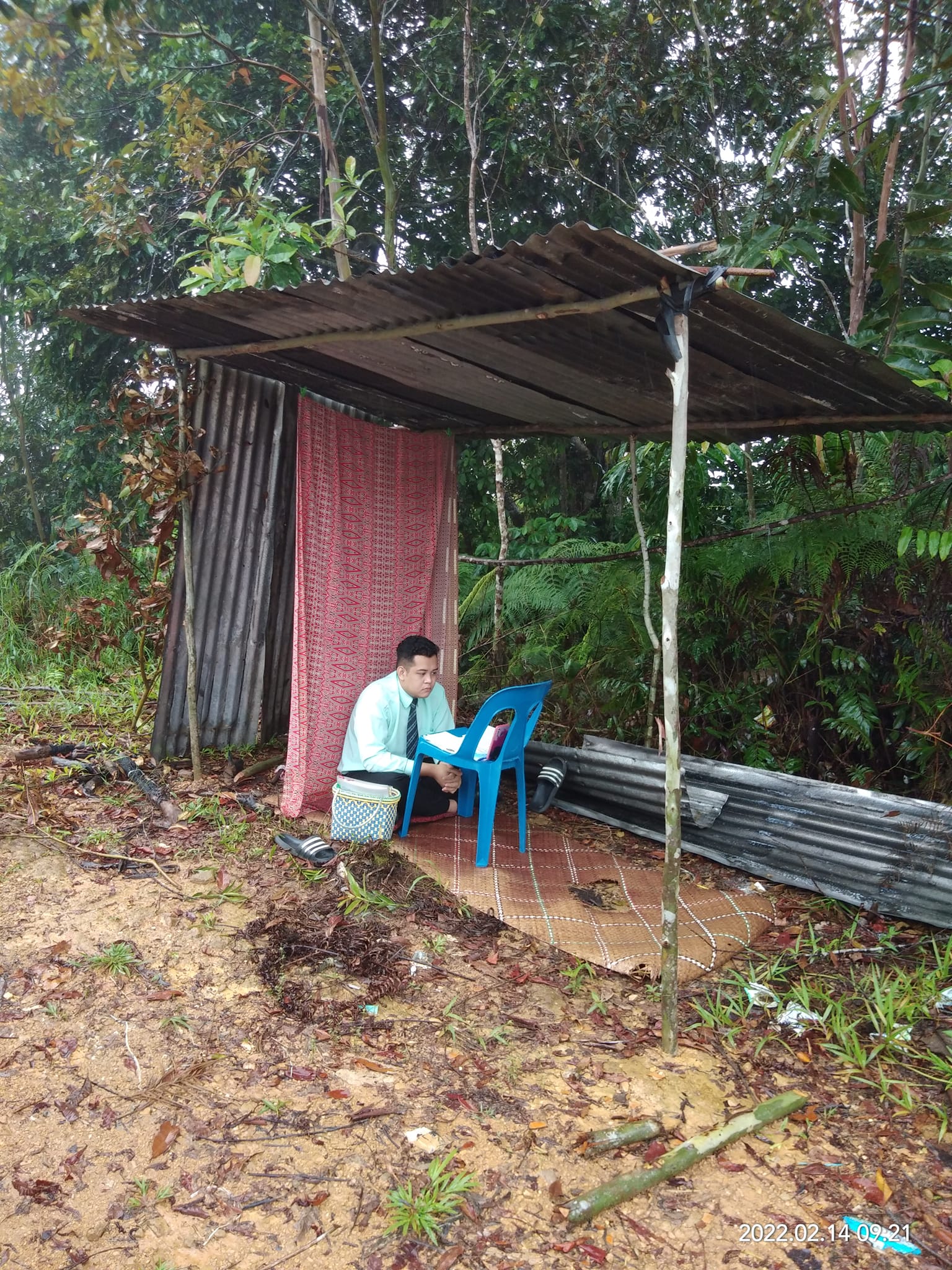 Other tasks, such as conducting online video calls that often require a much higher data usage, can often be interrupted with long buffering periods, making it far from an ideal option for online interviews.
"Such is the difficulty of network coverage in the rural area. We have to bear with it and at the same time hope relevant parties will help to resolve the problem," he said.
In speaking with the newspaper, Frank explains that this is not in fact the first time he had to make the trek up Bukit Kelingkang for the sake of conducting his interviews with UPSI, as he had also done so just last week while sitting for another interview for a Moral paper. And while his results won't be announced for another two weeks, he remains optimistic of his chances at passing his interviews.
For more stories like this, follow us on Facebook by tapping here! 
Also read: 64-year-old hunchback uncle continues to work hard delivering meals in Singapore, insists on being self-reliant