Nothing beats the convenience of a McDonald's drive-thru outlet when it comes to late-night binging. Asides from Maggie Kari and a fried egg that is, but still, our point stands. When the midnight cravings hit, we've all at one point drove out for a crisp serving of fresh French fries, or a small little box of Chicken McNuggets. But how many of us have thought of riding horses down to McDonalds?
Taking horses down to the drive-thru. Or ride-thru?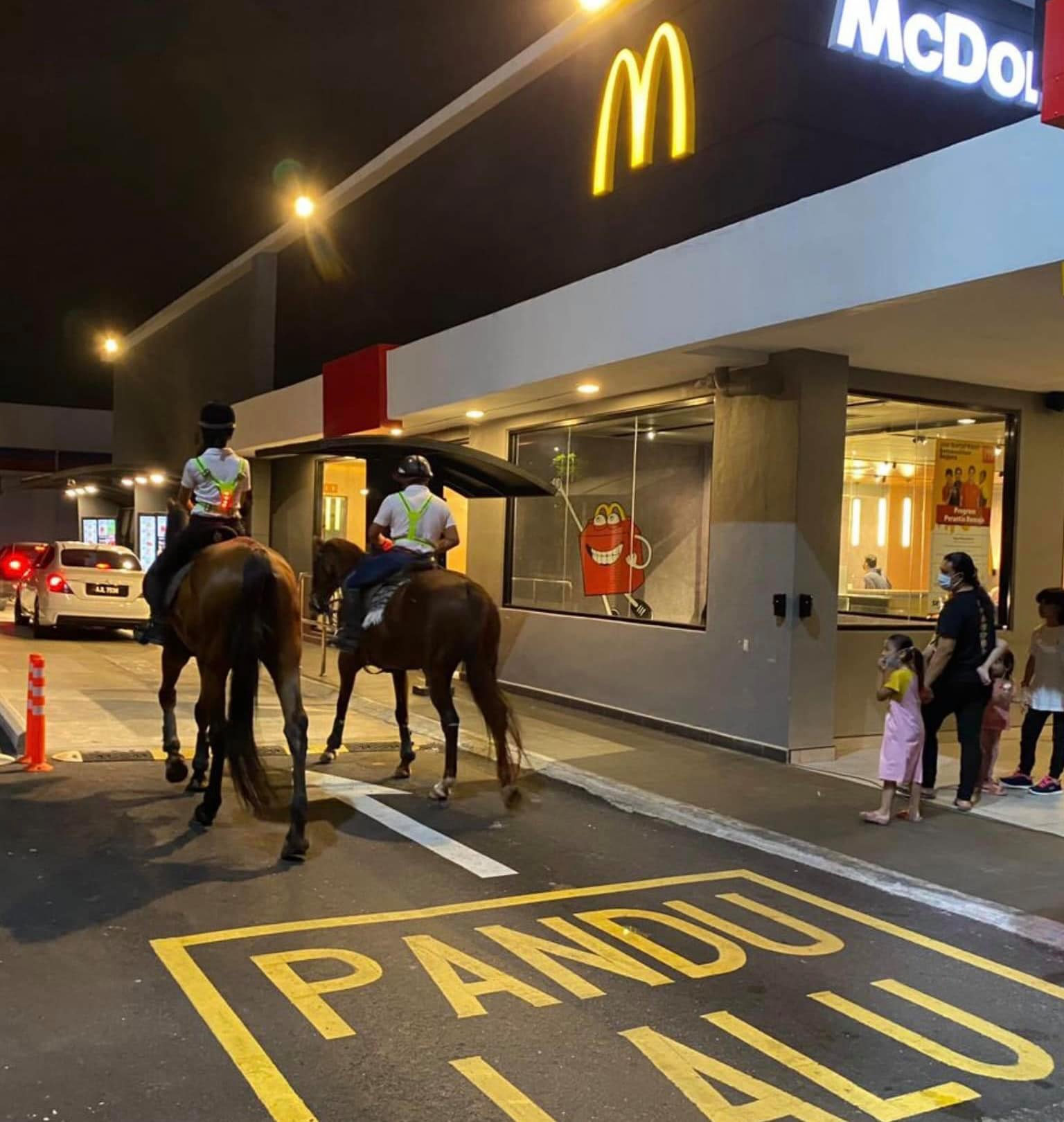 While driving to the nearest drive-thru sounds pretty unremarkable, members of the 3S Equestrian Cyberjaya community decided to make their experience a little more memorable by taking their beloved equine friends out in place of their cars. Yes, we're talking about horses!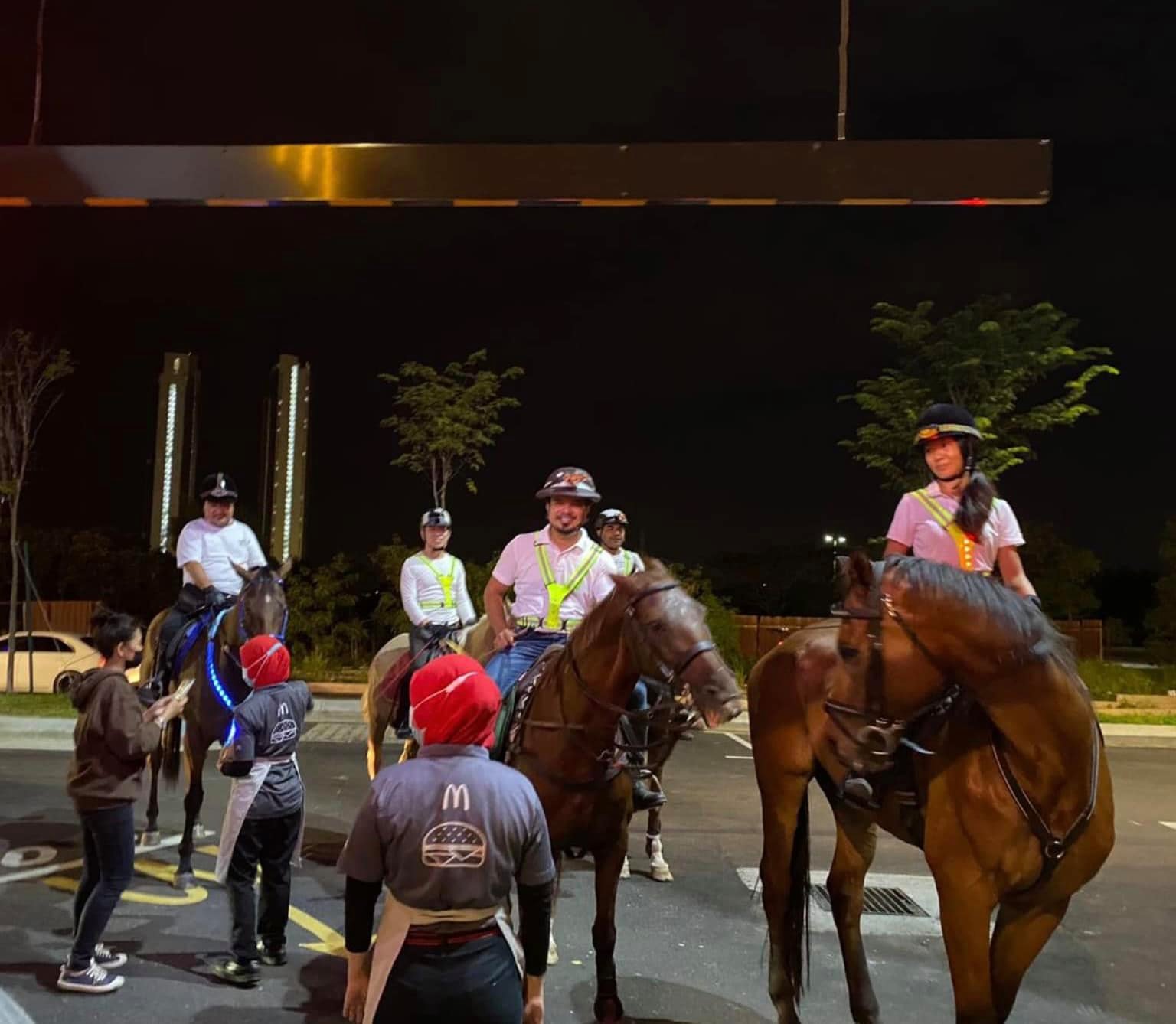 Mounted atop a small group of the gentle animals, they rode their way up to a local McDonald's outlet before patiently waiting in line with the rest of their horsepower-totting four-wheeled peers for their turn. And just as one would do when pulling up to a drive-thru, members of the equestrian club placed their orders accordingly with members of the wait staff, who appeared to be delightfully surprised to find themselves up-close and personal with horses instead of car windows.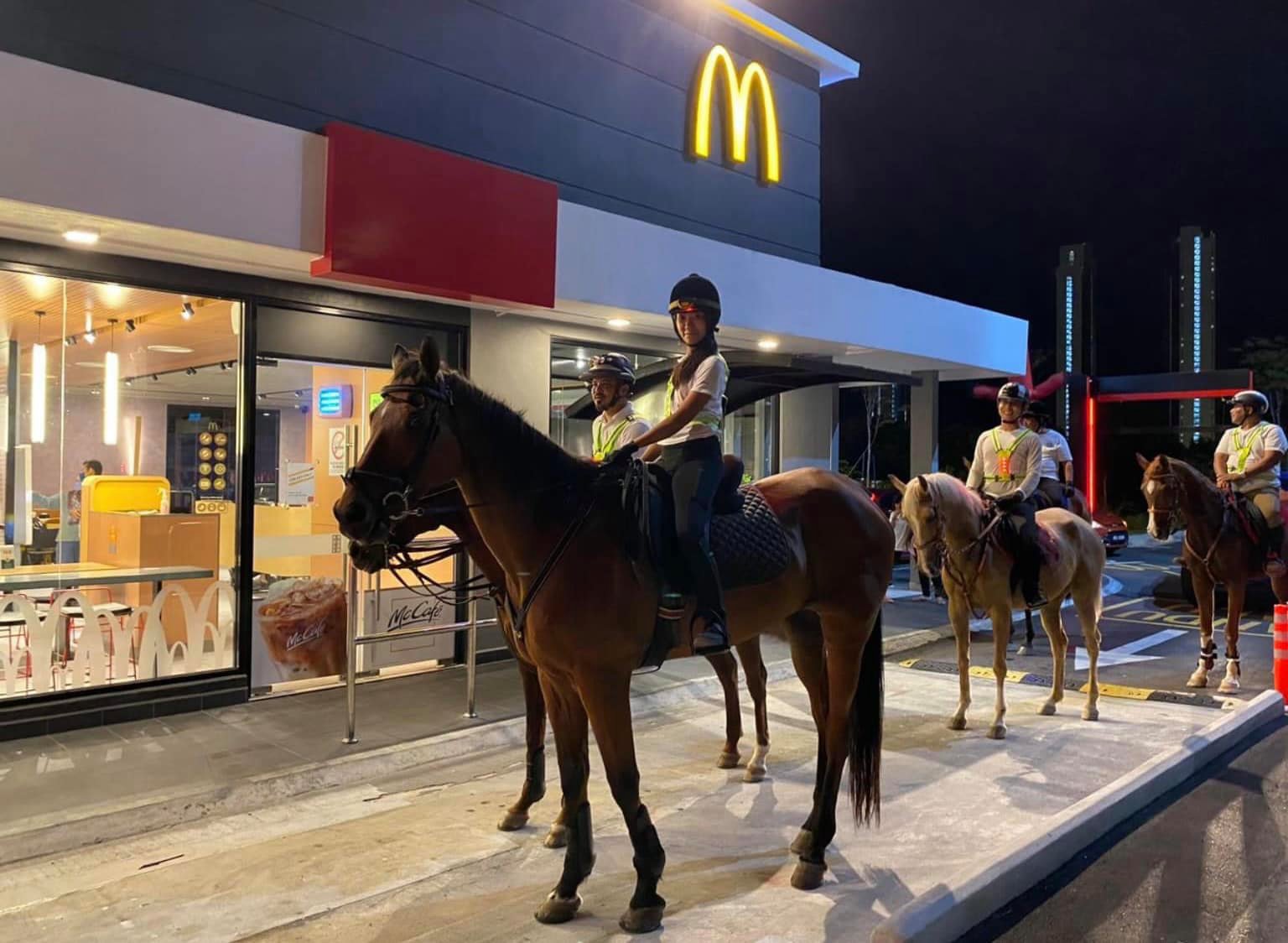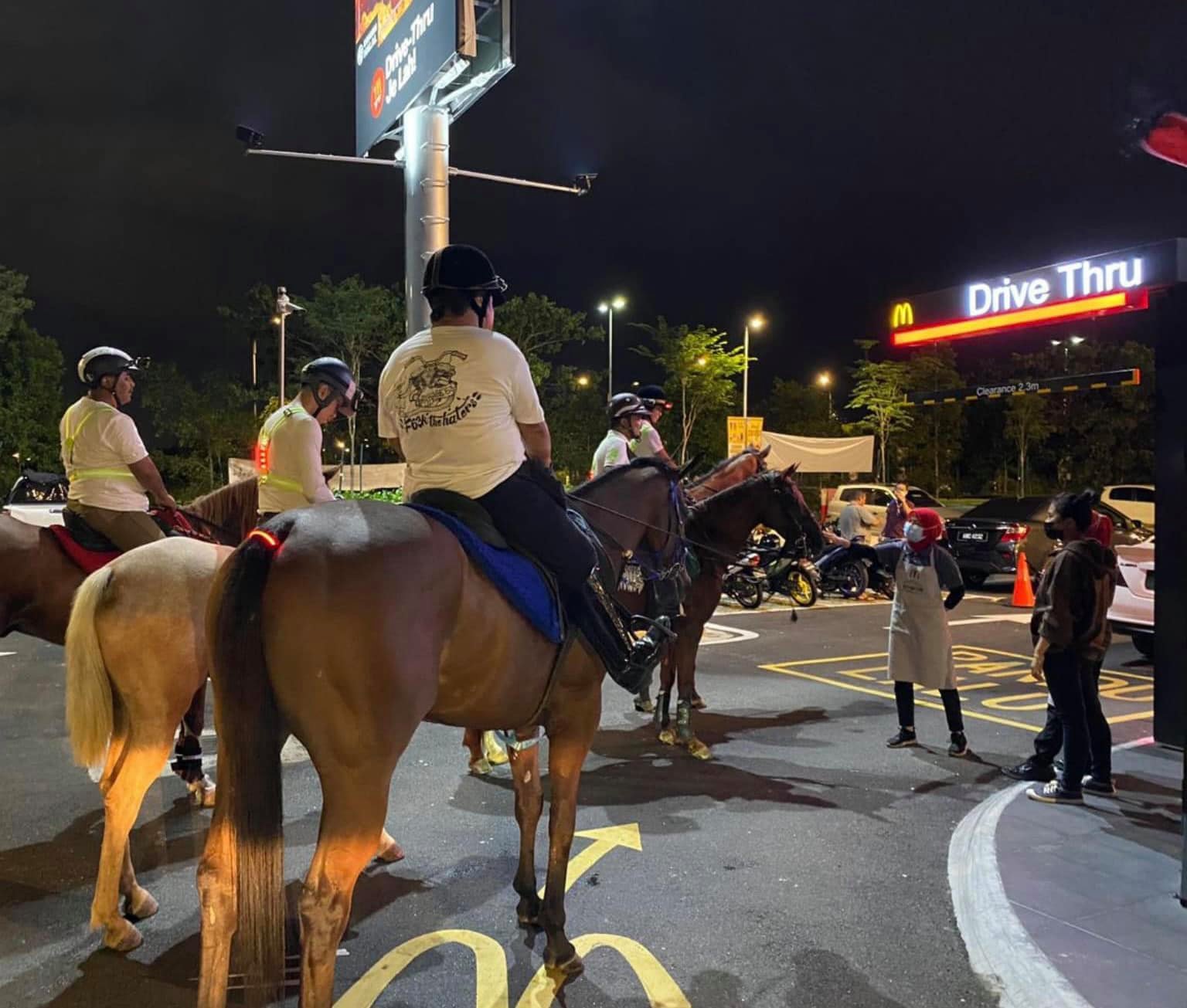 In fact, some were so curious to see the animals up close, they even came out of the restaurant to give the horses a pet!
Netizens aren't nearly as amused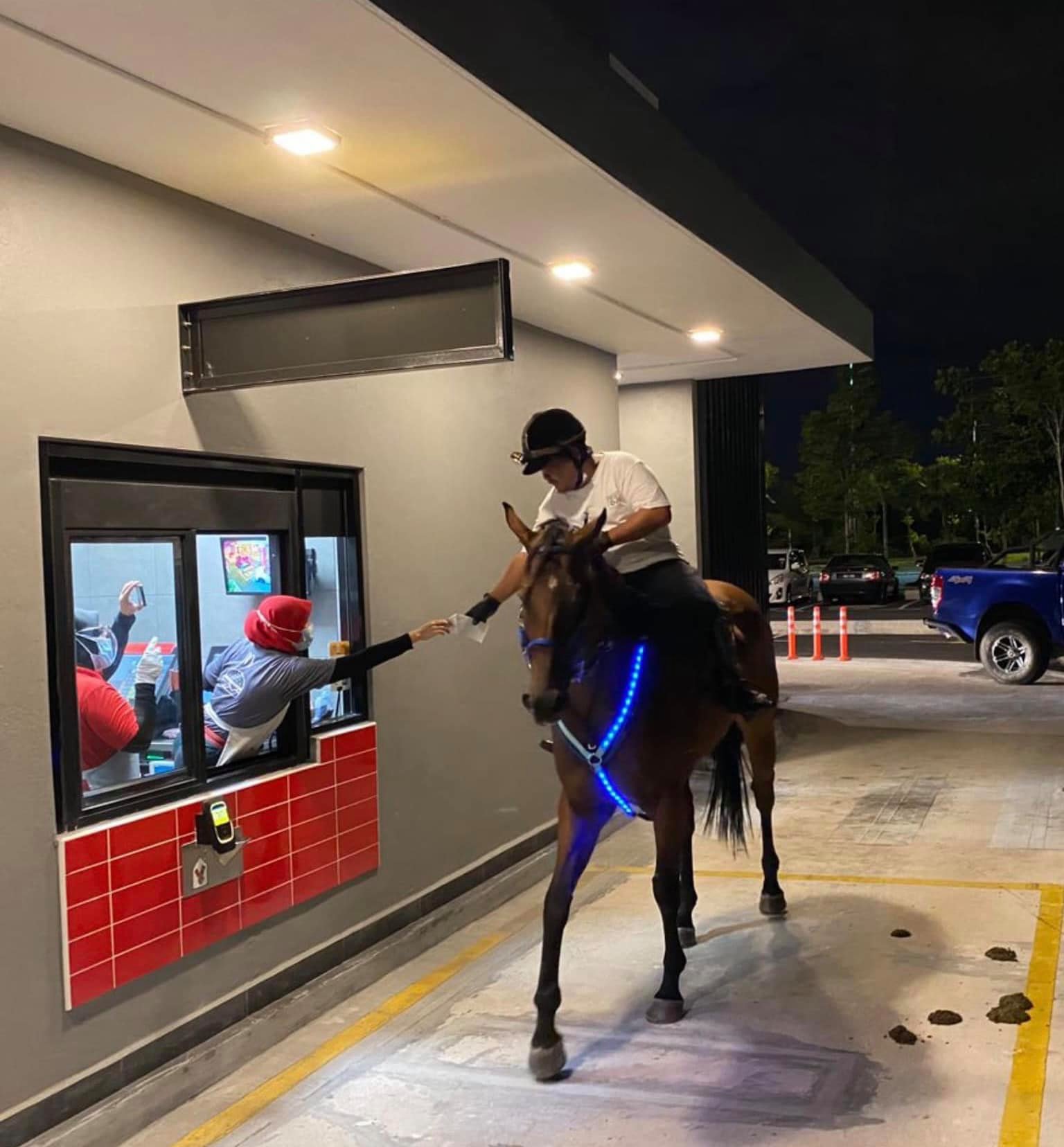 However, after photos of the little stunt on steeds had gone viral, it would appear that Malaysian netizens weren't nearly quite so impressed. Many had pointed out that those that were seen pictured in the photos were not wearing any masks at the time, which is in flagrant violation of the current mask mandates.

"These rich fools aren't wearing a mask!"

"So did they clean up after the horses defalcated? Don't they need to wear masks. Is nobody going to compound them for not weariing a mask? Or is there an SOP that states you don't have to wear a mask when riding horses to McD?"
Others have also called out the fact that while motorbike riders would normally be told to order inside the restaurant and not the drive-thru, exceptions were apparently made for horses.

"This is just stupid. Try riding a motorbike through, and they'll tell you to order inside even though we just want to get things done quickly. Animals shouldn't be allowed into McDonald's."
But most glaringly of all, netizens have pointed out that some of the horses had relieved themselves in the drive-thru, and wondered if anybody from the horse riding centre had considered cleaning it up.

"So who's cleaning up the 'Chocotop' (feces)? The wealthy on horseback?"
It is worth noting that the horseback riding group was accompanied by staff members from the centre who cleaned up after the horses did their business.
For more stories like this, follow us on Facebook! 
Also read: WATCH: Kind food delivery rider helps elderly uncle move his stalled motorbike along busy road