Back in 2018, I remember being invited to tag along with a photographer friend who had received an invitation to a fashion showcase by a then-fledgling BEHATI. Failing to do due diligence in looking up the venue beforehand (or the designer for that matter), I came dressed in a full-black ensemble with flared pants and heeled boots, complete with a MaxMara-esque teddy bear coat and Fendi lunchbox bag.
Held in the secluded Chinatown rooftop nook of MOUTOU that overlooked the bustle of Jalan Sultan and beyond, the show was immediately off to a discordant start when the skies broke apart and it began pouring. Without a roof to keep the makeshift runway dry, water soon puddled. And yet, all that only added to the sheer melodrama that has since remained a striking trademark of the BEHATI brand, replete with drag queens in death-defying Pleasers slinking down the catwalk.
BEHATI debuts its PERANAKAN collection at KLFW 2022
It has been quite many moons since that first inaugural showcase, and BEHATI's founder and Creative Director, Kel Wen, has only gone from strength to strength, steadily building a contentious repute for himself as the city's l'enfant terrible. Barely five years in, and his work has already graced the likes of national treasure and songstress Dato' Siti Nurhaliza, diva of the moment Aina Abdul, and of course, the inimitable viral sensation Dato' Sri Vida.
From accusations of cultural appropriation to cultural misappropriation, Kel Wen's take on revitalising traditional Malaysian garb with provocative sex appeal and sharp tailoring has earned him both an equal legion of fans as well as conservative critics alike. But the brand thrives best on a viral moment, and understands how the media's pulse quickens from it.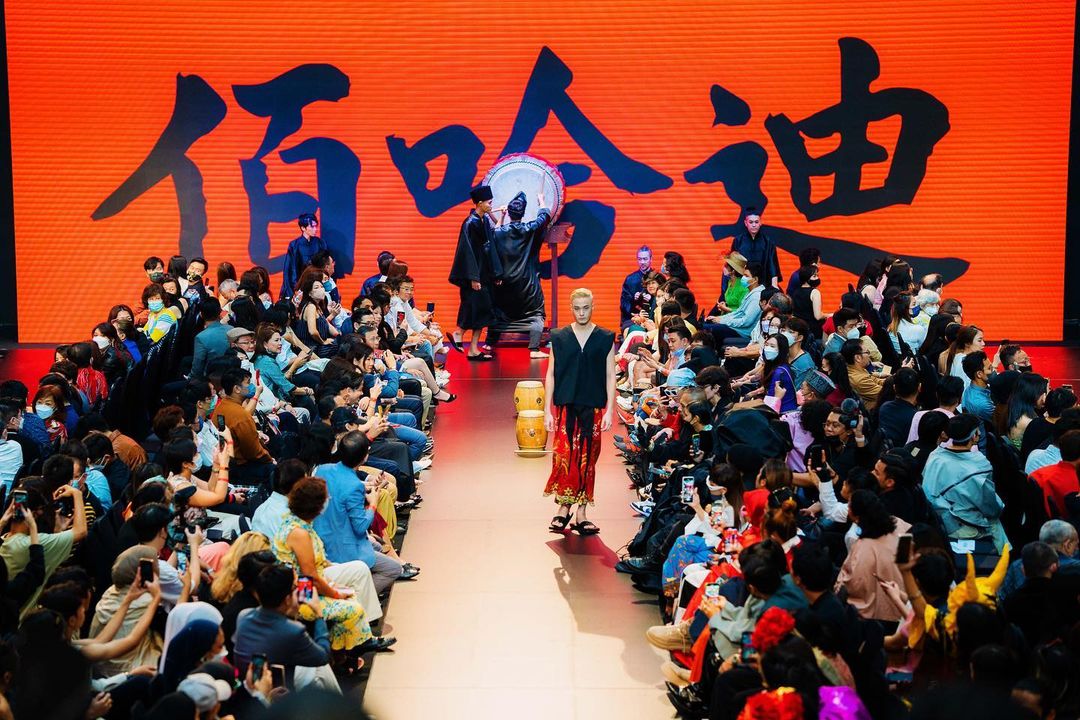 Predictably, BEHATI's Kuala Lumpur Fashion Week presentation this year isn't short on thrills and is perhaps the closest approximate we will ever have on local shores to a microcosm of MET Gala glamour. But running against the grain of typical social media glamour in blowout dos and L.A-bronzed cheekbones, this is a coming together of the novel, the strange, and the dangerously risque fashion crowd in Kuala Lumpur, decked in BEHATI absurdity with the dial cranked up beyond maximum.
This is especially notable by how local drag queens Carmen Rose, Acne Scar, Kumela Kumslut, Miss Boom, and Hellis Hot assumed pride of place close to the centre of the vortex along the runway in full-view of media photographers and curious onlookers alike, taking after the founder's continued tribute to underground queer culture.
Deep black uniformity opens the collection
And as we sat veering close to the raised catwalk, the crowd follows a tacit accord for hushed silence as drummers from the HAND Percussion Malaysia troupe took to the stage. To rhythmic beats that herald tradition cast upon a red banner of calligraphy that read 'BEHATI' in Mandarin characters, the stage was set and the show began.
With an emphasis on progress this time around, the first series of looks were grounded in BEHATI staples: oversized silhouettes with strong, pronounced shoulders, highly angular with sleeves that ran past the wrists, whether it be Baju Melayu, a Sampayao Pinongkohor blouse of Bornean heritage, or a modern suit jacket.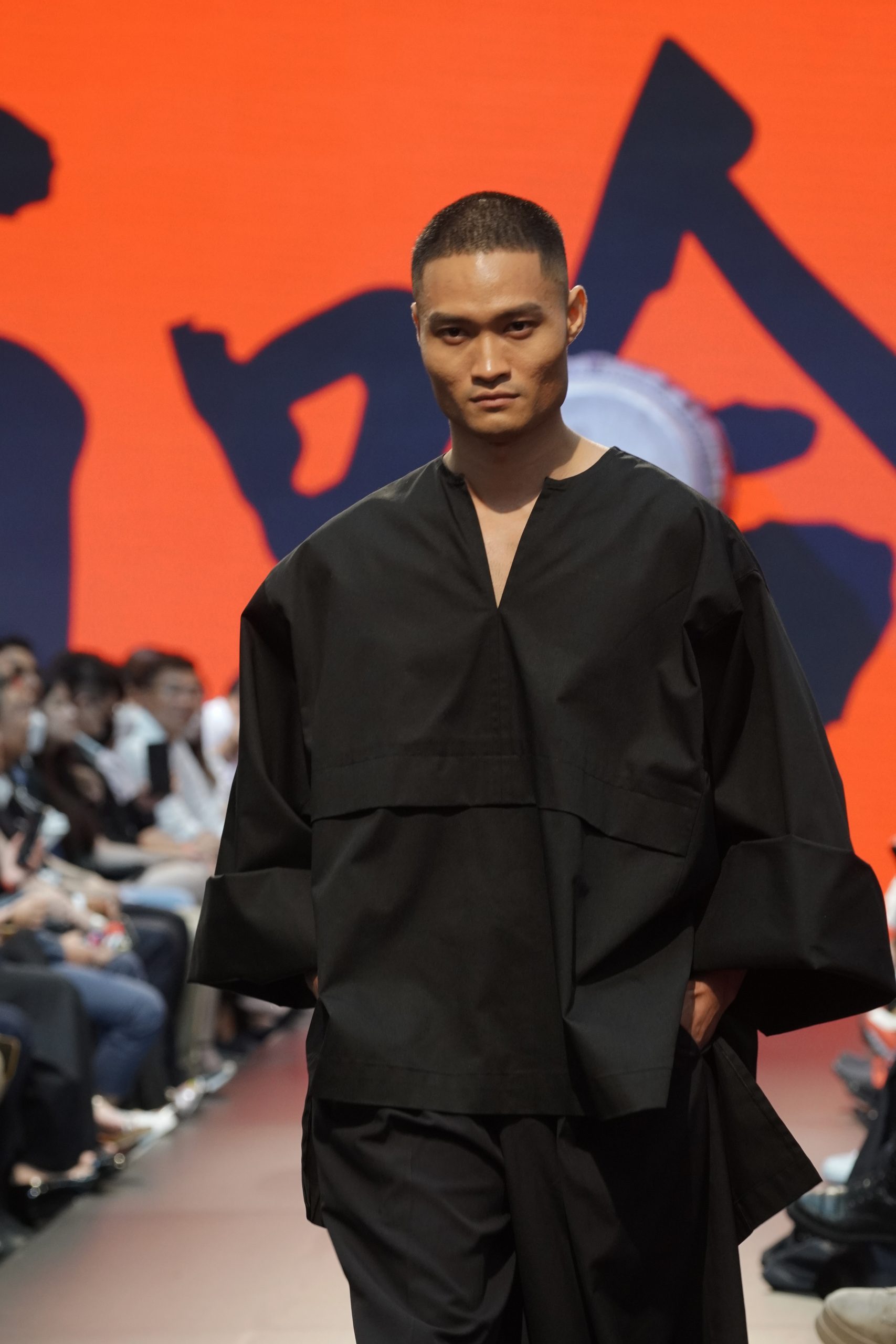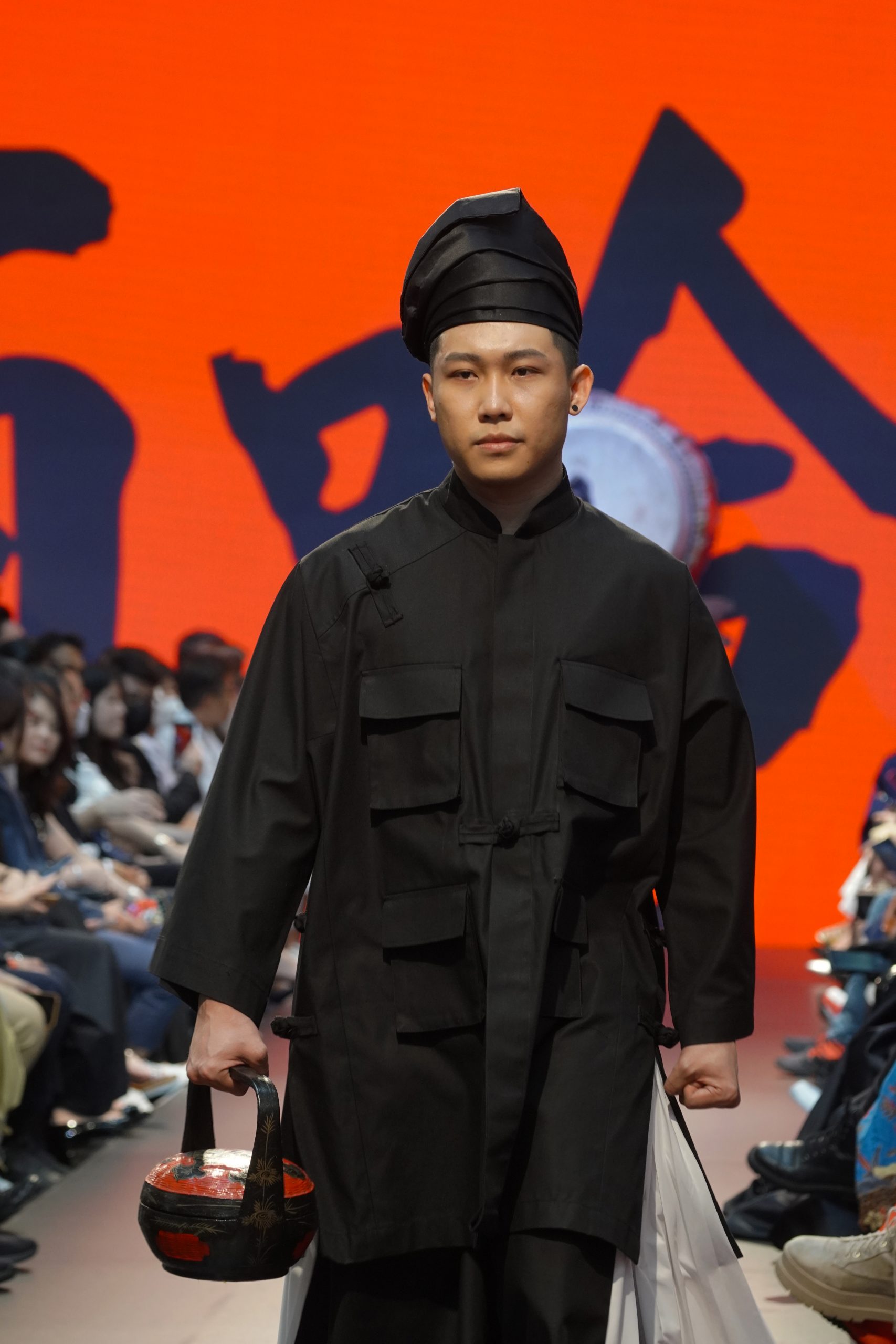 All were done in striking black, a unifying motif that was interspersed with glints of shimmering gold and silver by way of the new BEHATI 'forward' logo, presented as brooches and later on, as a kerongsang in a series of three.
Rich sumptuousness soon followed in true BEHATI fashion
The all-black ensembles, with their relatively restrained shapes, will no-doubt appeal to retailers who are looking for commercially palatable pieces from the brand, or for new fans attempting to dip their toes into the sumptuous BEHATI excess.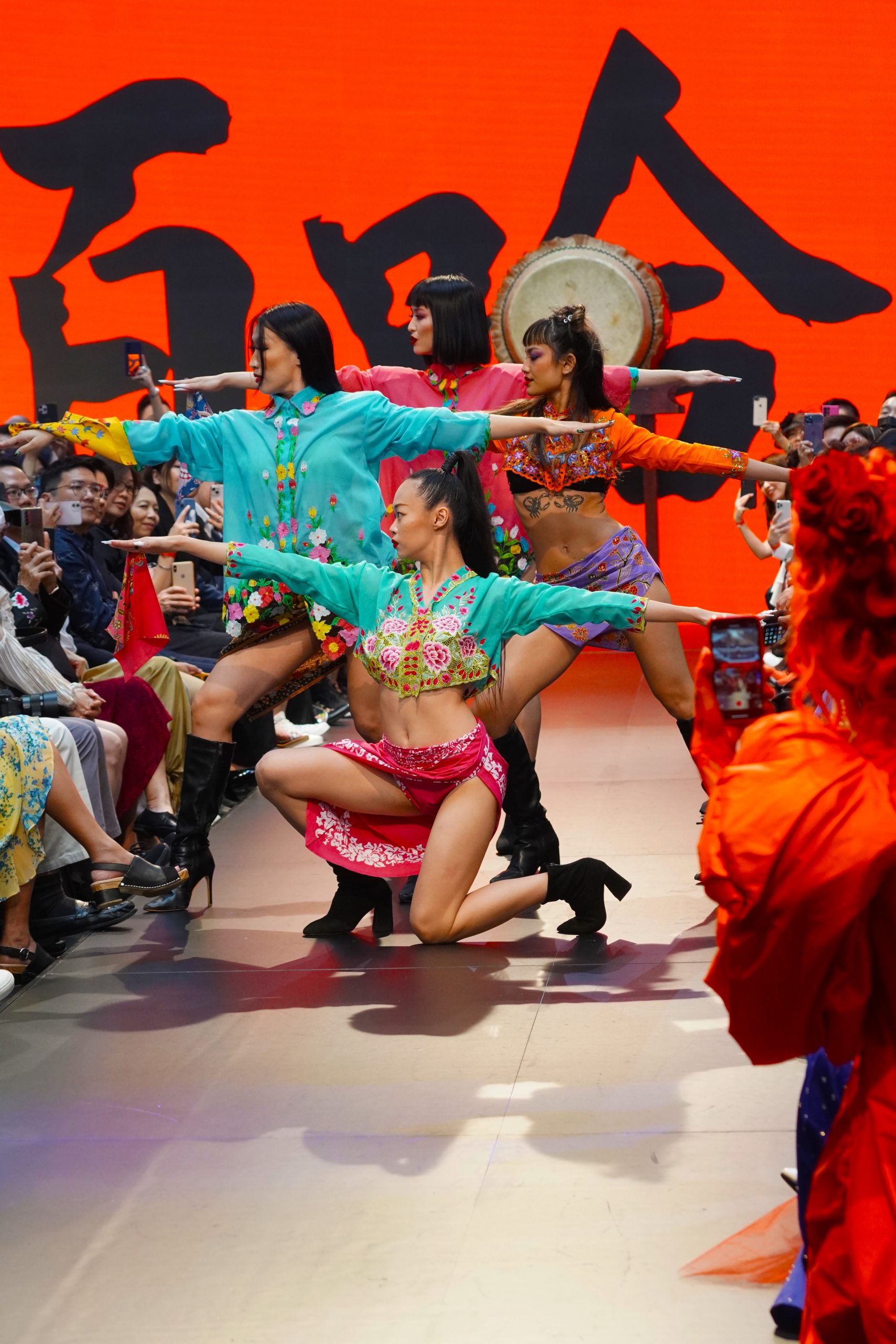 But uniformity soon gave way for rich textures, sumptuous colour, and sinful provocation, with the proverbial line in the sand drawn by the cutthroat motions of vogue dancers from House of Kiki Neverland performing against a remix of legacy songbird Saloma's Lenggang Kangkung from the 1956 film Semerah Padi by frequent brand collaborator HAUS OF RN. 
Decked in an arresting array of batiks cut with the severity known only to the Baju Kebaya Pedas, we are then treated to a feast of textures delicately layered between tulle and vivid embroidery through the brand's Baju Dondang Sayang.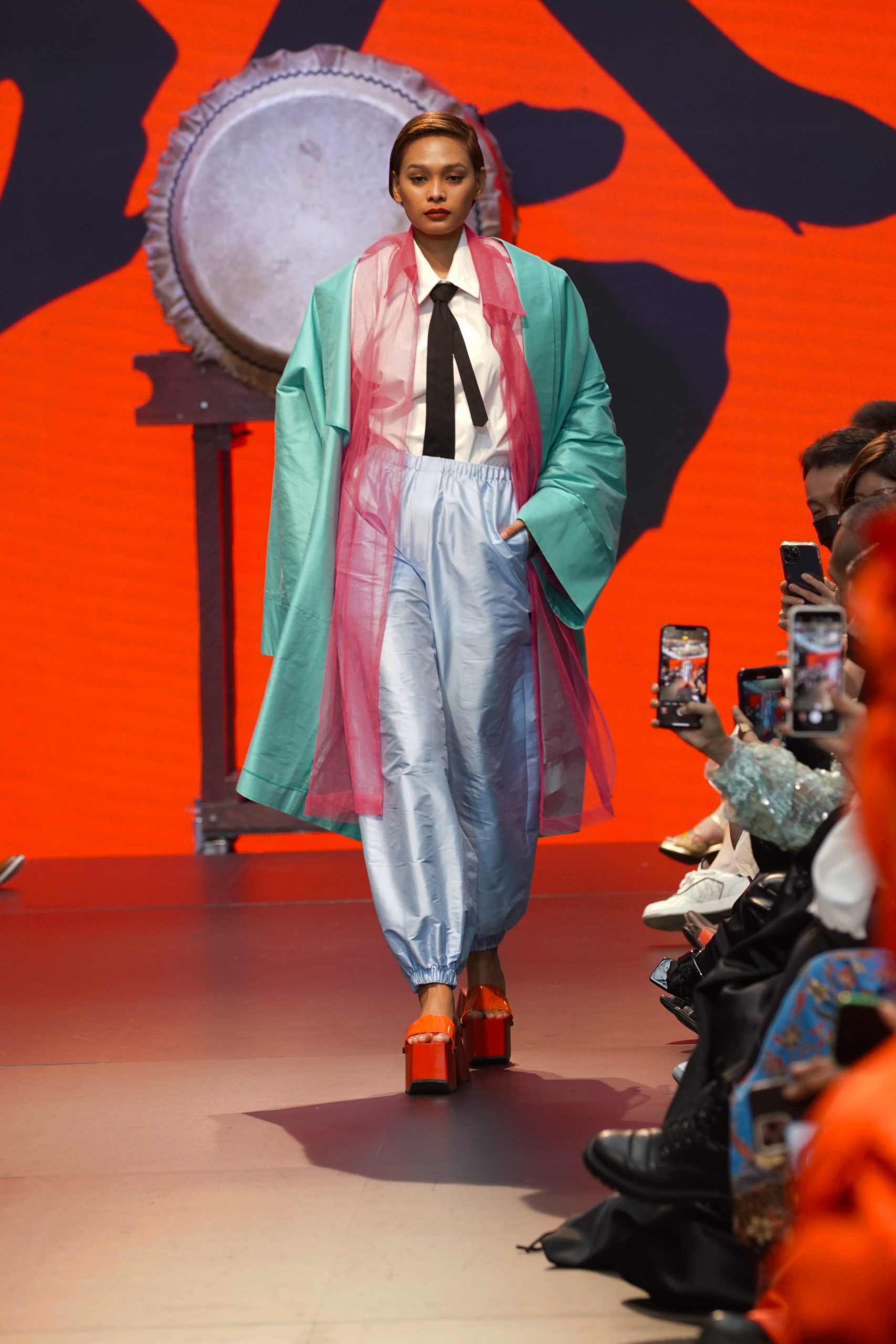 With it's Peranakan narrative referencing the unique union of Malay and Chinese heritage during the heyday of Malaccan naval and trade significance, the leisurely Baju Kurung has also been suitably updated with distinctly Chinese details such as Chinese tassels and green chalcedony beads. 
A nod to 'kouture' roots with two bridal looks to close the show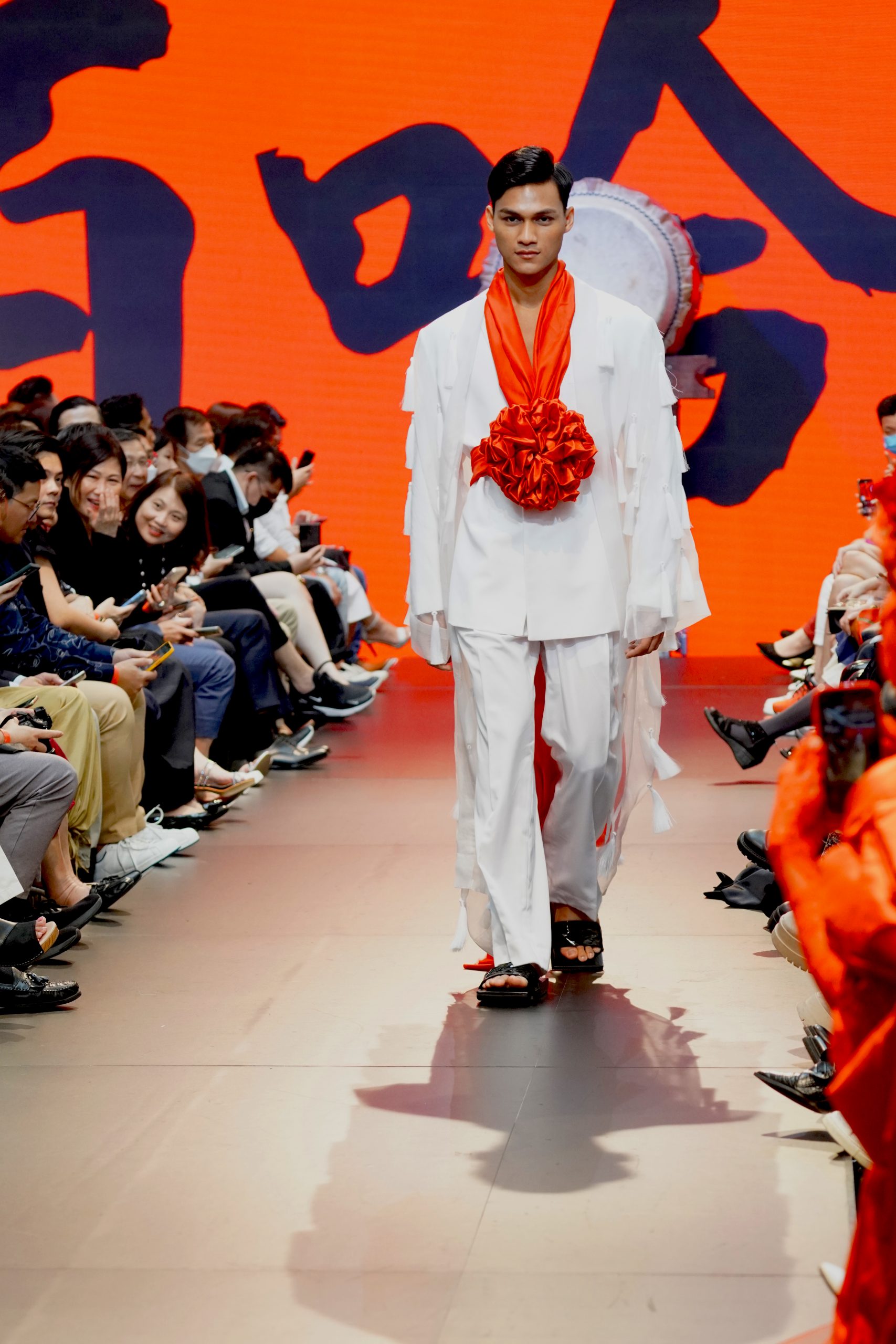 And in tribute to couture coda, BEHATI's showcase ended with the presentation of a wedding look, introduced by a groom, decked in a white buttonless suit layered under a Baju Kelepek Jarang embroidered with tassels and styled with a traditional Chinese flower ball. This was followed by two models in 'flower ball' dresses gathered up the thigh-line, paving the way for the grand finale. 
Out saunters the bride in grand display, gathered up to her decolletage in white taffeta stamped using a traditional batik technique with a floral motif; the silhouette is easily reminiscent of Cristobal Balenciaga's 'Bubble' dresses that gathered volumous fabric up to the bustline. Only, this wouldn't be the only bride to walk the aisle as Dato' Seri Vida would also make a guest appearance in a second bridal look, decked in embroidered flaps that is typical to traditional Peranakan bridal garb.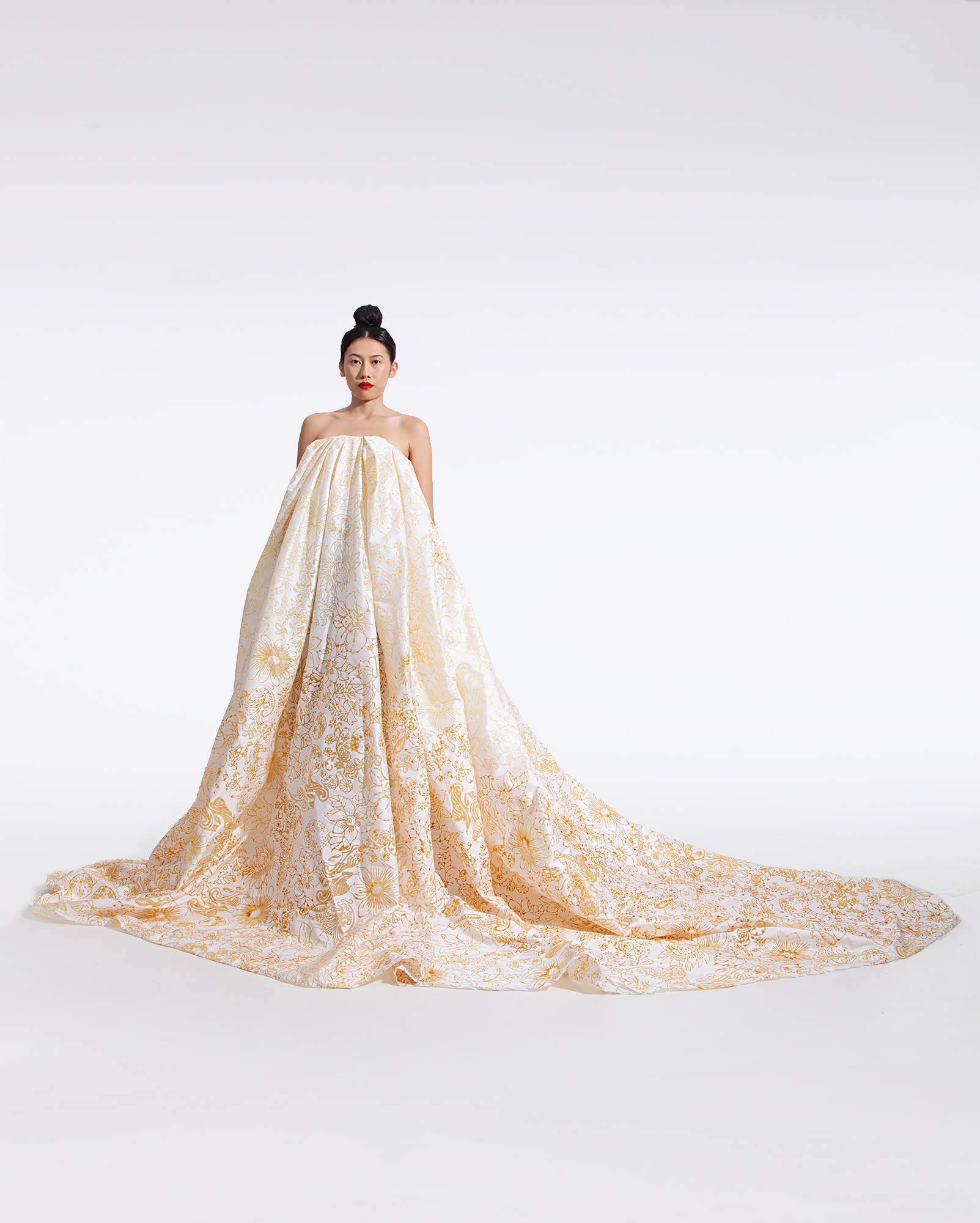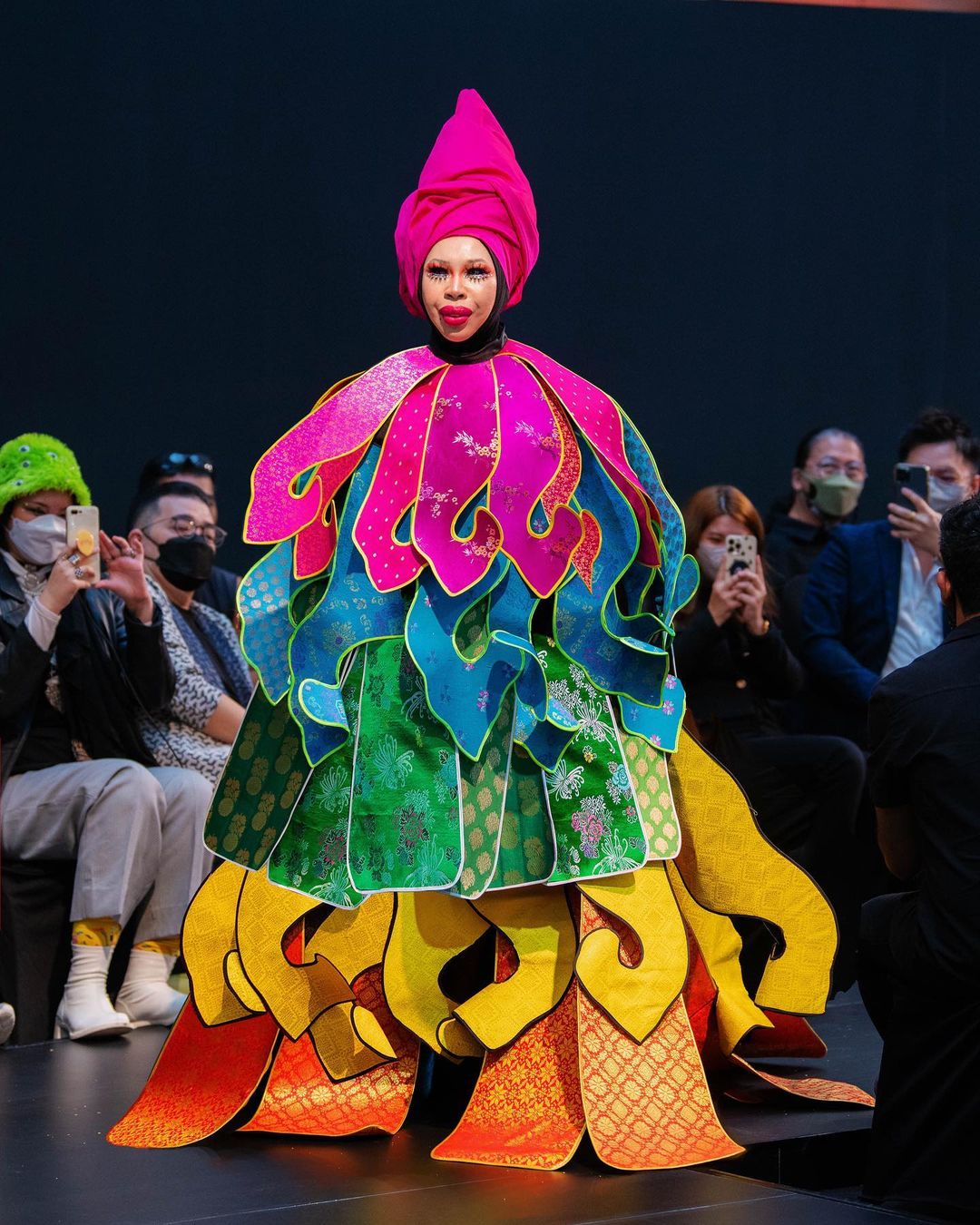 Amid uproarious applause as Kel Wen took to the stage, I turned to Evonne seated next to me, whom I had struck up a friendship with since our last BEHATI preview together and asked, "How much of the collection would you want for yourself?". From behind the carefully drawn-on flicks of eyeliner, her eyes sparkle before telling me, "Everything! Swipe the damn card."
With prices ranging from RM88-RM1888, "PERANAKAN" by BEHATI is available now for order on www.behati.my and at their physical showroom located on Level 2 of Shoppes Four Seasons Place, Kuala Lumpur.
Tap here to give us a 'Like' on Facebook and stay up-to-date on the latest news!
Also read: M'sian label Super Sunday turns KLFW on its head with their 'Sunday Bois' collection