From its infancy as a mishmash of urban street aesthetics that combine the more-is-more ethos of late 90s American hip-hop on both sides of the coast with the gritty anarchy of graffiti and skate culture ala Los Angeles, as well as the raucous underbelly of Japanese nightclub fashions of the era, streetwear is now a global movement that commands a sizeable influence within the fashion coterie.
And that sentiment is only further emphasised by the gravitation of couture labels that have interspersed streetwear touchpoints into their collections, whether it be by the likes of designer trainers or more prominently, high-low collaborations that lift insider stalwart labels such as Supreme and B.APE into luxury ubiquity.
An intersection of streetwear protocols, carried out in Malaysian fashion by Super Sunday
Taking after those exact cues, one knows what to expect when a brand looks to debut a new streetwear collection, in a series of looks that approximate the baggy, loosely-fitted silhouettes that have been the du rigeur norm for the niche. And indeed, Malaysian streetwear label Super Sunday, helmed by Zulkifli Salleh aka Bob aka Mr Kioue, the brand's founder and creative director, doesn't stray far from the mark for Kuala Lumpur Fashion Week 2022.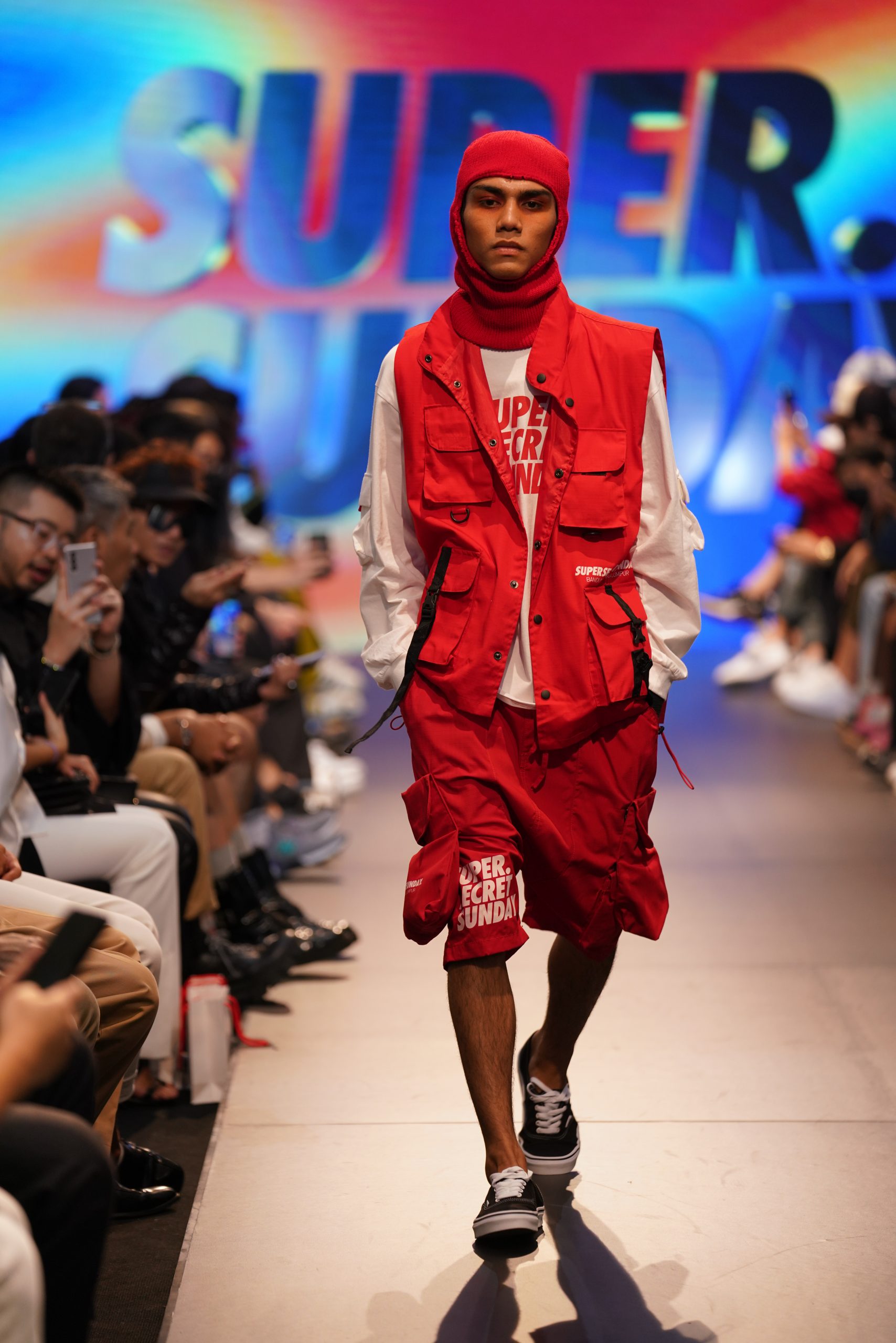 But amid the familiar streetwear codes are clear jolts of creative verve inherent to the brand's DNA, such as puffer jackets and matching trousers with oversized, sewn-on pouches that are evocative of the late-Virgil Abloh's multi-pocket looks from his debut Louis Vuitton Menswear SS19 (which in itself, appeared to have been heavily influenced by Japanese streetwear label General Research's multi-pocket cargo pants from 1999).
Hooded sweatshirts, a skate-cool staple, are shown in multiple derivatives, all featuring distinct 'Super Sunday' prints that the brand are best remembered for. And this is paired with some truly unique denim jeans featuring appliques that look to be inspired by topographical heatmaps in rings of red, orange, yellow and blue, which provided heavy visual appeal.
Six months in the making, deployed in a total of 30 curated looks
Then there were other curiosities that breezed past the runway as well, including a vest with a backpack motif sewn on the back, playful skeletal graphic on hoodies that zippered past the face, as well as balaclavas.
"What Malaysia has just witnessed is probably our best and biggest show so far. Featuring Thirty (30) looks that are heavily curated; and especially designed and produced for the purpose of this show we refer to as Sunday Bois.

It took us about six months from ideation, planning all the way to the design and production of samples. Through our struggles and successes, our ups and downs, we are extremely grateful for the support that came in the form of our family, fans, friends, clients, collaborators, the media and other stakeholders.

I believe that Super Sunday has given streetwear a voice and a clear point of view – proving that the brand is beyond hype," Zulkifli said. 
The collection was rounded off with collaborations that included Malaysian rock personality du jour Noh Salleh's Hikari Riders lifestyle brand, Esports label Daddyhood, Indonesian techwear label Super Sentimental Secret Theory, and skatewear stalwart VANS Malaysia. 
Audiences were also treated with a three-track performance by local hip-hop outfit City Bois, who were similarly decked out in Super Sunday's latest, and oozed glamour that would not appear out of place from the heyday of cassette decks, magazine spreads, and MTV.
It is by subtle increments that Super Sunday moves into a more defined sense of identity, without taking any brazen creative perils that could potentially lead them off-track. And that's a good thing too, considering how many nascent streetwear labels are fueled by hype, before running dry of steam.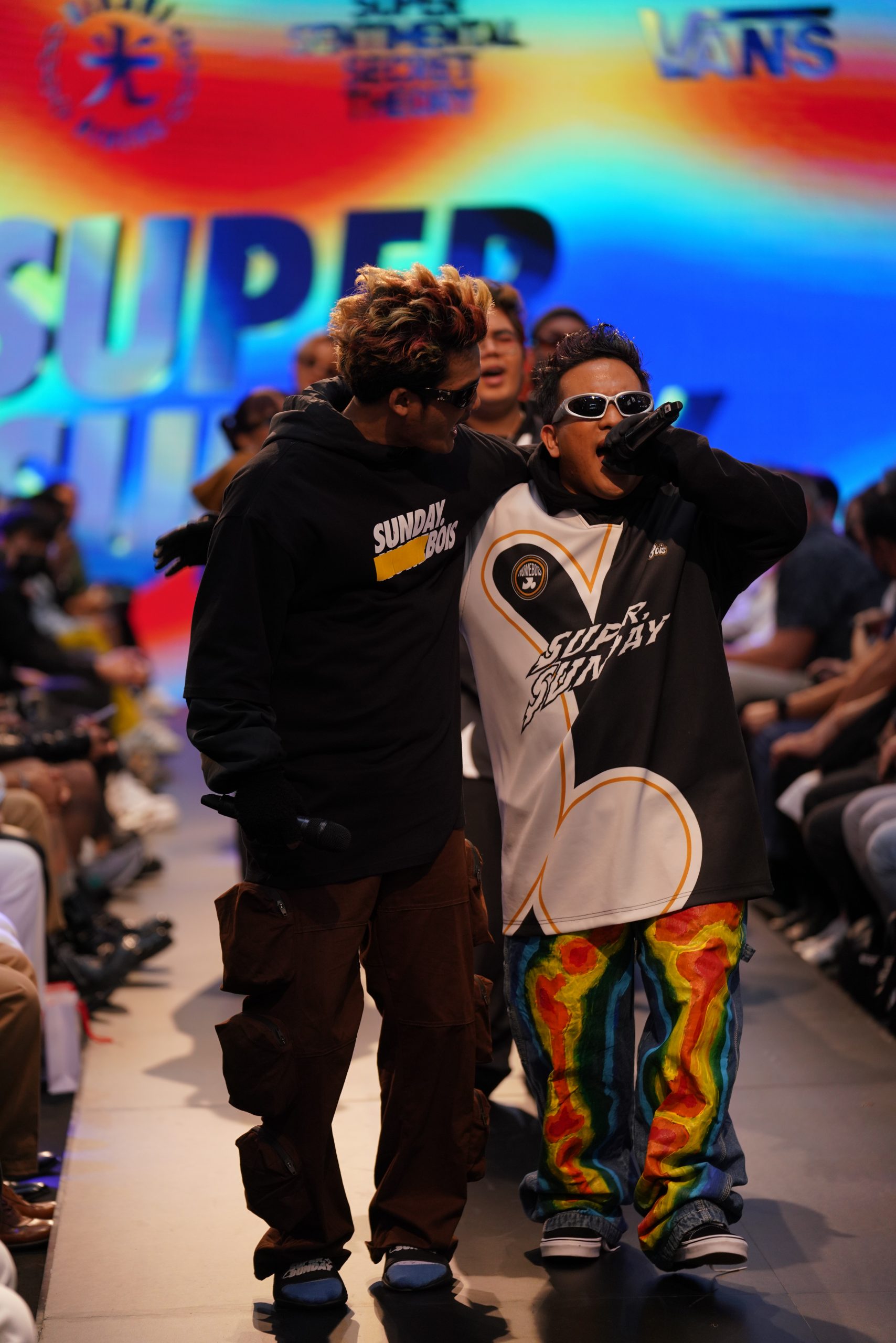 For more information on the brand's latest drops which are already available, kindly visit www.supersundaystore.com or follow Super Sunday on social media via @supersundaystore.os on Instagram and Super Sunday Store on Facebook.
Tap here to give us a 'Like' on Facebook and stay up-to-date on the latest news!
Also read: Meet 22yo Ridzman Zidaine, the first M'sian male model to walk for brands like LV & Hermès at Paris Fashion Week!