In a worrying development to yesterday's shocking tragedy that took place at Taman Bukit Permai 2, it has been reported by Malay Mail that as many as 200 residents in the area are now instructed to vacate their homes after cracks were discovered near the site of the landslides that left 4 people dead.
200 residents evacuated after Ampang neighbourhood declared an active disaster zone
Quoting Hulu Langat district officer Dr Ani Ahmad, the English daily paper states that an evacuation order was issued immediately to allow space for authorities to conduct a detailed study into the current condition of the site, As of right now, this involved the occupants from 48 houses spread out between four lanes, all of whom have been instructed to relocate in hopes of preventing a similar occurrence from taking place.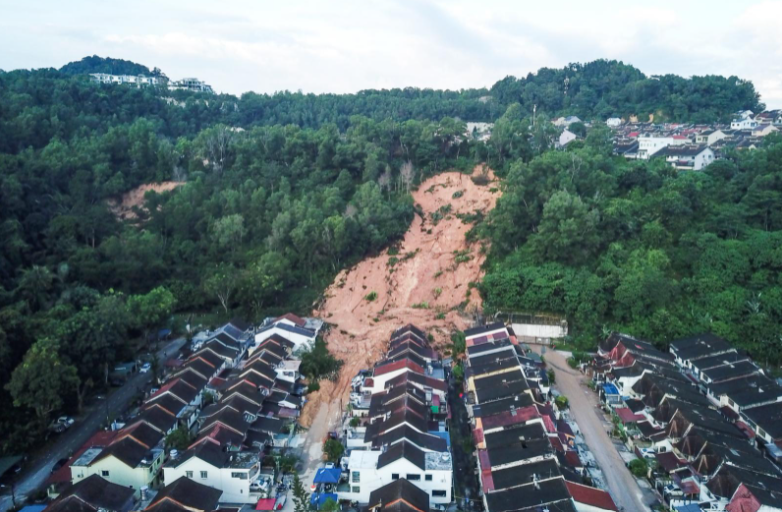 "We are setting up a temporary evacuation centre (PPS) at the Ampang Jaya Municipality Council (MPAJ) Community Hall located near the landslide location," Ahmad told members of the media during a press conference held earlier today (11th March 2022).
So far, no victims have chosen to stay at the evacuation centres as many have decided to relocate with other family members or rent out hotel rooms instead. Regardless of which, the centre will continue to remain open for their convenience, should they choose to make use of it.
"So far, cleaning work could not be carried out as the stability of the slope has not been established," Ahmad adds.
Heavy rainfall likely behind the occurrence of the landslides
At this point in time, Utusan Malaysia reports that early investigations indicate heavy rainfall that occurred over the past week had triggered soil movement, leading to the landslide. Further studies will continue to be conducted to determine whether the area is still considered to be an active landslide zone.
Yesterday's landslides led to five individuals being buried alive, with only an 84-year-old man managing to escape with his life after being rescued from underneath the rubble. The four remaining individuals, one of which was the elderly man's wife, were killed. Their bodies have since been transported to Hospital Ampang for identification and post-mortem purposes. Selangor Mentri Besar Datuk Seri Amirudin Shari has also announced that a RM10,000 cash aid will be provided to each deceased's family.