Perhaps one of the most notable headlines that have been repeated across the media space in the past week would most definitely be on the subject of newly-minted Prime Minister Anwar Ibrahim's cost-saving policies.
As one of the most major aspects to his election manifesto, he has championed measures to reduce government expenditure since taking office last week, starting with the Prime Minister's Department (PMD) by turning down his own salary as premier to cancelling an order made through his office from a previous administration for a Mercedes-Benz luxury sedan worth over RM1 million.
Anwar called out for alleged hypocrisy for wearing LV loafers in the wake of cost-cutting measures 
With that said, some quarters have taken to calling out the Prime Minister for alleged hypocrisy, after claiming to have spotted him wearing a pair of Louis Vuitton-branded loafers recently. In a now-viral post that was shared by local portal @naratifrakyat, Anwar's shoes have been identified as a pair of 'Major' loafers from the French luxury fashion house.
Available in a variety of finishes, including Vuitton's signature monogram as well as Damier Ebene prints, the pair spotted on Anwar appear to be an all-leather iteration which retails at HKD $9,550 (RM 5,474.25), as indicated by an accompanying screenshot.
"Pung pang pung pang, he declines a S600 Mercedes while wearing Chapal (sandals), today he upgrades to shoes worth more than RM5,500." the portal chides in their Tweet.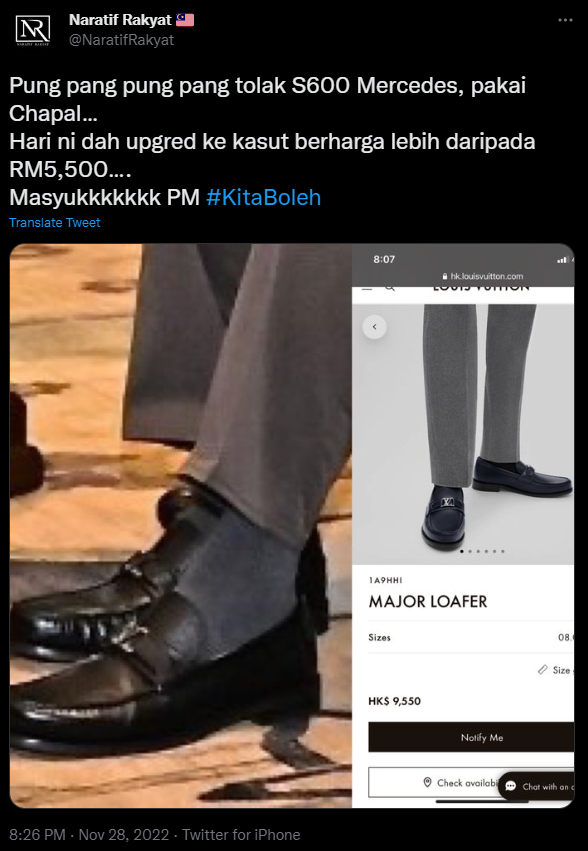 The photo of Anwar wearing the loafers appears to be from his latest audience with the Sultan of Brunei.
PM responds, says they were a gift from Sultan of Johor 2 years ago
In turn, Anwar himself has since responded to the matter and addressed the Tweet directly, explaining that the shoes were in fact a gift from His Majesty the Sultan of Johor from two years ago.
"These were a gift from His Majesty the Sultan of Johor 2 years ago. I don't mind being doubted, that's fine. But don't create slanderous narratives." he said.
Ia pemberian Tuanku Sultan Johor 2 tahun yang lalu. Saudara nak persoal saya tidak mengapa, tapi jangan bawa naratif fitnah. https://t.co/lLOYqxtrr3

— Anwar Ibrahim (@anwaribrahim) November 29, 2022
One netizen was also quick to point out that the hoes were not new purchases made after Anwar's appointment as Prime Minister, as he could also be seen wearing the same loafers during his swearing in ceremony by His Majesty the Yang di-Pertuan Agong.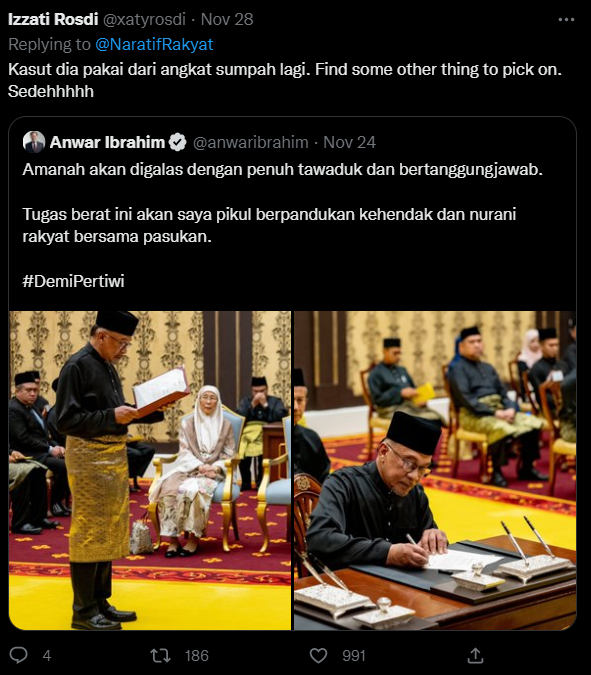 Media brouhaha over luxury fashions sported by local politicians isn't a new phenomenon by any means, with former Prime Minister Ismail Sabri courting similar flak over his taste in luxury shirts. Similarly, Johor Menteri Besar Onn Hafiz Ghazi had also raised eyebrows when he was seen wearing a pair of crocodile loafers by Berluti, valued at an estimated RM37,341. He later explained that the shoes were also a gift from the Sultan of Johor.
Tap here to give us a 'Like' on Facebook and stay up-to-date on the latest news!
Also read: M'sian agency creates Voteordié, an 'online shop' cataloguing the prices of luxury fashion owned by local politicians