One of the key hallmarks of living in a Malaysian city, is coming to terms with the fact that when public facilities break down, it's likely that they'll stay that way for some time. And one great example of this red-taped bureaucracy that goes into completing repairs or maintenance works comes in the form of a now widely publicised escalator leading towards the Sri Rampai LRT station.
An escalator repair that took 5 years. And it still isn't complete.
As shared by Twitter user @MuzamilIdris, the broken-down escalator in question is in fact part of a pedestrian bridge that links a parking complex extension from Wangsa Walk Mall to the Sri Rampai LRT station located just across the street. And while there's nothing at all questionable about a broken-down escalator, the fact that this one has remained out-of-order for over five years has raised many eyebrows.
Dah 5 tahun aku tunggu (tweet asal ni exactly 5 tahun lepas), dah 3 kali tukar kerajaan, escalator ni dari 2016 tak dapat spare part lagi? @MyRapidKL https://t.co/wXGAEHrQXv pic.twitter.com/8Hu3gm3Wmm

— Muz (@MuzamilIdris) November 9, 2021
How do we know it's been out of service for five years? Well, because Muz, the Twitter user who brought the matter up to begin with, had actually did so the first time in 2016. And now, precisely five years later, the escalator still remains broken. Having tagged RapidKL, the public transport service providers who operate the station, to look into rectifying the matter, little has been done to improve the state of the escalator.
To RapidKL's credit, they did wind up replying to the matter after it had been highlighted to them on 9th November 2021. No word as to whether they actually responded to the initial 2016 post, but we digress.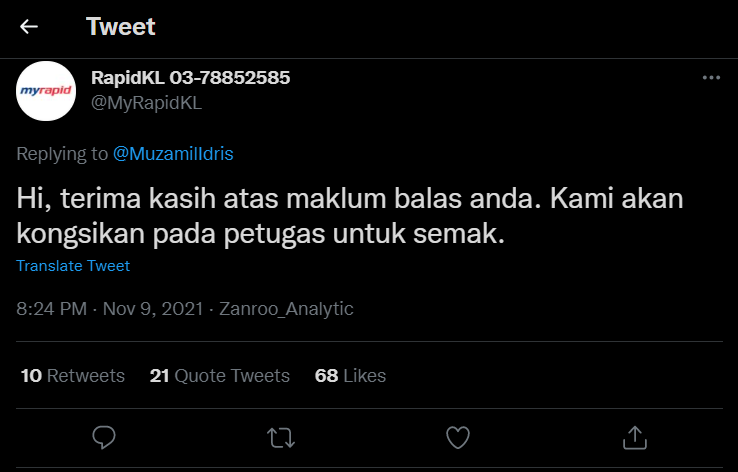 It's DBKL's problem now
According to them, the repair request would be transferred over to the relevant departments. However, a separate Twitter account @AskRapidKL, also operated by RapidKL admins, followed-up with the request by now clarifying that the matter is in fact, out of their jurisdiction.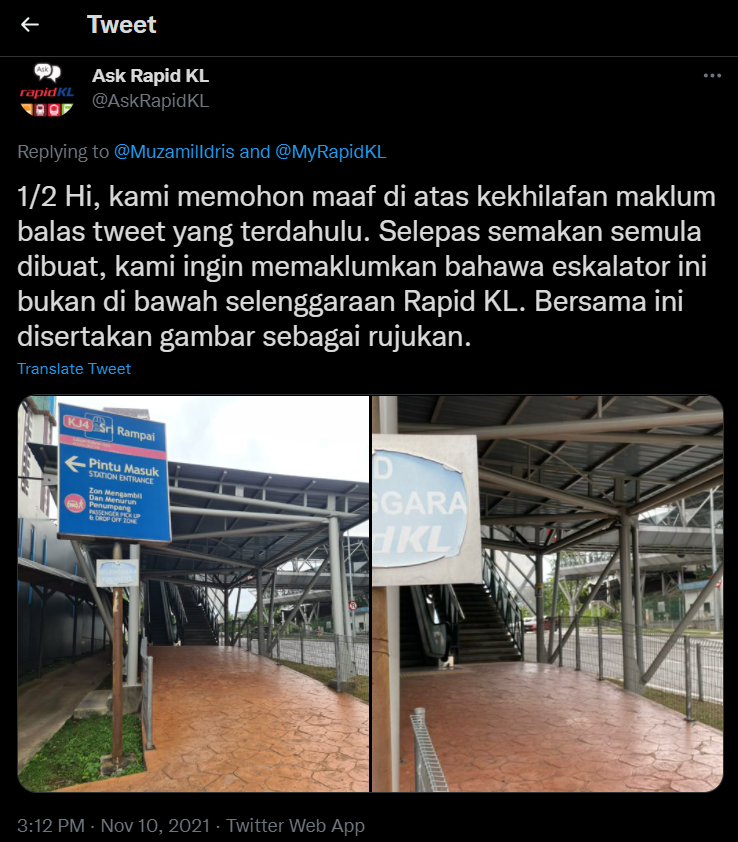 This is apparently due to the fact that the escalator is located just a few steps beyond RapidKL's area of maintenance, something that the company points out by showing a photograph of a sign that demarcates where the boundaries of the company's maintenance service coverage ends. In that case, they had advised Muz to take his repair request directly to the Kuala Lumpur City Council (DBKL) instead.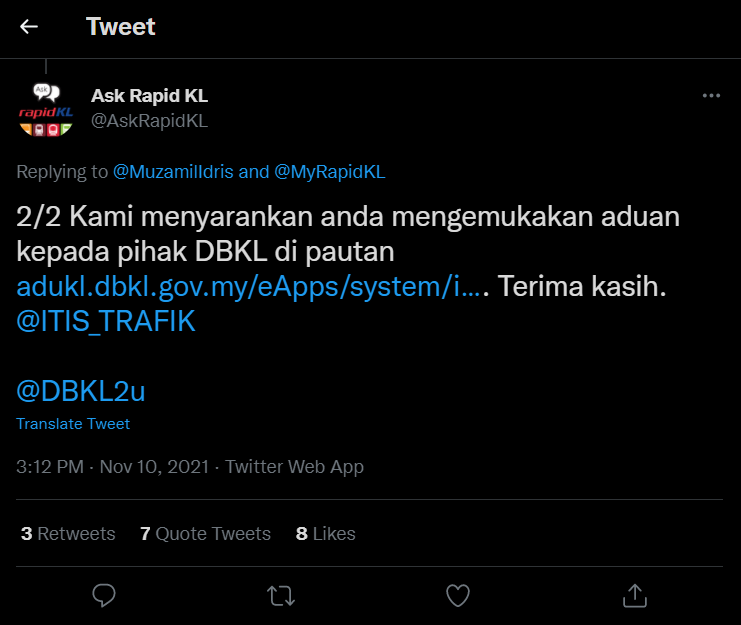 The series of Tweets, which has since gone viral, has left many Malaysian netizens angered by the apparent deflection of responsibility between the relevant parties, many of whom expressed that a simple maintenance procedure should not have to involve this many layers of bureaucratic twist and turns.