Yesterday, news of a double-murder in the state of Johor sent ripples through the local community after 58-year-old Mr Rosman Ahmad had received a phone call, informing him that a domestic dispute had broken out at the home of his third child.
Upon arriving at his 26-year-old daughter's Kampung Bakar Batu home, he found his eldest and second-eldest child standing around her body where she lay sprawled outside the front gate, her neck bearing wounds that were indicative of being cut.
Woman and infant child found dead at Johor home
According to Harian Metro, Rosman's infant grandson had also suffered from similar wounds to his neck, and had been carried away by a nurse at the time. The bodies of both mother and her two-month-old child had initially been discovered next to one another, after they were allegedly slain by her 25-year-old husband.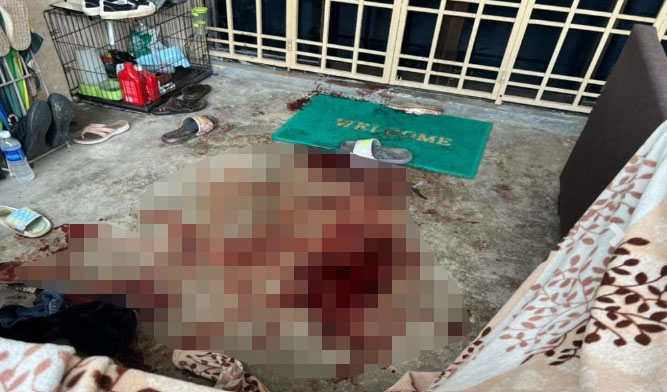 The couple was said to have been on the cusp of celebrating their wedding reception by the end of this month on 24th July 2022, as they were not able to host the event last year in light of the Movement Control Order (MCO). In fact, Rosman said that preparations have already been completed ahead of time, and they were only waiting on the day to arrive. He adds that the couple did not appear to be suffering from any marital strife prior to his daughter's untimely demise.
"My daughter and son-in-law were good children. They did not have any problems. I never once heard them argue.

Just that lately, I have heard that my son-in-law had no stable job after resigning a few months ago. Maybe he was having difficulties at work." he said.
Husband was found fleeing the scene naked on his motorbike
Rosman explained that his son-in-law had previously worked cleaning jobs at a stadium before his resignation. Then he took up work cleaning ships at Pasir Gudang, while also assisting in food preparation. Rosman's wife said that the man had not expressed any notion that they were facing financial difficulties.
According to BERNAMA, the 25-year-old suspect was later detained by the authorities after he was found fleeing from the scene of the crime while riding on a motorbike naked. Johor Bahru South police chief ACP Raub Selamat said that a butcher's knife was also found on the suspect at the time of his arrest, adding that the case will now be investigated under Section 302 of the Penal Code for murder.
For more stories like this, follow us on Facebook by tapping here!