What had meant to be a night out in Kuala Lumpur quickly turned into unthinkable tragedy for three African friends, after one of them was killed during a brawl near the exit of a carpark along Jalan Tun Razak on Monday (October 3rd, 2022) night. As reported by local paper Harian Metro, a total of eight suspects of African nationality, 2 of whom are women, were detained to assist in investigations.
Alleged gang fight leaves African man dead, 2 others hospitalised 
According to Wangsa Maju district police chief Supt Ashari Abu Samah, the Wangsa Maju control centre had received a tip-off from police personnel at the Pudu police station at 5.35am, after three African nationals sustained injuries and were rushed to a private hospital in the wake of what was believed to have been a gang fight.
"Investigations revealed that the victims were involved in a fight with a group of Africans."

"One of the victims, a 32-year-old man died of severe injuries while receiving treatment at the hospital. He is believed to have been slashed at the back of his neck," said Ashari in a statement to the media.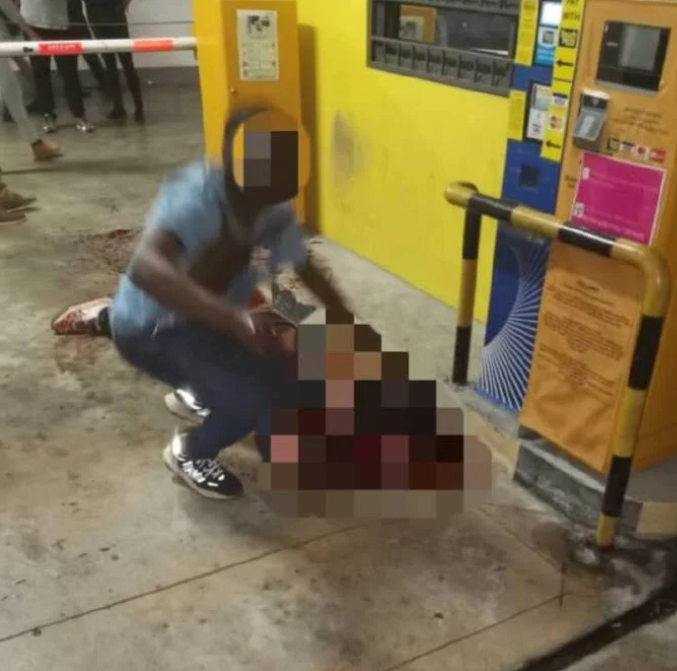 Video footage taken from the scene of the brawl appears to show a man laying face-down on the exit ramp from a carpark complex, with blood pools and spatters seen surrounding his body. Another man, presumably a friend, knelt over him clad in a shirt that was also marred with bloodstains.
8 foreign nationals detained to assist in investigations
The eight foreign nationals aged between 26 and 40, were promptly detained and taken to the Wangsa Maju District police headquarters for further action after investigations at the scene led local authorities to them. As of right now, the case will be investigated under Section 302 of the Penal Code for murder, reports The Sun Daily.
Those with information concerning the incident are urged to ontact the Wangsa Maju police headquarters at 03-92899222, or contact the Kuala Lumpur police Hotline 03-21159999.
For more stories like this, follow us on Facebook by tapping here! 
Also read: M'sian woman detained by PDRM after allegedly hiring hitmen to murder her husband under the guise of a robbery