Inclement weather that has been witnessed throughout Malaysia as a result of the ongoing monsoon season has led to multiple instances of landslides occurring in the hilly regions of the country, as well as flash floods. In fact, just earlier last month Cameron Highlands reportedly witnessed as many as 12 separate instances of reported landslides and uprooted trees as a result of poor weather.
Cameron Highlands landslide kills two drivers
However, things took a much more tragic turn yesterday afternoon (2nd December 2021) after a continuous downpour led to a sudden landslide to occur in Simpang Pulai, crushing two vehicles that had been traveling along FT185 Jalan Simpang Pulai-Blue Valley. According to Free Malaysia Today, the drivers of both vehicles died at the scene.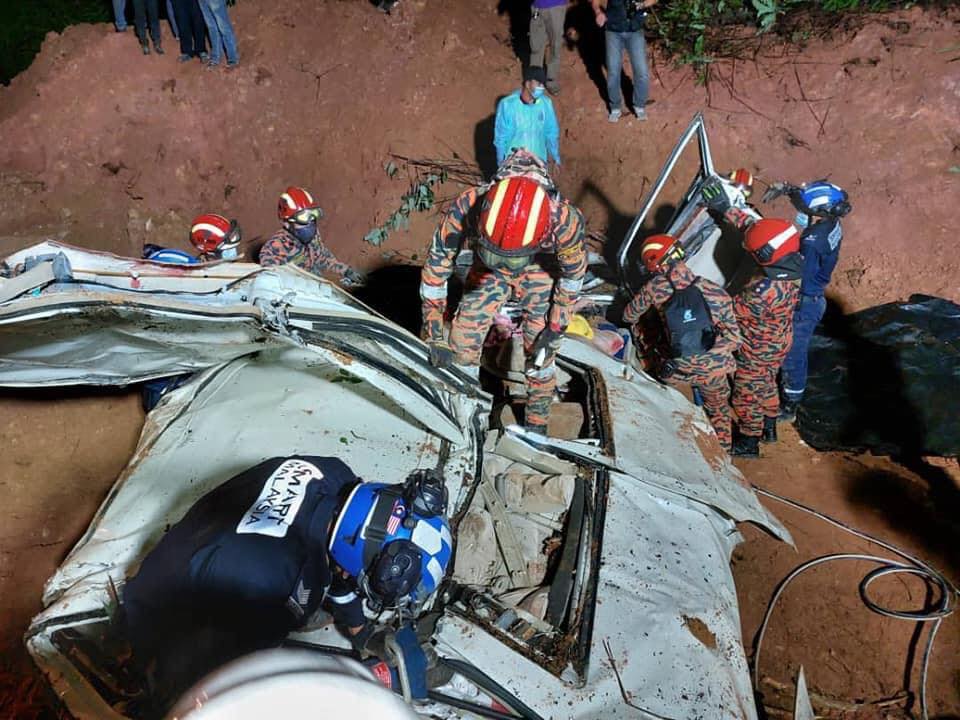 Scenes from the incident widely circulated across social media showed the wreckage of both vehicles crumpled in a ditch as emergency workers raced against the clock in challenging circumstances to retrieve the bodies of the deceased. Perak police chief Mior Faridalathrash Wahid reports that the identity of the lorry driver has determined to be 31-year-old Mr Muhammad Hafiz Hamdi, who according to his employer, had been transporting vegetables from Cameron Highlands towards Simpang Pulai at the time of the tragedy.
He had responded to emergency officials earlier during the rescue effort, but eventually succumbed to his injuries at the scene.
Rescue workers took seven hours to retrieve both victims
The identity of the driver of the Toyota Vellfire has also been revealed to be 36-year-old Mr Tan Chee Heng who had supposedly been traveling towards Penang from Gua Musang, Kelantan according to Astro Awani. Mr Tan was travelling alone at the time of the landslide. The emergency rescue team had taken upwards of seven hours in order to retrieve both bodies from the rubble, before transporting them to Hospital Raja Permaisuri Bainun for post mortem and claims by next-of-kin, reports BERNAMA.
As many as 100 rescue workers had been mobilised to extricate both victims from their vehicles. Datuk Mohd Zolkafly Harun, State Infrastructure, Energy, Water and Public Transportation Committee chairman states that the landslide had been triggered by the continuous downpour around the area of a cut slope, affecting over 100 metres of roadway.
For more news like this, follow us on Facebook. 
Also read: Take note! Hikers are forbidden to enter these 72 popular Selangor forest reserves for 2 months!