It has been recently reported that the untimely death of navy cadet Zulfarhan Osman Zulkarnain four years ago have come to a conclusion, after six suspects involved in his assault were found guilty on manslaughter charges.
UPNM navy cadet killed as a result of alleged theft
The incident, which took place on 21st May 2017, occurred when the late Zulfarhan was accused of having stolen a laptop. Intending to extort a confession from him, a number of students were involved in assaulting the young man by means of an 'interrogation', which took place in room 03-05, Jebat Hostel of the National Defense University (UPNM).
According to NST, one of the accused had admitted to using a hot steam iron to press on the deceased, in hopes of forcing a confession from him. The deceased was said to have been crying and screaming, begging his assailants to stop.
The navy cadet succumbed to his injuries later on. An autopsy conducted by coroner Dr Salmah Arshad from Serdang Hospital Forensic Department stated that he had died due to severe burn injuries sustained during the attack, reports Malay Mail.
6 suspects declared guilty of culpable homicide
The case, which had been under investigation for the past four years, finally came to a head today when six of the assailants were convicted at the High Court of causing Zulfarhan's death. As many as 31 prosecution witnesses and 20 defense witnesses had testified during the duration of the case.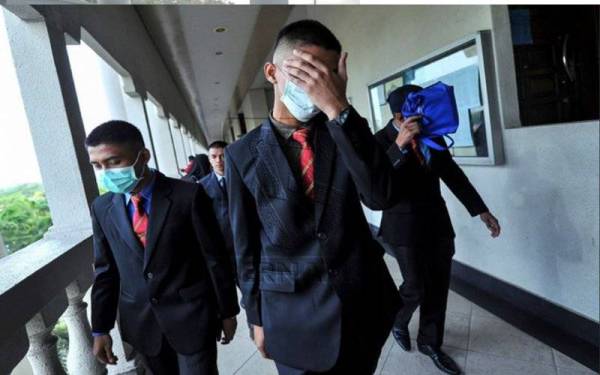 Muhammad Akmal Zuhairi Azmal, Muhammad Azamuddin Mod Sofi, Muhammad Najib Mohd Razi, Muhammad Afif Najmudin Azahat and Mohamad Shobirin Sabri and Abdoul Hakeem Mohd Ali were found guilty of culpable homicide not amounting to murder under Section 304 of the Penal Code. This would mean that they will not be subject to capital punishment, but will instead face a mandatory jail sentence of 18 years, according to Astro Awani.
"Based on the totality of evidence, the prosecution had successfully proved that six of the accused (OKT), OKT 1 to OKT6 had caused harm without intent," said Judge Datuk Azman Abdullah, who presided over the case today.
The 12 other suspects were found guilty under Section 330 of the Penal Code which prohibits causing grievous hurt to another individual for the purposes of extorting a confession or compel the restoration of property. This carries a maximum jail term of seven years as well as a fine.
For more stories like this, follow us on Facebook.
Also read: Japanese man dressed as The Joker injures 17 with knife in horrifying attack on Tokyo subway