Tragedy has struck near the Perak town of Bidor after a helicopter that had went missing in the area was later found to have crashed. This came after the pilot of the aircraft had lost contact with the Kuala Lumpur Air Traffic Control Tower (KLATCC) sometime yesterday (September 11th 2022), before a Search and Rescue (SAR) operation was launched by state authorities to locate it.
Pilot of downed helicopter in Bidor died from the crash 
Quoting Perak police chief Datuk Mohd Yusri Hassan Basri, local news outlet Free Malaysia Today reports that the pilot, identified as 58-year-old Hong Kong citizen Tsz Kin Richard Chan, has died.
His body was recovered from the cockpit of the downed craft after the aircraft's wreckage was found by The Royal Malaysian Air Force earlier this morning in the Chikus Forest Reserve. There were no indications of an explosion having taken place at the site.
"A Royal Malaysian Air Force (RMAF) helicopter found the location of the crash at about 9.30am in the Chikus Forest Reserve area. Five minutes later, the RMAF crew went down to the location and found the victim in the cockpit.

"The body was brought out from the crash site at 10.12am and brought to SMK Anderson in an ambulance and then sent to Raja Permaisuri Bainun Hospital, Ipoh, for post-mortem," Yusri told members of the media during a press conference today at the Bidor police station.
Was travelling from Subang at the time
The crash site is now currently being secured to prevent any trespassing and allow the Civil Aviation Authority of Malaysia (CAAM) to conduct their investigations into the calamity. As for the helicopter itself, it was identified as a Eurocopter EC120B model bearing the registration number N409HH that was operated by a private company known as Heli Outpost Sdn Bhd.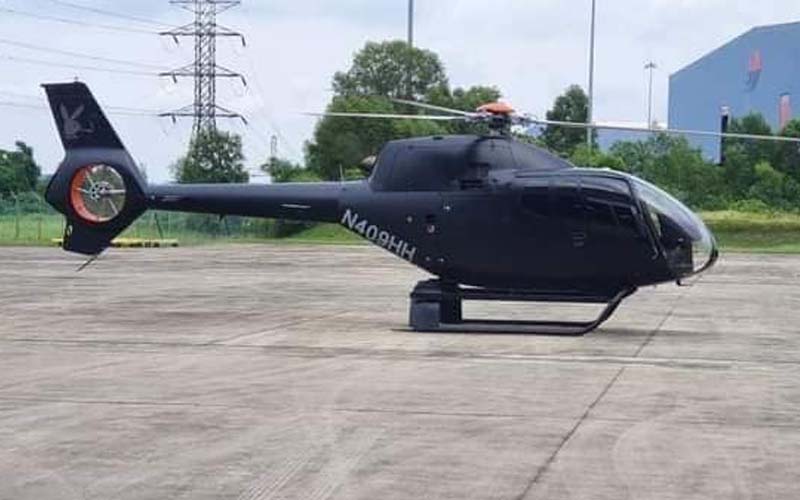 According to The Star, it had taken off from Sultan Abdul Aziz Shah Airport in Subang at 11.37am on Sunday for a private flight with a single pilot. It was due to land at the Sultan Azlan Shah Airport at 12.37pm the same day, but had lost contact with air traffic control at 12.16pm. Civil Aviation Authority of Malaysia (CAAM) chief executive Chester Voo said the helicopter was seen on radar suffering a sharp loss of altitude in under a minute's time.
Previously, Transport Minister Datuk Seri Ir. Wee Ka Siong has claimed that the pilot of the downed aircraft was found alive, and that he was being transported into Ipoh to receive treatment for his injuries.
Tap here to give us a 'Like' on Facebook and stay up-to-date on the latest news!