We all had different dreams when we were young, either to become a millionaire or to travel around the world. However for 19-year-old Nur Amira Syahira, all she wanted was to own a mobile home and she has made it come true with her savings. 
Young M'sian YouTuber transformed an entire bus into her dream trailer in a year
The young Youtuber and professional drummer purchased an old mini bus and redecorated it into her very own camper. According to Bernama, she bought the 23-seater Hino bus during an auction last year, and it took one year to finish modifying the vehicle. Although the price of the bus was not revealed, she said that the transformation still costs between RM10,000 and RM15,000. 
"I sought the advice of a consultant company as a reference so that all modifications were done without flouting the law and are valid on the road," she said.
And while the bus she bought may be almost as old as she is, it appears to be in relatively well-kept condition, both in terms of its running mechanics and bodywork. Based on the photos, the mobile home comprises a dining area, kitchen and bathroom equipped with running water, and bedroom. 
"I placed more importance on things that can facilitate my work compared to the need to be stylish. In fact, this camper bus gives me more opportunity to spend time with my family." she told BERNAMA. 
With her new trailer, Syahira hopes to travel the peninsula with her family. She shared with NST that she and her family had used the motorhome to visit Cameron Highlands, Penang and Port Dickson. Furthermore, the camper will help her travel safely and save money on accommodation whenever she goes on tour. 
"I am always on the move looking for things to upload on my Facebook and YouTube channel. Before having the motorhome, I had to rent a room at hotels or boarding houses which can be costly,"
Modification costs paid off with hard works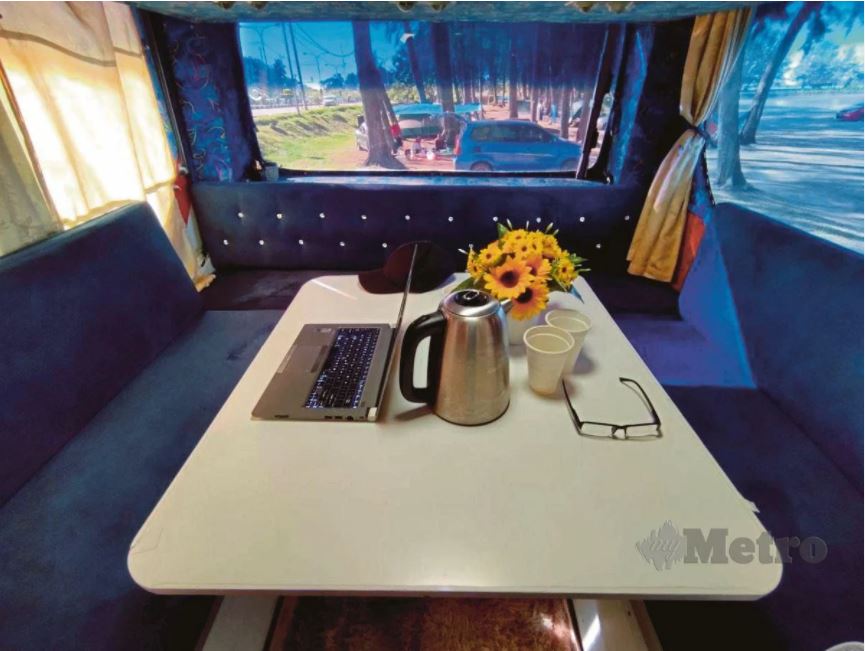 According to the Penang-born talent, she paid for all modification costs with the savings she earned through her YouTube content for 11 years. After posting drum covers since she was 8 years old, Syahira has built herself a fanbase of 2.7 million followers on YouTube, with her most viral video earning 37 million views. She has also attracted many on her TikTok account by having 1.4 million followers. 
The youthful celebrity continues to soar with her dreams as she plans to have her own campsite in three years and is on the lookout for a suitable location.
Also read: M'sian netizens receiving chain message that falsely claims frozen squid rings are actually made from pig's anus