A little kindness can really go a long way. While the gesture itself may seem small, we may be very surprised to see how being compassionate or emphatic towards another person's circumstances can truly come to change their day, or in some cases, even their lives. And this most certainly proved to become the case recently, when beloved local social activist and philantrophist Kuan Chee Heng made a pleasant discovery while warded in hospital.
Uncle Kentang makes a pleasant discovery while warded in hospital
For those who are unaware, Kuan, otherwise fondly known as Uncle Kentang by local communities, had been briefly admitted into Hospital Serdang after he had contracted COVID-19. Declared as a Category 4A patient needing supplementary oxygen, many Malaysians took to social media to send an outpouring of well wishes, praying for his speedy recovery.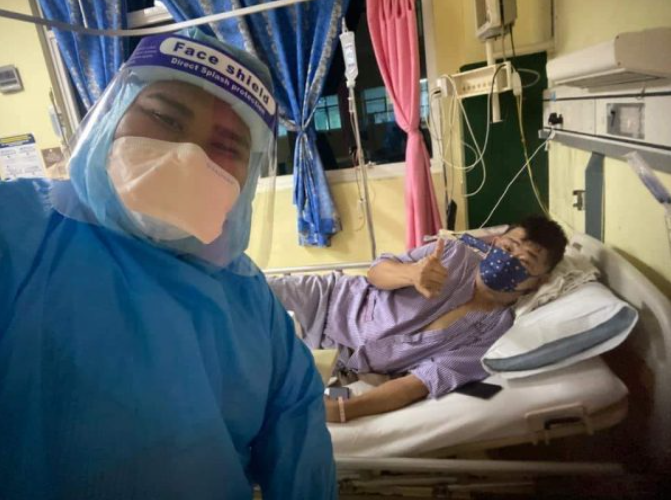 And while Uncle Kentang has since announced that he has been safely discharged from hospital after his vitals returned to normal and was allowed to self-isolate from home, his time in hospital did lead to a very fortuitous run-in with someone from his past. Taking to Facebook, he shares how he had come to learn that the doctor who had treated him in Hospital Serdang was in fact a young boy that he had protected from bullying 15-years ago!
Young boy he protected from bullies 15-years ago had become the very same doctor who treated him for COVID-19
"#aboyIhelped15yearsagoisnowadoctor

15 years ago in Subang Jaya,
There was a young boy who had kept silent, despite the fact that he was bullied.
I took it upon myself to protect him.
Who knew that the very same little boy
Has since graduated from a British university and is now a pulmonologist
He is currently practicing medicine in a hospital in Singapore
In addition to being a pulmonologist, he is also a COVID researcher
He personally looked over my X-rays
And gave me a thumbs up, telling me that I have nothing to worry about
I could never have imagined that a little boy I helped 15 years ago
Has now become a pulmonologist working in Singapore
Thank you, Dr Chong." he wrote
The post has since been shared across social media, with netizens agreeing that while kindness costs nothing, it can truly change everything.

"Those who do good will be repaid in kind. Those who do good will always be blessed with good health and safety!"
"If you do good, you will always be repaid in kind. You really are proof that those who are willing to be kind will always be blessed with good health & safety. May you recover soon!"
For more stories like this, follow us on Facebook! 
Also read: Local activist & philanthropist 'Uncle Kentang' tests positive for category 4 COVID-19, now self-isolating from home