Over the past few years, food riders have become an integral part of modern-day living for many Malaysians. And this is especially true in the case of the pandemic, with many of us suddenly plunged into a state of lockdown and dependent on our fellow abang or akak delivery to bring hot meals right to our doorstep. However, even with how much work they clock in rain or shine, many Malaysians continue to harbour negative perceptions of those working as a food rider.
Food rider accused by netizens for fishing for sympathy over TikTok
Unfortunately, this negative stigma continues to persist, with Malaysian netizen Muhammad Norzmaly Abdul Malek, otherwise known as @zmaly07 on TikTok, experiencing it first hand after some netizens have called him out for attempting to fish for sympathy online. In a recent video, Norzamly was seen working through a heavy downpour while clad in his uniform, appearing completely drenched.
Yet, he still managed to put on a smile and told himself to remain strong and patient when facing challenges.
And while the video's message is overwhelmingly positive, some netizens appear to have a bone to pick with Norzamly and claimed that he was trying to shore up sympathy for himself. One went so far as to say that he only had himself to blame for being in the circumstances that he was in for not studying hard enough in his youth, and shouldn't be trying to fish for pity.
In response to the message, Norzamly proceeded to film a follow-up video, showing both his diploma and degree certificates as proof of his academic background.
A degree-holder majoring in Aircraft Maintenance Engineering
The young man, who was interviewed by local Malay lifestyle publication mStar, explained that he had completed his Bachelor's Degree in Aircraft Maintenance Engineering (Mechanical) from UniKL MIAT, Sepang in July of last year, and had been working as a food rider since last December.
"Upon completing my studies, I helped out my parents with their small businesses. My father runs a burger stall, while my mother sells rojak."

"I then decided to start working as a food delivery rider as I wanted to earn a flexible income while helping out my parents at the same time." he said.
Hailing from Kampung Alai in Melaka, Norzamly admits that he wasn't born into a wealthy family. In fact, prior to owning his own business, Norzamly's father had been working as a day-labourer at a construction site.
"As such, I wanted to tell my viewers that if you're willing to work hard now, you can enjoy the fruits of your successes later on. Just because you were born into a poor family, doesn't mean that you will remain that way forever." Norzamly adds.
Don't look down upon those who are working as food riders, he advises
Not one to take their criticisms to heart, Norzamly even hoped that he was able to provide an explanation concerning the responses he had received from some members of the social media community.
"Those who are unemployed aren't necessarily uneducated. They may simply have not been offered job opportunities that align with their academic background.
Besides, there's nothing wrong with working as a food rider, it's still a Halal form of employment. Some who hold Masters or PhDs also choose to work as food riders to occupy their time with.

They're not prideful when they reach the top, as they know the struggles faced by those who are at the bottom," he said.
Norzamly, who had also led the Student Council at UniKL MIAT from 2019 to 2020 told the newspaper that it was his ambition to work as either an aircraft engineer or as a lecturer. In fact, he has already attended over 15 interviews online in his job search.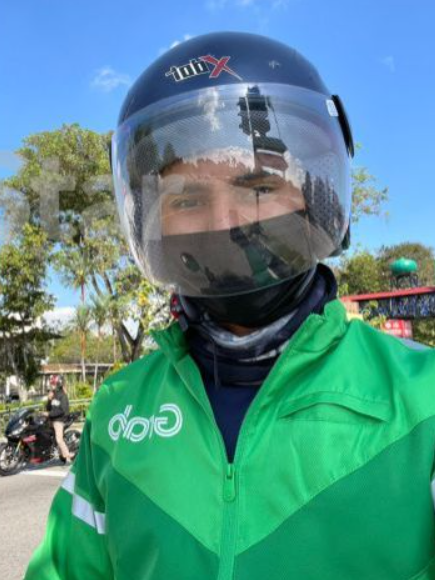 "Regardless of our station in life, we should never look down upon others as we do not know what challenges they may be facing. If we don't support them, then let us not degrade them either."
His video, which has since gone viral across social media, has garnered the support of many netizens.
"Studying properly doesn't guarantee you a job. Why not consider learning from this young man, who knows how to make a living, instead of those netizens who only know how to bring other people down."
"Nowadays, even cashiers have a degree. Thing is, job opportunities are not abundant, which is why we take up whatever jobs are available to us, as we are not from the T20 category."
"Don't judge people, you don't know their story. What kind of comment is this la."
For more stories like this, follow us on Facebook by tapping here! 
Also read: Disabled M'sian who lost both hands continues to earn an honest living as delivery rider to support himself