In the 1990s and early 2000s, it was hard to dispute the sheer magnitude of success that pop music groups could achieve within the realm of global entertainment. And among some of the most memorable and coveted acts of the era was of course, Westlife. Hailing from Ireland, the five-member outfit dominated the charts with some of the most successful singles ever seen from a boyband, including My Love, If I Let You Go, and their massively popular reinterpretation of Billy Joel's Uptown Girl.
Westlife to perform in Malaysia in February 2023!
And now for those of you who are looking to relive some of that early 2000s nostalgia, you will finally get the chance to see Westlife perform in Malaysia when they take the stage next February for a two-day concert! The announcement was made through local events company Trumpet International, with the boyband slated to perform on the 23rd and 24th of the month at the Axiata Arena in Kuala Lumpur.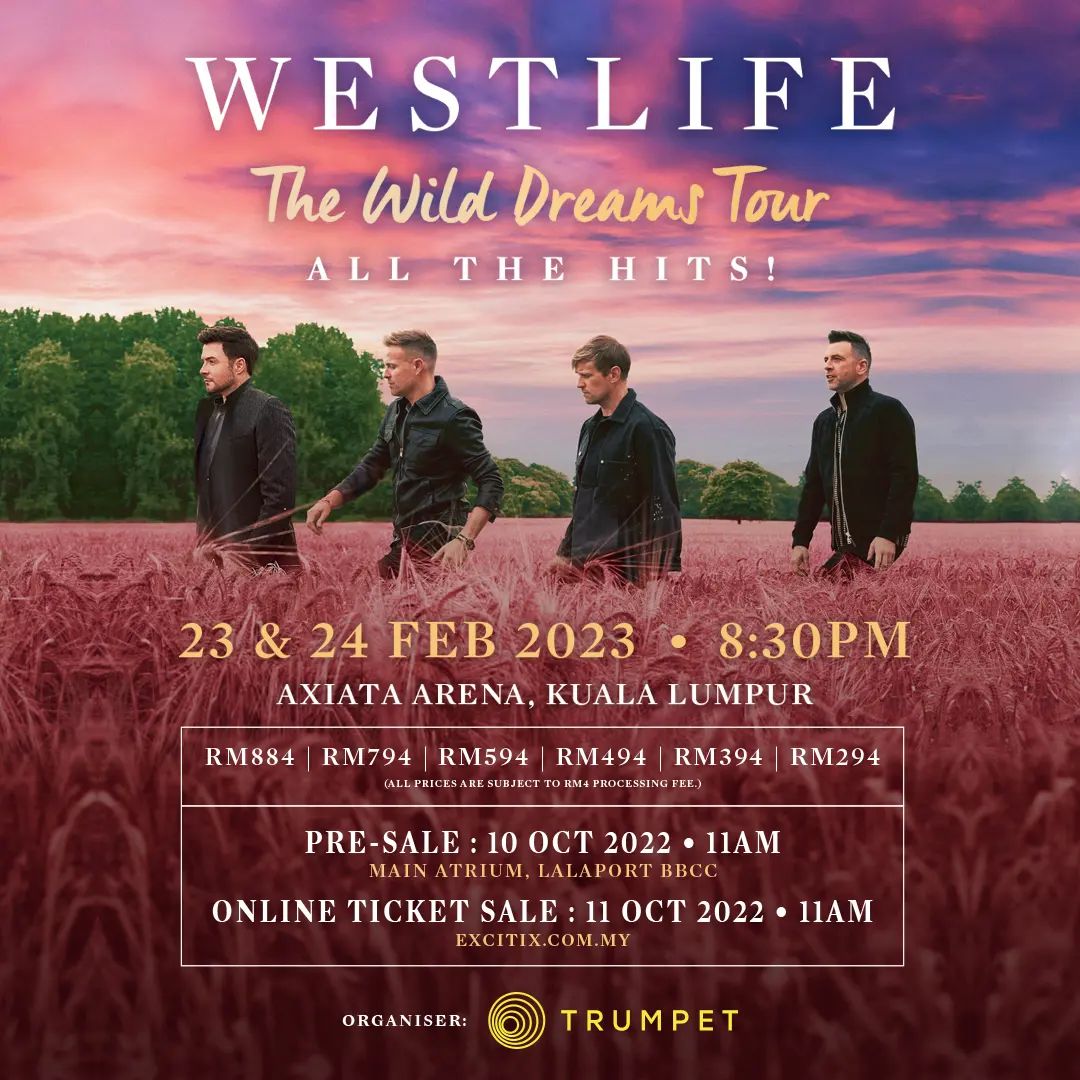 This will form part of Westlife's upcoming global The Wild Dreams Tour, which also includes concerts held in a string of other locations in Southeast Asia including Jakarta, Indonesia on February 11th, 2023, Singapore on February 16th 2023, and Manila, Philippines on February 20th to 21st, 2023.
Offline ticket pre-sales will begin on 10th October, 2022 from 11.00am onwards at the Main Atrium of Lalaport BBCC, while online ticket sales will commence a day after on October 11th, 2022 from 11.00am onwards at the Excitix official website. Prices for the Malaysian concert will start from RM294, before topping out at RM884 for VIP tickets up close to the stage.
A global tour hot on the heels of a new album
The Wild Dreams Tour comes after the launch of Westlife's twelfth studio album, Wildest Dreams, that debuted in November of last year. Inspired by the challenges experienced by the world during the COVID-19 pandemic, it features a string of new singles including Alone Together, My Hero and Starlight. 
The album will be the first record the boyband has released through their own label East West Records, which operates under the Warner Music Group, after they left longtime company EMI.
Westlife last performed in Malaysia in 2019.
For the latest news and community stories, follow us on Facebook by tapping here! 
Also read: BREAKING: BLACKPINK confirms they are performing in M'sia in March 2023!