Although we are now accustomed to the term 'Karen', they are not so common in Malaysia. According to @DFEfiercefun, this lady tried to enter a Dior store in KLCC without wearing a mask. Naturally, she was denied entry for violating the new norm SOPs.
Maskless woman tries to enter boutique but is stopped
As shared in the a now viral Tweet by @DFEfiercefun, the woman seen was trying to enter the Dior boutique in KLCC without a mask on. But when she was denied entry due to the store's mask-only policy, she resisted and claimed that everyone who were wearing masks were communists. In the video, she is heard explaining that she was visiting the boutique over a faulty bag.
She claims that an employee of the boutique had threatened her as she was trying to walk into the entrance.
"Went I went to walk in, he put his hands on me and pushed me!"
Tambah cili #findandfinekaren pic.twitter.com/BXTvJ4OeXH

— DFE (@DFEfiercefun) October 27, 2021
A follow up video then showed the woman arguing with members of the Dior boutique staff, claiming that they didn't own the store, and that this was a 'free country' so they had no right to stop her from entering the boutique premises.
Netizens wondered how she entered through KLCC without a mask
Tensions flared as the woman continued to argue with members of the boutique's staff before the video clip ends. It is uncertain as to whether mall security was alerted about the incident, or whether the woman was detained due to being caught bare-faced in the mall. However, the bigger question would be: how did she wind up entering KLCC without a mask on to begin with?
Malaysian netizens did not hold back in the comment's section, with many pointing out that she should respect the rule of law in Malaysia as she was a guest of the country.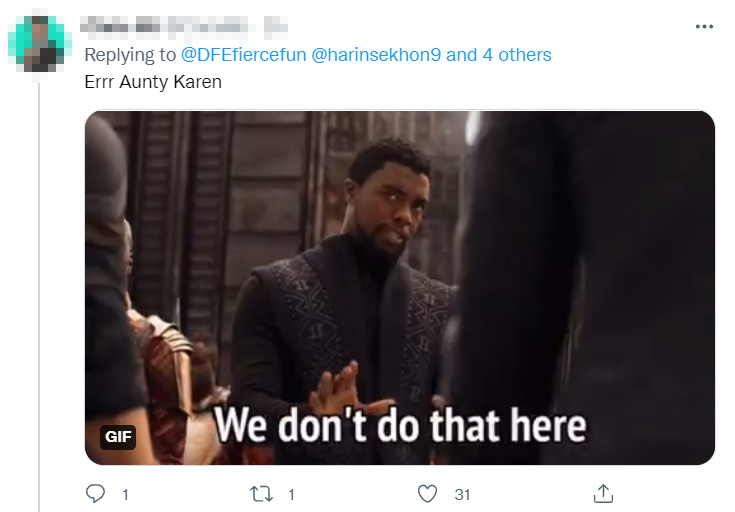 As of writing, the hashtag #karen has begun trending over the Malaysian Twitter community. The term is often used in a derogatory manner in describing a specific type of middle-classed white woman who 'exhibits behaviours that stem from privilege', according to the BBC.
For more stories like this, follow us on Facebook!
Also Read: M'sian Grab driver uses own money to feed stray animals, makes sure they don't go hungry