While occasionally proving to be quite adorable, rat infestations are no small matter (pun intended), as these rodents can lead to all sorts of concerns, chief among them include property damage with their propensity to gnaw and bite into almost anything. Then of course, there are the obvious health concerns that these creatures can bring along with them, which could potentially lead to outbreaks of diseases such as the hantavirus or leptospirosis.
Turn rats into money with Jasin & Sandakan city councils
In which case, if you're looking to earn some extra side income, you'll be glad to know that both the Jasin and Sandakan city council respectively will be happy to offer you a small amount of money in exchange for every rat you manage to find, dead or alive, in their constituencies. The initiatives are part of an ongoing pest elimination campaign by both city councils, which were organised separately.
For residents of Jasin, the pest elimination campaign will take place from July 14th to August 17th 2022, according to local paper Utusan Malaysia. Residents are welcomed to bring in their collection of rodents to the Jasin City Council's office daily, from 9am to 4pm, except on Saturdays and Sundays.
No limit imposed on number of rodents you can bring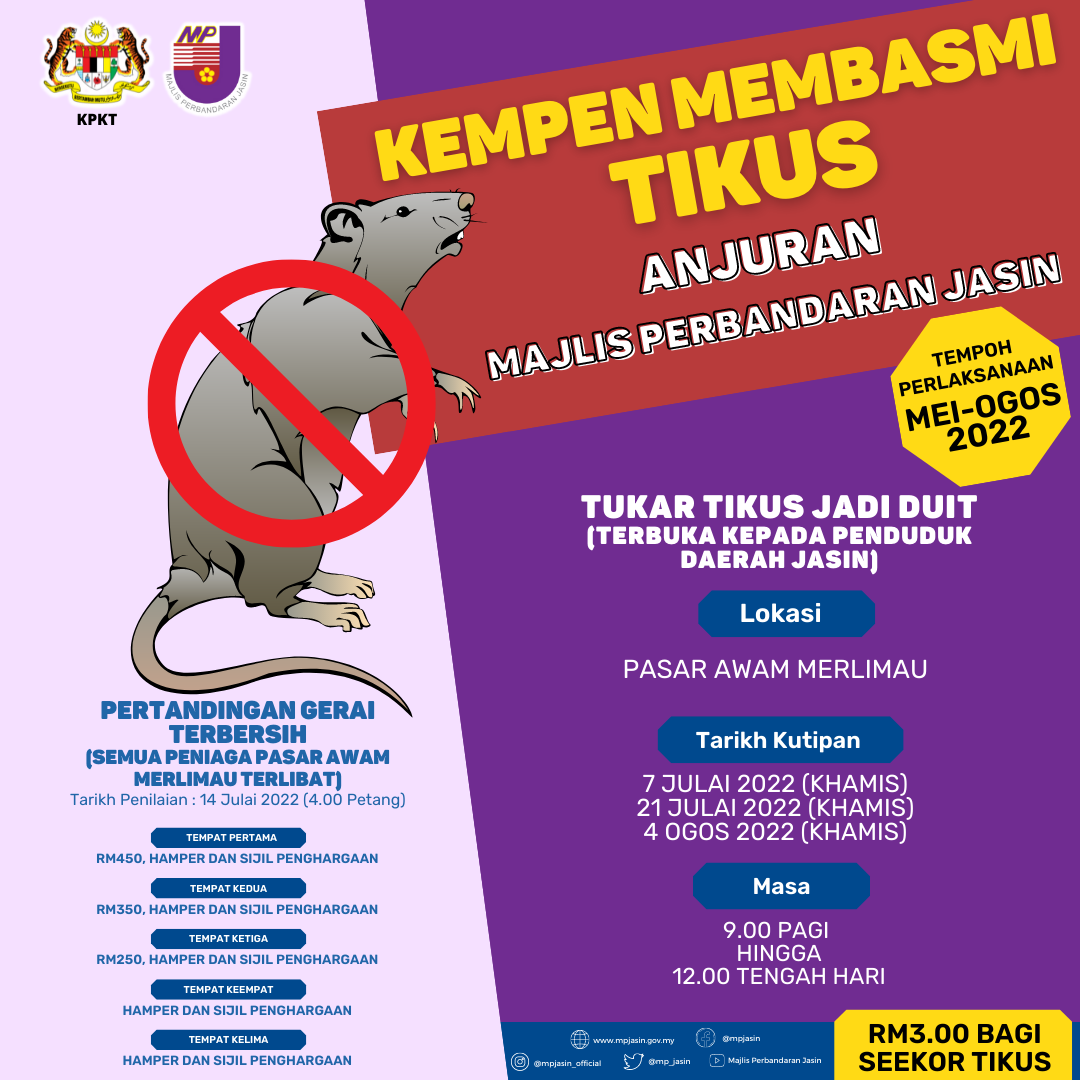 "Members of the public can send in as many rats as they are able to catch, and they will be all rewarded with the same rate of RM3-per-rat. We are not imposing any limit on the amount of rats one can bring in, so the more you are able to catch, the greater your reward.

This effort is a great step to encourage more people to work alongside the City Council in order to eliminate these pests, whether in restaurants or at home," said Datin Sapiah Haron, President of the Jasin City Council's office.
Response has been encouraging thus far, with members of the public having contacted the Jasin City Council's office to ask about where they could dispose of their rats and collect their rewards.
In the case of Sandakan, their campaign was held between July 12th to 13th, and would offer residents RM1 for every rat caught dead or alive.
Tap here to give us a 'Like' on Facebook and stay up-to-date on the latest news!
Also read: "They haven't eaten" KL Restaurant staff allegedly jokes after M'sian woman finds live rats in kitchen