The last two years have been an unexpected time for all and particularly taxing on the hospitality industry. With Malaysia exceeding 80% of vaccinated adults and many coming to terms with living in the new normal within an endemic phase, there is a beaming light at the end of the tunnel. In the midst of travel bubbles slowly opening and plans for interstate travel to be allowed soon, Tune Hotels, Malaysia's leading value hotel brand, wants to be a part of that shining light and give its loyal guests along with new companions some hope for their lives to return to a sense of normality.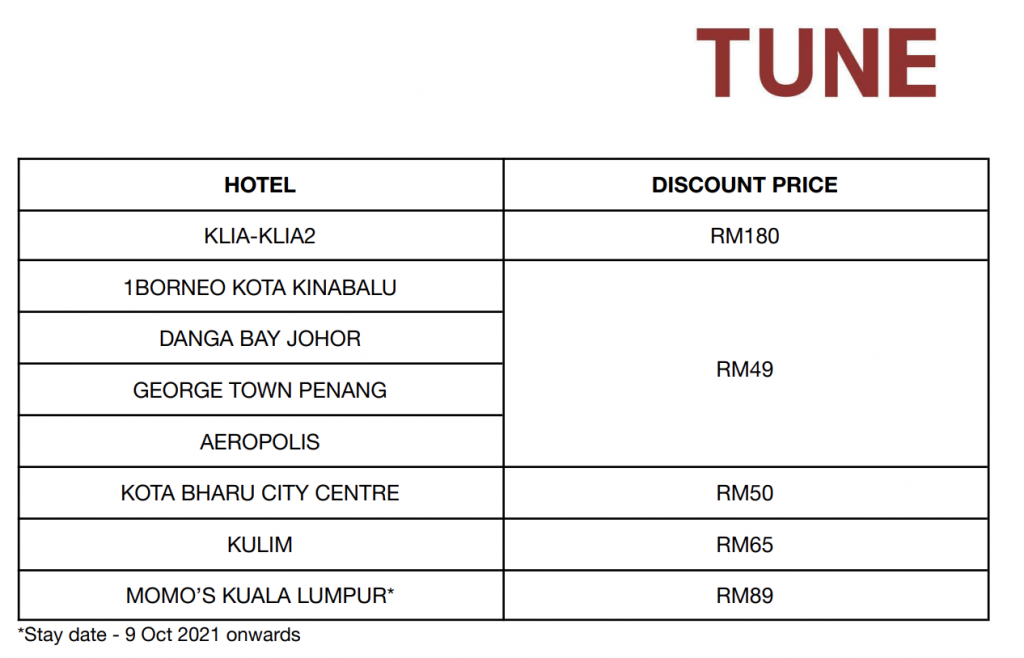 ItsAllInTune as Tune Hotels is back with a treat for its friends & family with extra special rates from RM49 per room! Starting on the 28th September 2021, guests will have 72 hours to choose rooms up for grabs at 8 of our award-winning locations including Asia's Best Airport Hotel – Tune Hotel KLIA-KLIA2, Tune Hotel 1 Borneo Kota Kinabalu, Tune Hotel George Town Penang, Tune Hotel Danga Bay Johor, Tune Hotel Kota Bharu Kelantan, Tune Hotel Kulim Kedah, Tune Hotel Aeropolis and MoMo's Kuala Lumpur, our sister hotel in the heart of Kuala Lumpur – all at exclusive rates! Bargain hunters and holiday goers are able to enjoy huge savings on their accommodations and grab these room rates between the booking period of 28th September 2021 until 30th September 2021 at Tune Hotels' website, www.tunehotels.com and stay between the period of 28th September until 31st December 2021.
Fully vaccinated citizens across the nation are now able to rediscover Malaysia and stay in comfortable award-winning accommodation as voted by Tripadvisor Travelers' Choice Award and World Travel Awards. It's no secret that being cooped up around the same four walls has been demotivating so stroll down along the Danga Bay Beach for a refreshing sight for sore eyes and some much needed fresh air to inspire yourself once more. Once you've tired yourself out, you can find a Tune Hotel only a 6-minute drive away! If you are looking for a food adventure, book Tune Hotel George Town Penang at the best value and tickle your senses with the most reputable Nasi Kandar restaurant in Penang, Hameediyah or try our selected delicious eateries at Swatow Lane Ice Kacang or Dim Sum Valet where you can also flash your hotel keycard to unlock exclusive discounts. Bordering mainland Penang in the West sits such a town called Kulim. Here, you'll find a curious collection of spectacular spots like enchanting forests where you can take leisurely strolls to historic sites and quaint villages where you can find inner peace. After a long day of taking in the beauty of this small town, book a stay at Tune Hotel Kulim for a proper rest. All Island boys and girls should head to Tune Hotel 1Borneo and take advantage of all our amenities including delightful rooms, free parking, and free Wi-Fi for a quick rest and to freshen up for a day of island hopping under the warm sun.
At Tune Hotels, the guests' safety and wellbeing is a top priority. All Tune properties follow regulated sanitization standards and procedures where all rooms and common spaces are sanitised using hospital grade disinfectants daily and in between stays.