For millennials and members of Gen-Z, arguably one of the biggest problems that we may all collectively come to experience as a generation are the staggering prices of real estate in the Klang Valley. Whether if you're looking into buying a terrace house or an apartment unit, you can expect to be paying upwards of RM500k and beyond on average.
Here's how Crib breaks it down using heatmaps
But how much do you really need to make to own a place of your own in the Klang Valley? Well, while precise numbers can vary, a new heatmap that was released by local real estate data analytics company Crib may help to provide a rough estimate as to the median house prices and expected salaries of those keen to purchase property in the vicinity of the Klang Valley.
And well… let's just say that you'll need to be earning quite a fair bit to afford a home now.
The heatmap is sectioned into individual hexagons used to represent smaller, localised areas measuring approximately 2km, while the differing shades are used to denote how expensive a piece of property can cost in that exact location on average. The maps represent the general locality of three states, namely Kuala Lumpur, Selangor and Putrajaya, with pricing analysis conducted using transaction data from 2020.
How much does a house cost in the Klang Valley?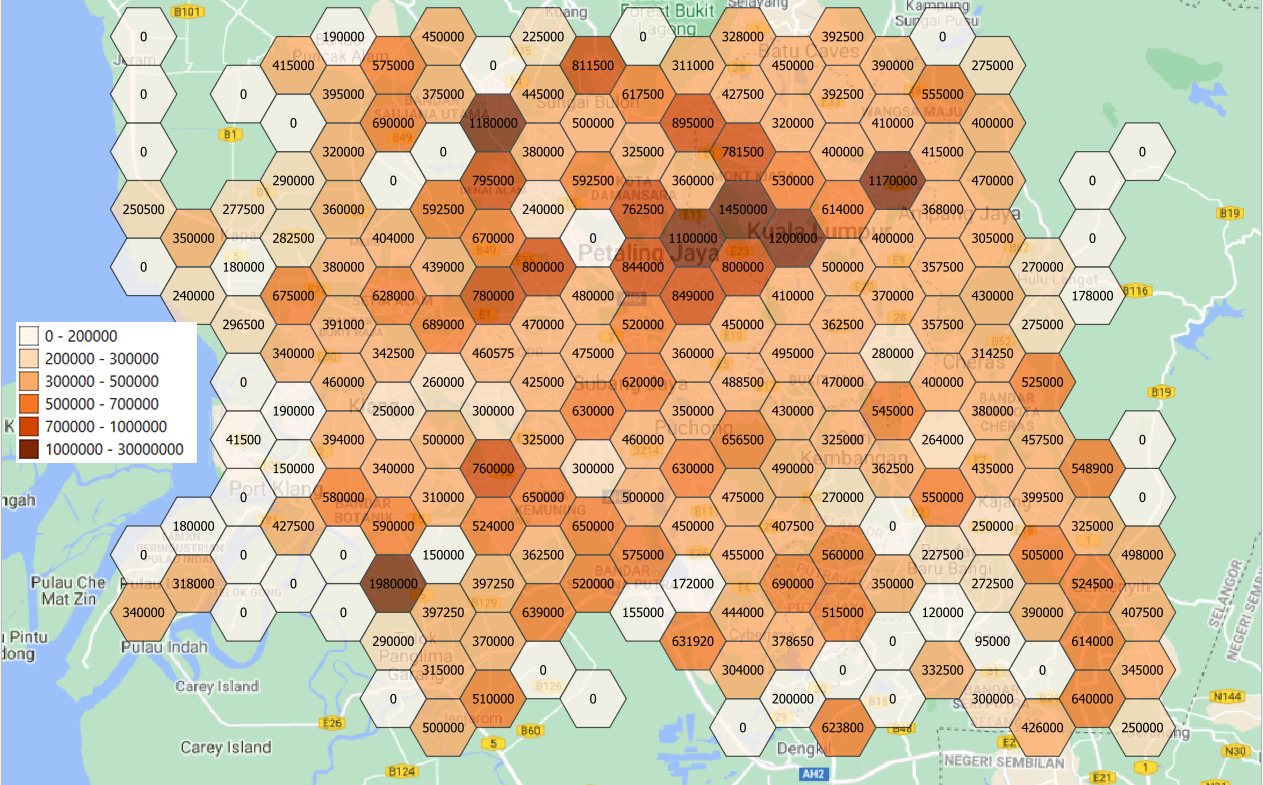 According to the analysis report provided on the Crib's website, which you may find here, homes located in popular suburban districts within the Klang Valley such as Sri Hartamas, Bukit Damansara, Ampang Hilir, Bangsar, Taman Tun Dr Ismail and Elmina will set you back over RM1 million. They've noted that these neighbourhoods primarily only offer landed properties, save for Ampang Hilir, where strata houses are also commonly available.
Strata houses refer to landed properties that also provide apartment-like amenities such as swimming pools and tennis courts, according to EdgeProp.
Meanwhile, homes in Mont Kiara and Desa Park City, both which are well-known among Klang Valley residents as being upscaled neighbourhoods, will go for the median price of RM 780,000 and RM 900,000 respectively. Yet surprisingly, prices in the KLCC area recorded a slightly lower than expected median price, but don't be too zealous, as this is said to be due to the smaller size of units being sold there.
How much do you need to earn to afford one?
What about your income levels? Well, based on a 90% mortgage of the house's value over a 30-year period at 3.5% interest per annum compounding monthly, those who want to own a piece of home in the very heart of Kuala Lumpur should be expecting to bring in an average salary of over RM10,000.
To afford a home in neighbouring suburban areas such as Wangsa Maju, Ampang Jaya and Batu Caves, you'll likely have to earn anywhere between RM2,700 to RM4,700. For homes in Petaling Jaya, Damansara and Subang Jaya, you'll be looking at earning anywhere between RM4,400 to RM12,100 monthly to afford a piece of property.
Crib notes that their estimations were made using the assumption that the cost of the instalment repayment is 1/3 of one's monthly income.
For more news like this, follow us on Facebook!
Also read: "You only come when you want votes!" No-nonsense uncle chases MIC members away from home