Where ambitions and dreams are concerned, we are always told that it is never to late to pursue and turn them into reality. After all, the old adage would go on to remind us that age is but a number and you really are only ever as old as you feel. Well in the case of one great grandfather, both of those sayings have proven to be true after he has recently held the distinction of becoming the oldest Malaysian to ever conquer Mount Kinabalu!
90-year-old Sabah native becomes oldest M'sian to reach Mount Kinabalu peak!
90-year-old Martin Buatin Balandong's incredible feat was recently shared widely across social media, after mountain guide @iceeminn123 took to sharing a video clip of the senior citizen successfully making up to the famous summit. Bearing a toothy smile as he was helped along the trek, he was then later seen posing with the rest of his family members who joined him on the momentous occasion for a photo of the summit's signage.
But what makes his achievement all the more incredible was the fact that this isn't the first time that Mr Balandong has made the arduous and physically challenging climb up Malaysia's highest peak, which measures 4,095 m. According to an article dated from 2017 by Singaporean news outlet The Straits Times, Mr Balandong had previously been the oldest Malaysian man to reach the Kinabalu Summit at 82-years-old.
Completed the challenging 2km trek in 9 hours and 30 minutes
According to local newspaper The Star, Sabah Parks Director Maklarin Lakim said that Mr Balandong began his trek from Panar Laban at sometime around 5.00am, before eventually reaching the peak at 2.20pm. The hike measured around 2km in total.
Park records would also corroborate that Mr Balandong holds the distinction of being the oldest Malaysian to have ever reached the peak of Mount Kinabalu.
Social media users have cheered the nonagenarian on, with many impressed by his physical prowess and stamina.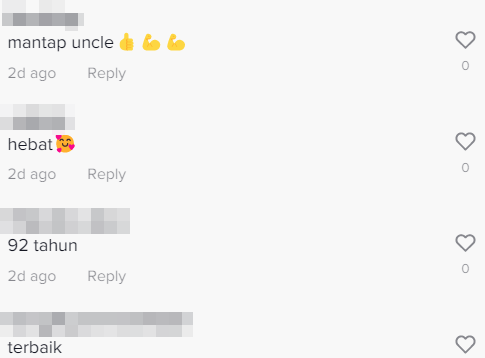 For more stories like this, follow us on Facebook by tapping here!
Also read: Meet 64yo Elanghovan Nachiamuthu, the oldest M'sian to conquer the Mount Everest summit!