Chances are you will no doubt be familiar of the old, if not somewhat hackneyed adage, that one should never judge a book by its cover. Simply put, one should avoid casting ill-intentioned judgements on others, without first knowing about the real story behind their circumstances.
In spite of that, many of those who are marginalised in society, such as those engaged in sex work, continue to suffer from the stigma of erroneous preconceptions and stereotypes that stem from these very same judgements.
Man harasses sex workers in Chow Kit
Such is the case for a group of sex workers in Kuala Lumpur, who were recently on the receiving end of unprovoked harassment and degradation by a man. A clip of the incident was shared to local community Facebook page 我们是马来西亚人 We are Malaysians, showing how the man, who was travelling in a moving vehicle, appeared intent on embarrassing the women with his antics. 
The women could be seen turning away from him as he belted out mocking lyrics with a song on full blast as he drove past. However, one of the sex workers took things into her own hands and proceeded to fling a boxed drink that landed squarely on the man's car to shoo him off. The incident was believed to have taken place in Chow Kit.
Netizens chide the man for his discriminatory behaviour
Viewed over 150,000 times on Facebook as of writing, the short clip has prompted a number of netizens to chastise the man's actions. Many were quick to point out that the man had no right to embarrass and discriminate the women if he doesn't agree with their work, and that they should be afforded basic respect and decency all the same.

One points out that the men who employ these sex workers are just as much to blame for their circumstances, as they encourage demand for sex work.
"As long as there are customers, they will remain where they are. If there are no customers, then surely there won't be people there.
#workiswork
#allforthesakeofsurvival"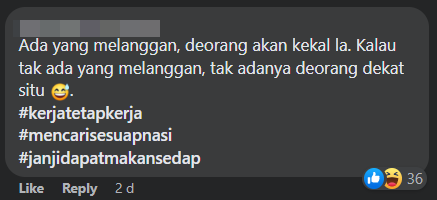 Others remind that nobody wants to be put in a position where they have to resort to sex work to make ends meet.

Remember that kindness, compassion, and empathy cost nothing to share around, so when possible, always choose to be kind, compassionate, and empathetic.
Tap here to give us a 'Like' on Facebook and stay up-to-date on the latest news!
Also read: Uni student ashamed of mum driving him to campus lies to friends, tells them she's just a Grab driver