When it comes to lending each other a hand, we Malaysians spare no expense. Whether if it's helping your neighbours mind their pets while they're away or donating to disaster relief funds in the wake of natural calamities, there are simply no lengths too far beyond for Malaysians when our fellow countrymen are in need. And in the wake of the recent floods to have swept across Peninsula Malaysia, that #kitajagakita spirit has never been more prominently exercised.
Floods have occurred throughout Peninsula Malaysia 
With torrential downpours beginning from last Friday (17th December 2021) leaving a number of states in West Malaysia experiencing sudden flash floods, the number of flood victims is only expected to continue rising. But when the call for help arises, our fellow countrymen are never ones to rest on their laurels.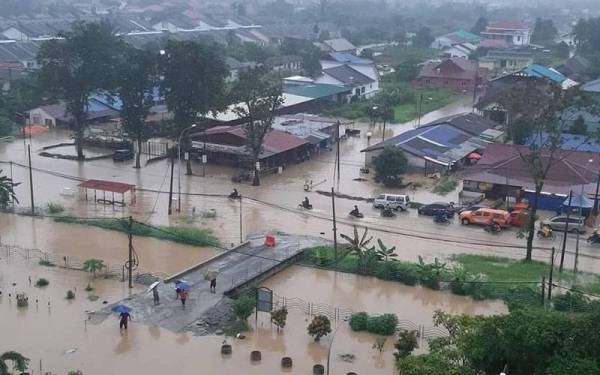 Throughout the weekend, Malaysians from all walks of life came out in full force to help provide aid for those affected by the devastation of the floods, personifying the #rakyatjagarakyat spirit that we all continue to live by as an unspoken creed. Among them include these 10 inspiring stories to have emerged over social media, showcasing Malaysians doing what they could to help out one another.
1. Pau vendor donates his food to flood victims
As shared by Uncle Kentang, a local pau seller drove his mobile stall into the very heart of the floods in order to help deliver piping hot food to hungry flood victims. With a lorry-full of fresh paus, he donated his entire inventory of stock to those in need of a meal.
2. Malaysian newlyweds cancel their wedding and distribute their banquet buffet to hungry flood victims
Facebook netizen Ahmad Firdaus Misnan reports that a newlywed couple who were supposed to have had their wedding reception at Gerbang Hall Meru decided to call the event off in light of the flood. Instead, they used the food they had ordered for their wedding to help feed those affected by the floods in the Meru district of Selangor. 
3. Local man travels from Melaka into Selangor with his own boat to help save stranded flood victims 
Abang Azwan ni datang dari Melaka bawak bot dia turun bagi bantuan dekat Shah Alam pagi tadi lepastu dia turun backup Puchong, and sekarang dia nak ke Sri Muda pulak untuk bantu mangsa disana.#unsunghero #rakyatjagarakyat pic.twitter.com/S2G54WA6CH

— Cheng 🏴 (@KulupKudin) December 19, 2021
Twitter netizen @kulipkudin reports that a man known as Abang Azwan had decided to help out in whatever way he can by bringing a boat he owned from his home-state of Melaka all the way to Selangor to help save stranded flood victims. He has already canvassed the Shah Alam and Puchong areas, before moving into Sri Muda next in search of survivors.
4. Local fishermen brought their own boats to aid in rescue efforts
A group of fishermen brough their boats to Batu 3 to help those stranded.

A damn hero in my books. pic.twitter.com/eCLTCkFyhu

— Farhan (@lamkanahraf) December 19, 2021
Local photojournalist @lamkanahraf shares how a group of local fishermen decided to lend aid to those who are still stranded in the floodwaters by bringing along their own boats to add to the rescue efforts.
In speaking with Wau Post, he notes that volunteers on the ground continue to be frustrated by the lack of action by authorities concerning the situation at hand.
5. Locals with 4X4 off-road vehicles offer to transport displaced flood victims & essential goods to flood areas
More communities mobilising to send aid to residents of Section 23 Shah alam pic.twitter.com/v5SmpUjyeh

— Farhan (@lamkanahraf) December 19, 2021
In addition, he also shares how local 4X4 off-roading communities have come out in force with their vehicles in order to provide immediate aid to those who have been left displaced by the floods.
6. Local Sikh temple come together to prepare free meals for flood victims
— Shangari Loganathan (@ShangariLogan) December 19, 2021
Members of Gurdwara Shahib Petaling Jaya have been working hard over the weekend in order to help provide free meals to those impacted by the floods around Shah Alam, Kuala Lumpur, Klang, Petaling Jaya, and Subang Jaya.
7. Sunway Lagoon staff mobilises their own boats to help distribute aid and rescue flood victims
Stay safe guys! We're here for you ❤️ pic.twitter.com/rQMeNajcmg

— Sunway Lagoon (@SunwayLagoonMY) December 19, 2021
Even staff from the popular Sunway Lagoon resort did what they could in order to help out with the ongoing rescue efforts by mobilising their boats as well as supplying key necessities to those currently affected by the flooding around the Klang Valley.
8. Local woman offers to supply fresh, clean drinking water to flood victims and house their pet cats temporarily
Nak air minum bersih datang rumah aku tauu orang padang jawa ke memana jela tapi kena ada botol besar lah nak amik banyak kali pun takpe. Nak tumpangkan kucing korang pun boleh

— Mune (@schxnht) December 19, 2021
With clean water difficult to come by in a natural disaster, netizen @schxnht, who is based out of Kampung Padang Jawa, Shah Alam provided flood victims with access to a clean source of drinking water for free. She even offered to house the pet cats of any victims temporarily!
9. Netizen offers female flood victims access to personal hygiene needs such as sanitary pads, as well as clothes
Hello to everyone in Shah Alam who is still affected by the flood. If you need anything, don't be afraid to text me, especially girls. If you need sanitary pads, extra clothes, blankets, or anything else, let me know.

— Qashrina Rahman (@qashrinarahman) December 19, 2021
Another thing in short supply during times of natural disaster is acess to personal care and hygiene products. Well aware of this, netizen @qashrinarahman decided to help out by offering a supply of female personal care products such as sanitary pads, as well as extra clothes and blankets to female flood victims in need.
10. M'sian man works together with his staff to prepare hot meals for flood victims
Siapa yang tak cukup makanan di pusat tunggu atau dewan boleh bagitau di twit ni jugak. We are preparing hot meals for everyone. Its not much but I hope we are helping our fellow malaysian. We all need energy tonight to keep us stay fit and healthy until this thing is over 😔😔 pic.twitter.com/yGD0OxTf2P

— Afiq Nazary (@afiqnazary) December 19, 2021
Netizen @afiqnazary has also been actively involved in the ongoing rescue initiatives around the Klang Valley area, and had worked alongside his colleagues at MyFundAction to prepare free boxed meals offered to those who have been affected by the flooding.
For more stories like this, follow us on Facebook!
Also read: M'sian food rider helps save stranded kitties from drowning in floodwaters with his delivery backpack