Over the weekend, the Klang Valley and several other states in both West and East Malaysia were hit by massive floods. Shah Alam and other areas of Klang saw floodwater levels rise above the sea, covering single-story residential homes all the way to the roof. While humans fend for themselves by reaching out to fire and rescue authorities for boats and resources to be sent, our animal friends were not so lucky. Probably cold, scared, and confused, many poor dogs, kitties, and other domestic animals were left stranded. Thankfully, kind Malaysians never fail to extend help not just to other Malaysians, but to our cohabitant animals as well!
Delivery rider couldn't send food during flood, saves seven kitties from it instead
While everyone was busy evacuating (or preparing to be evacuated) from the massive flood that had hit Malaysia over the weekend, this abang rider helped seven cute little cats who couldn't evacuate themselves. In a TikTok that has gained over 433k likes, TikTok user @nurrahieman93 shared a short nine-second video oh how he ended up saving some kitties from the flood instead of going about his usual routine of sending food to people's homes.
The video began with a pan of the water levels at that time, which was enough for any small-sized land animal to struggle. The kind rider then opened two food delivery bags to reveal a few cute little felines in both. They were looking at him with eyes that expressed both confusion and relief.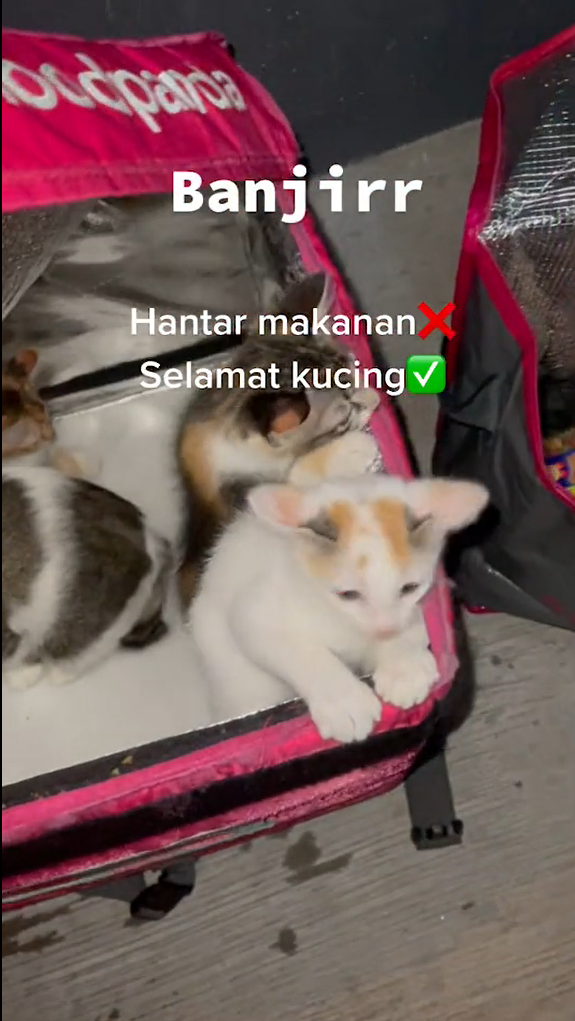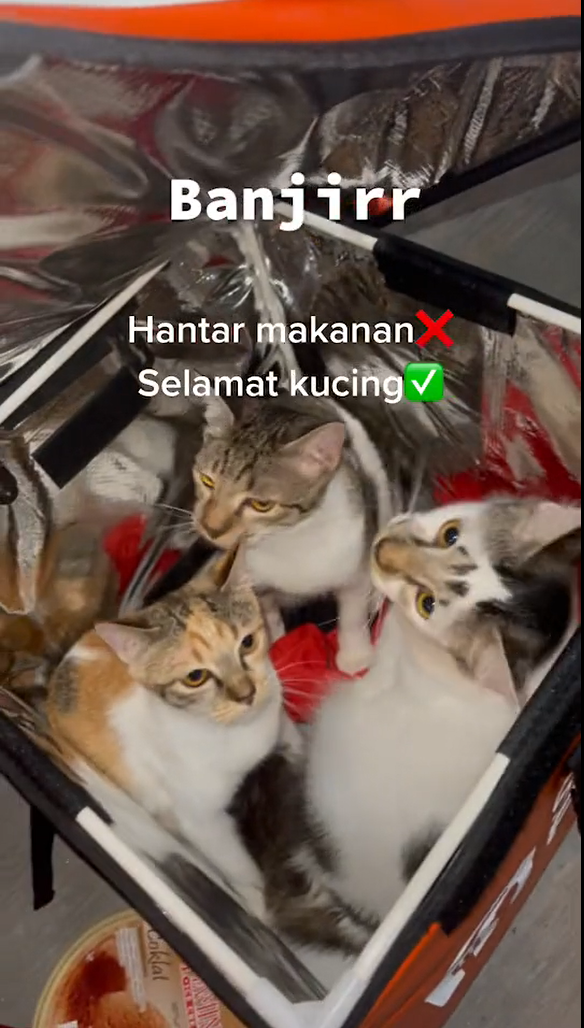 Netizens touched by abang rider's thoughtful gesture wishes him well
Cat-loving Malaysians couldn't help but be touched by the delivery rider's kind gesture and the fact that he went through the time and trouble of saving the furry flood relief victims. Netizens flooded the comment section with wishes of gratitude and wishes for blessings to come around.
"Thank you. May things continue to go well."

"May things continue to go well. Thank you for saving them."

"May you be blessed! Cats are bringers of fortune!"

One kind netizen even offered to help with the food needed for the cats!
While water levels subside and flood relief victims begin the tireless chore of post-flood cleaning, remember to stay safe and call for help at 03-8064 2400 (Natural Disaster Control Centre Hotline) when needed. If you're looking for ways to help victims of the massive flood, click here. Thank you abang rider, and Malaysians wish you the best!
For more news like this, follow us on Facebook! 
Also read: Perodua is offering towing rebates, discounts & free vehicle inspections to cars belonging to flood victims