Not too long ago, Malaysian community Facebook page Public Health Malaysia had shared a post claiming how a young child had accidentally swallowed a nail from a meal that they had been eating. Upon being rushed to hospital and receiving an X-Ray, it was found that the nail had travelled down along the child's gullet, and was already in their stomach. Left without a choice, the child had to undergo emergency surgery to remove the nail in question.
Vendors face RM10,000 fine or jail time for using dangerous items to secure food packaging 
The post, which has since gone viral across Malaysian social media, had not only called upon the attention of other concerned Malaysians, but even the authorities as well after Malaysian Health Director-General Tan Sri Dato' Seri Dr. Noor Hisham took to sharing his thoughts on the matter. In response to the popularity of a dish from the Indonesian region of Sumatera, aptly known as 'nasi paku' as the food packets are typically secured with a nail, Dr Noor Hisham mentions that the Ministry of Health has been made aware of the matter.
Seorang kanak² dibawa oleh keluarga ke kecemasan hospital kerana dikhuatiri tertelan paku. Kanak² tersebut mengalami sakit perut & menangis tidak henti.

Imbasan xray mendapati paku tersebut telah sampai ke bahagian perut.

Pembedahan kecemasan terpaksa dilakukan untuk..

Thread pic.twitter.com/jjG7g7JXnq

— Public Health Malaysia (@health_malaysia) December 31, 2021
He goes on to further reiterate that the use of such dangerous implements is strictly forbidden under the law. But this doesn't stop at the use of nails, either. Under Regulation 36 of Food Hygiene Regulations 2009, even the use of staplers, which are far smaller and just as dangerous as nails are, to secure food packaging can land hawkers or restaurant owners with a RM10,000 fine, or jail time not exceeding two years.
Foreign objects such as rocks, plastic bits and even worms have been found by the Ministry of Health in food samples
However, if the hazardous objects are found in the food, then F&B operators may be looking at a fine of RM100,000 or jail time of not more than 10 years as prescribed under Section 13 of the Food Act 1983.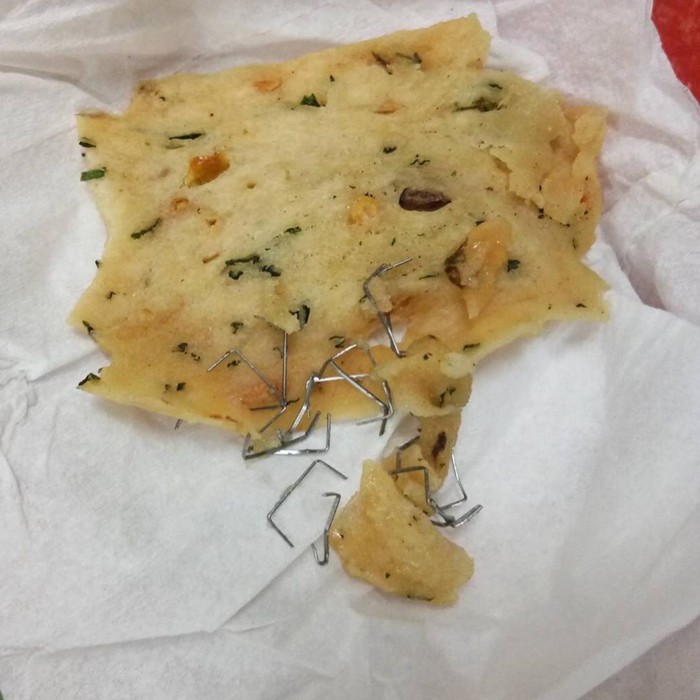 He has urged vendors to steer clear of the use of these potential food hazards when preparing meals for takeaway purposes, and has asked that parents remain vigilant to make a habit out of inspecting their children's food to prevent them from ingesting choking hazards unknowingly.
Between 2019 and 2021 alone, the Ministry of Health's Food Safety and Quality Division had already encountered various physical contaminants such as rocks, plastic bits, sand, hair, insects, and even worms from 19 out of 546 food samples.
To read his full statement, click here.
Follow us on Facebook for more news like this!
Also read: Public urged not to buy takeaway food secured with nails after child needed stomach surgery to remove swallowed nail