Earlier this year, the practice of using implements such as staplers and metal nails to secure food packaging came under the scrutiny of local authorities after concerns were raised as to how they could potentially become food hazards. In fact, Health director-general Tan Sri Dr Noor Hisham Abdullah said that food operators convicted of the offense could potentially face a maximum fine of RM10,000, or up to two years jail time, or both.
Diner discovers fishing hook from fish head curry
But what happens when you happen to find not a stapler bullet, but a fishing hook embedded in your food? Unfortunately, this would become an incident that Facebook netizen  had to experience on a first-hand basis, after local newspaper Sin Chew Daily reported that she had encountered a dangerously large and sharp fishing hook in a serving of fish head curry.
At the time of the incident, the netizen and her husband had brought their family to a local restaurant in KL and proceeded to order their signature dish, fish head curry. But as they were enjoying their meal, her father suddenly chanced upon a considerably sized fishing hook embedded in a chunk of flesh.
"Isn't it incredible? We found a fishing hook inside a fish head. Fortunately, my father didn't take a whole bite, and broke apart the flesh before finding the hook." she said.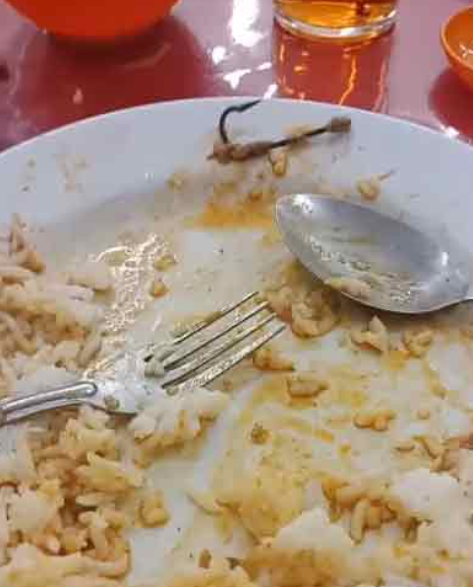 Restaurant owner blames supplier
Understandably alarmed by the discovery, she wonders what could have happened if other families were not as fortunate enough as they were to discover the hook, especially if children were also sharing the meal. Flagging a waiter down, she explained the situation to him.
"I'm sorry, it's the kitchen's fault. The kitchen was careless." he told her.
But things took a different turn when she went to pay for the meal, and confronted the restaurant's owner over the matter and asked how their kitchen staff had failed to notice something as conspicuous as a fishing hook while cutting the fish open. To which the owner allegedly replied, "It's not our fault. It's the supplier's problem."
Consequently, the owner of the restaurant deducted a paltry 60 sen from their total bill of RM298 as a form of 'compensation'.
Tap here to give us a 'Like' on Facebook and stay up-to-date on the latest news!