Arguably one of the most emblematic icons in Malaysia, the Malayan Tiger has been used to represent the nation on innumerable instances. A representation of regal courage, it has fronted everything from the Maybank logo, the Harimau Malaya jersey, to the Proton emblem. And despite it's significance to our country, it's numbers remain in decline and has since been classified by the Worldwide Wildlife Fund as a critically endangered species.
Deforestation is good for endangered Malayan tigers
Among some of the biggest contributors to their declining numbers has been determined to be the clearing of local forests to be converted into palm oil plantations as well as logging activities, which has resulted in the steady destruction of habitats that can sustain the propagation of these animals. In spite of that glaring fact, Kelantan forestry director Abdul Khalim Abu Samah has opined that deforestation actually benefits endangered Malayan tigers.
This comes after aboriginal Orang Asli living in the state have pinned the blame of a recent sighting of a Malayan tiger in their village to logging activities that were being conducted in the vicinity. The sighting led to the death of one man before the tiger was also subsequently killed by authorities.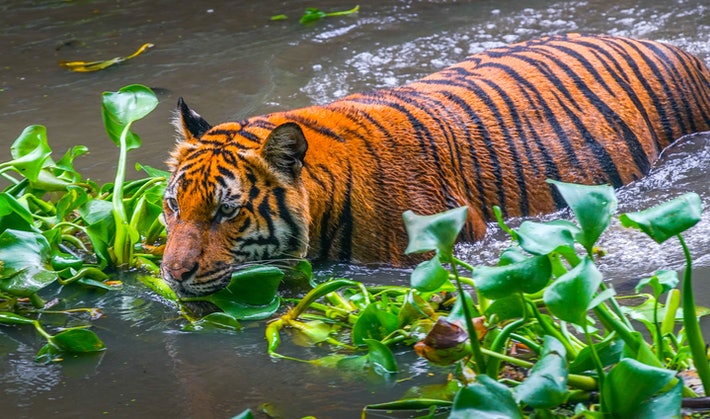 According to Malaysiakini, he claimed that after an area had been cleared via means of deforestation, new vegetation will grow in its place to help draw in more prey animals for the tigers to feed on. By that effect, tigers will stand a higher chance of surviving out in the wild.
"Based on expert research, areas that have been deforested are actually good for the tiger population.

"The tiger population will become larger when small trees grow in the deforested area. The area will see the presence of animals such as mouse deer which is food for tigers." he said,
However, he has made no clarifications as to the exact research findings he had been referring. He adds that in contrast, it is more difficult for tigers to find prey in forest reserves. The remark was made during a press conference during a joint operation against trespassers at the Relai Forest Reserve in Gua Musang.
Netizens angered by the comment
The comment has since caused much anger among netizens, many who have ridiculed the forestry director for claiming that the destruction of the Malayan tiger habitats would be to their benefit.
In a most recent headcount, it was found that there are now less than 200 Malayan tigers left out in the wild across Malaysia.
For more news like this, follow us on Facebook! 
Also read: 'In M'sia, if you see orangutan, orangutan will kill you first,': Minister now claims her comment was taken out of context