When boarding public transport, there are often times a few key and unspoken rules to keep in mind. Offer your seat should you encounter a senior citizen, a pregnant woman or a mother with young children, when aboard. Don't cross your legs or sit with your legs apart, so that you don't cut into the space of other seats next to you. And of course, always be sure to keep the train carriage, bus, taxi, or e-hailing car that you're in clean for others.
RapidKL finds human feces smeared on passenger footwell of bus 
While these may come rather evidently for most people, someone had apparently missed the memo where cleanliness on public transportation is concerned. In a post that was shared by local public transport operator RapidKL last Friday (September 9th 2022), employees of the company were left shocked after they found a particularly revolting messes on-board one of their buses.
No, we're not talking about spilled drinks or mouldy food that has been left behind. Smeared across the floor and the sides of a window-facing seat were brown stains that have since been identified as human feces.
"Dear valued commuters, we would like to request for your cooperation to maintain your own cleanliness alongside that of your surroundings when riding the buses or trains, for the sake of everyone's comfort.

Your attention and cooperation on the matter is highly appreciated." they wrote.
But what made the situation all the more worse was the fact that according to the company, this is the second time they have found human excrement on their vehicles!
Who did it? Speculation has been rife
Speculation has since been rife among social media users as to who could potentially be the culprit behind the mess, with many pointing out that local Malaysians tend not to ride the buses and that surveillance cameras should have been installed on the bus to provide footage during investigation purposes.
"Locals rarely ride the bus. Typically foreigners who are the ones on busses. Living in KL sometimes feels like living in overseas."

"Go Pro (cameras) should have been installed to observe the behaviour of passengers."

One netizen has posited that it could have been created by children, especially given how often school children continue to occasionally use the local bus network.
"Maybe it was caused by a kid with a stomach ache. Many schoolchildren still ride the bus."
Some have also suggested that it could have been left behind by elderly passengers, or those suffering from mental issues.
"Maybe it was caused by someone mentally unsound. I've encountered a few people like that on the LRT and bus every morning. They mutter to themselves."

"Honestly I think it could have been an old person. Not that I want to say anything, but most of the time I see senior citizens who use buses like these. Sometimes, I notice they don't seem to be able to walk properly, but still insist on going out by riding these buses. Yet that's the thing, who knows right? Better to just check the CCTV."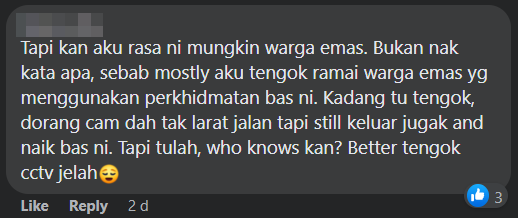 Whatever the case may be, hopefully this serves as a reminder to everyone that we should always keep public transportation clean, so that we may all enjoy its benefits together!
Tap here to give us a 'Like' on Facebook and stay up-to-date on the latest news!