Marriage is one of life's most monumental and beautiful chapters, whereby a union of love and loyalty is undertaken between two individuals for life. And of course, the joy of the occasion is also shared and celebrated in kind by the families of both spouses, with formal receptions and traditional customs held in grand style being part of the norm.
SG newlyweds host wedding tea ceremony in hospice room
But in the case of a pair of Singaporean newlyweds, they recently decided to host a traditional Chinese wedding tea ceremony in the confines of a hospice room for a bittersweet reason. As reported by Singaporean newspaper Shin Min Daily News, newly-minted bride Phoebe explained that the age-old practice was done in the hospital so that her terminally-ill father, Henry, could be a part of her wedding.
For those not in the know, traditional Chinese tea ceremonies are performed by couples during their wedding as a show of filial piety and respect to their parents, in return for their blessings.
The ceremony was organised with assistance from Ambulance Wish Singapore, a non-profit organisation whose goal is to 'create positive end-of-life experience for the terminally ill'. Phoebe's father was diagnosed with colon cancer three years prior. While surgery may have been viable in most cases, he was unable to undergo the operation due to preexisting heart conditions, which could put him at risk if he was administered anesthesia.
Condition worsened before he was admitted into a hospice
As such, it was decided that he would undergo chemotherapy instead, in hopes of combatting his diagnosis. Initially, things appeared to be well when her father showed signs of improvement. But it was not to be, after his condition deteriorated. The family was told a month ago that he would only have three months left to live, and had him transferred from the National University Hospital to Assisi Hospice for his final days.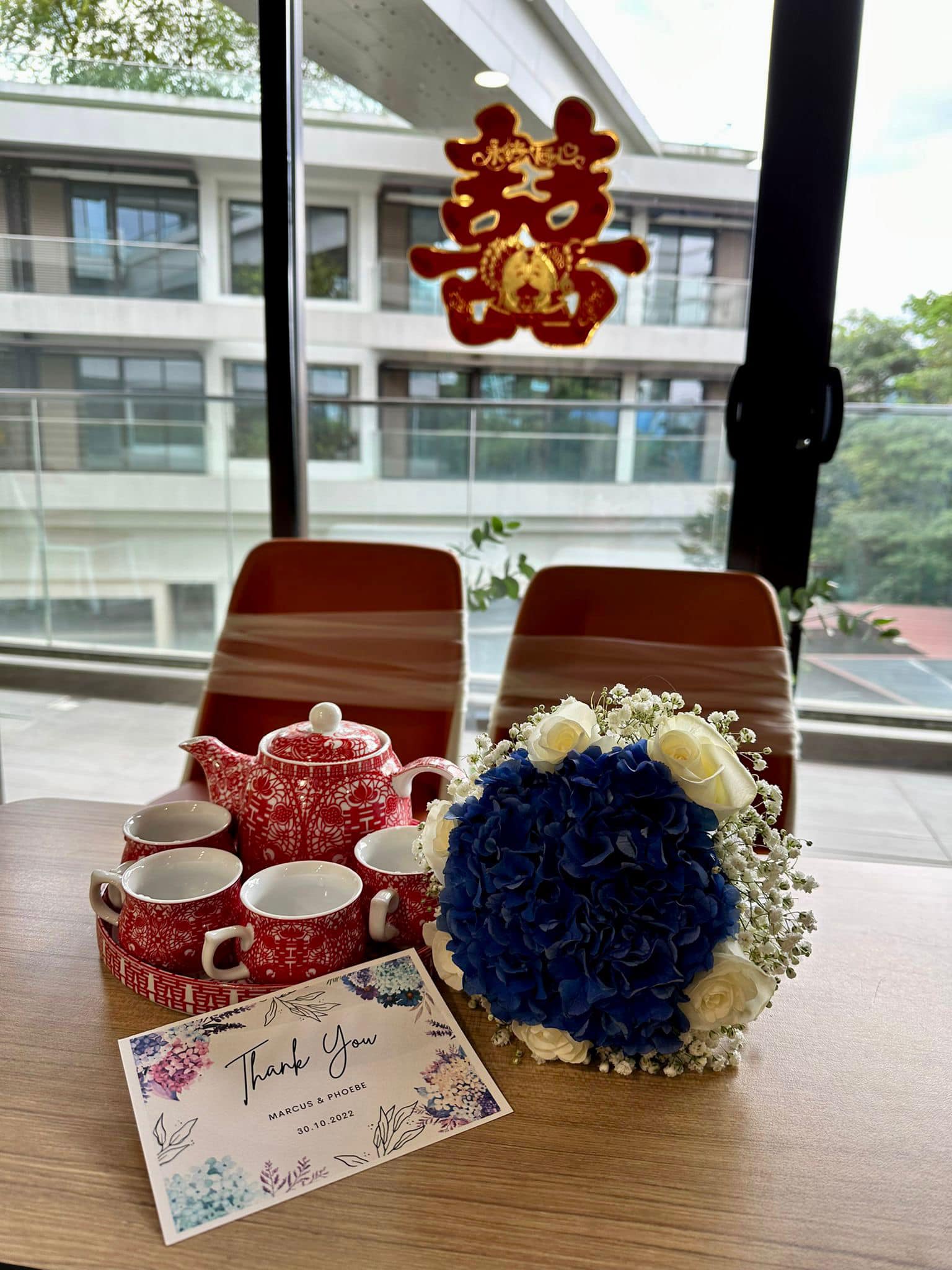 Phoebe's plans to have her wedding held on November 11th were immediately pushed forward in light of her father's declining health. She was then informed by hospital staff about Ambulance Wish Singapore, and contacted them to assist in organising the ceremony after receiving approval from her husband Marcus' family.
On October 30th, Phoebe and her husband, Marcus, performed the wedding tea ceremony with her father present.
"While there were only three days left before the ceremony, volunteers from the organisation were very helpful and assisted me in making all the arrangements for a room in the hospice.

They even helped arrange a makeup artist, flowers, decorations, and tea-sets for me." she said.
While the family had intended for more people to witness the blessed occasion, only six people were allowed in the room due to Covid-19 regulations at the time. With that said, an extra person was granted access.
Tea was first presented to Marcus' parents, and then Phoebe's parents after. And despite his frailty, Phoebe's father worked up the strength to see the ceremony through, and even sat up with great effort to accept the cup of tea offered from his son-in-law to drink.
He even gifted them a set of pens to write a new chapter of their lives with together.
A blessing to have been able to fulfill one of his final wishes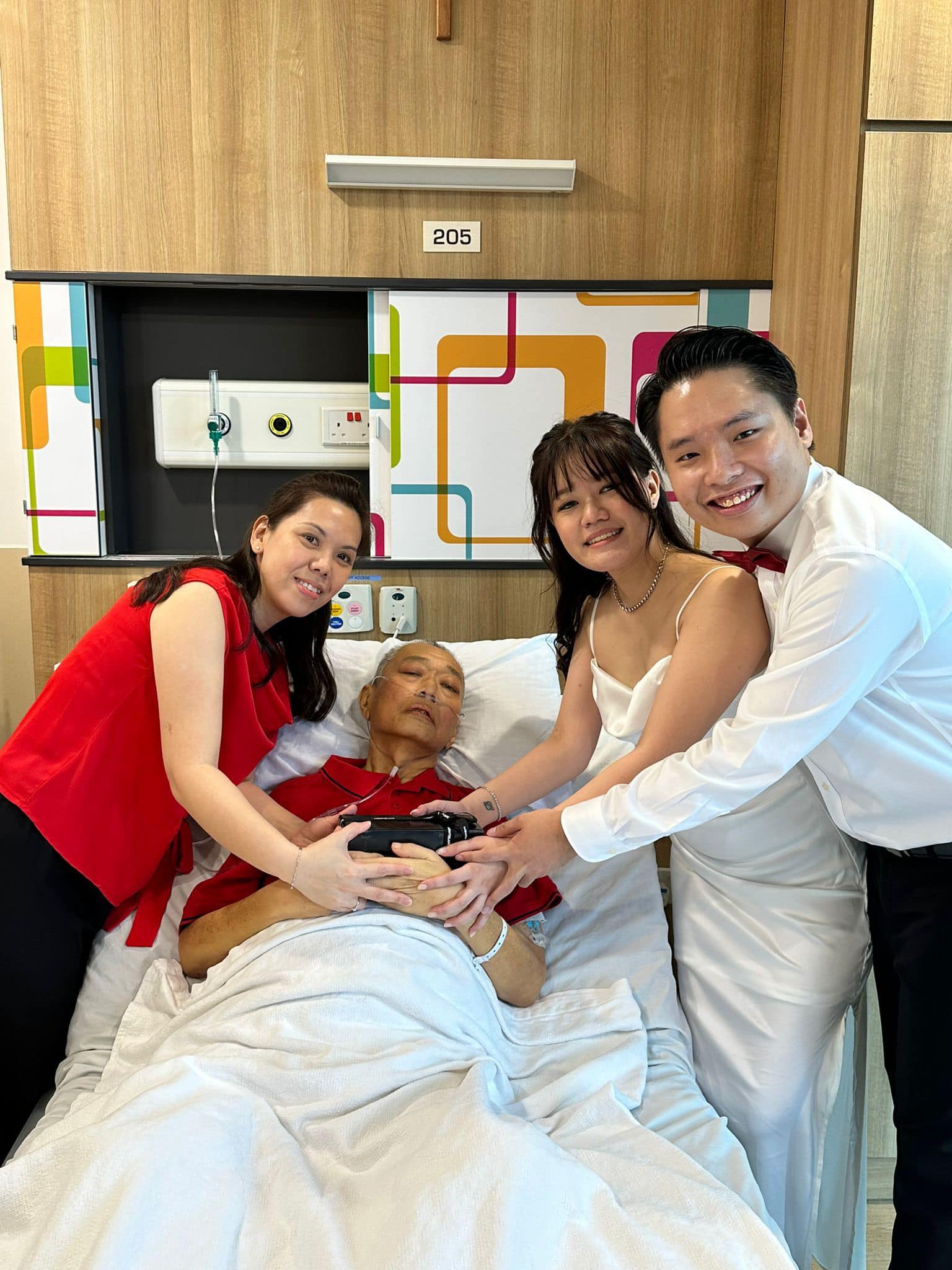 Sadly, Henry would pass away later at night on the same day. Ambulance Wish Hospital said that it was a 'blessing' that they were in a position to serve the community, and to also help fulfill one of Henry's final wishes before his untimely passing.
"We count it a blessing to serve the community, to have them open up to us about their wish, desires or longings during their weakest moments.

It was indeed a privilege to witness Henry's deepest desire being fulfilled. This was marked by the smiles, laughters and tears of joy that evening." they wrote.
May he rest in peace, and may Phoebe and Marcus be blessed with a lifetime's worth of fruitful marriage together.
Tap here to give us a 'Like' on Facebook and stay up-to-date on the latest news and stories!
Also read: SG man praying for love at Taoist temple winds up meeting his future wife there