The Singaporean High Court has announced that mentally-disabled Malaysian drug mule 34-year-old Nagaenthran. K Dharmalingam will be executed on 27th April 2022. This ruling follows after a lengthy and impassioned plea for clemency by many quarters of the international community, from human rights activists to lawyers.
Nagaenthran to face the gallows on 27th April 2022
Detained in 2009 at 21-years-old for attempting to smuggle 42.7 grams of heroin into the city-state via the Woodlands Checkpoint, Nagaenthran was handed the death penalty in the following year according to The New Straits Times, and has waited out his sentencing for over a decade. While he had been initially slated to face the gallows in November of last year, his case gained international attention after concerns arose concerning his intellectual disability.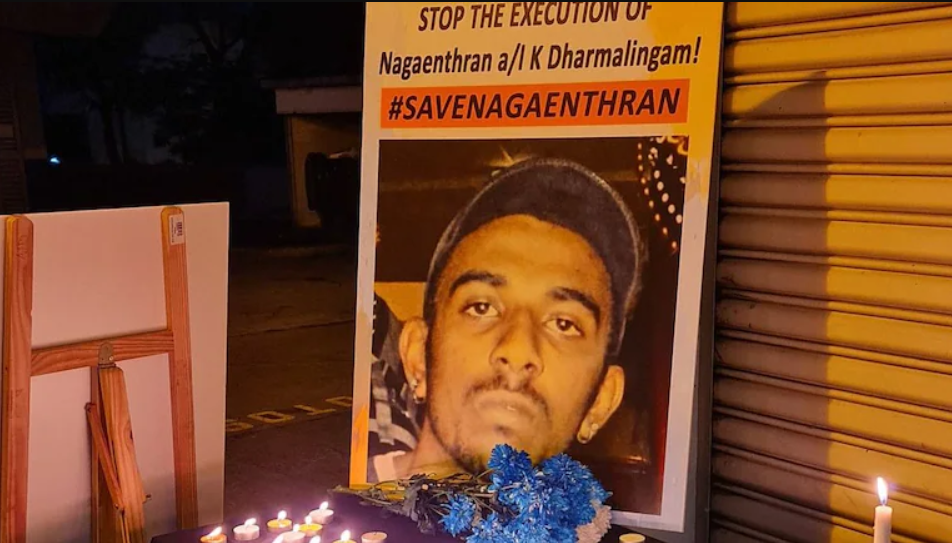 Supporters for his case have claimed that as Nagaenthran only had an intelligence quotidian (I.Q) level of 69, which is a level widely recognised as a disability, it could have been possible that the man was coerced into trafficking the drugs, reports SCMP.
According to the BBC, Nagaenthran initially claimed during his trial that he was indeed coerced into the act, before admitting that he committed the offense as he needed the money.
The decision by the Singaporean court to execute Nagaenthran has led to widespread criticism, and was condemned by the likes of the European Union, as well as British billionaire and Virgin Group founder Sir Richard Branson. Additionally, Malaysian Prime Minister Ismail Sabri Yaakob as well as the Yang di-Pertuan Agong Sultan Abdullah Sultan Ahmad Shah have previously written to Singaporean authorities on the man's behalf, but to no avail.
M. Ravi urges Purtrajaya to take the case to the International Court of Justice
In quoting Singaporean human rights lawyer M. Ravi who has also acted as Nagaenthran's legal representation throughout his case, MalaysiaNow states that the final legal avenue that they could now turn to was to have Putrajaya taking the case to the International Court of Justice.
"I respectfully urge the Malaysian government to file an action in the International Court of Justice and obtain an interim stay,"

"This is the only way to save Nagaenthran. The Malaysian government should not waste any more time on this, but act urgently to save Nagaenthran." he said.
Singaporean authorities have defended their decision to sentence Nagaenthran with the death penalty, stating that legal rulings found "knew what he was doing" at the time he committed the offences.
Tap here to give us a 'Like' on Facebook and stay up-to-date on the latest news!